Introduction:
I believe that one of the most important things we can do as parents is to ensure that our children are functionally literate by the time they leave the nest.
By functionally literate, I mean that they are able to function in society with skill sets that are necessary to get by in life. They need to know the value of money and work. They need to know how to balance a check book and budget their finances. They need to know how to shop for insurance; auto, medical, and life insurance. They need to know what is involved in making a major purchase, like a car or a house. They need to know how to provide for their retirement years.
One of our best family projects was teaching our kids about investing in the stock market. We had participated in Stock Market games at their school and when the kids came into an inheritance, the three of them decided that they wanted to put that money to work by creating a portfolio of stocks. So we began an investment experiment with a portfolio that we call "The Retirement Portfolio For Do It Yourselfers."
What You Should Know:
I have written a series of articles where I have discussed the evolution of this portfolio. We began with $100k to invest in 2006 and we bought 10 Dividend Growth stocks, after we all did our own research of the stocks available to us. This portfolio was invested in those 10 companies with $10k going to each position.
What I Know:
My kids have virtually taken over the responsibility for what happens in this portfolio. I have nothing to do with it at this point, other than sharing advice, which they are free to accept or ignore. I figure that if I have to make their decisions, then I am setting them up to fail.
I want them to make their own decisions, work together as a team, make mistakes and learn how to recover from those mistakes, and at the same time ensure that they grow in their abilities as investors.
So, from this point, it will be a report as to where they are, where they are planning to go, what they have done, and what they are planning to do. I'm the moderator and nothing more.
Let's Look At The Portfolio:
We initially began this portfolio in January of 2006. We invested $100k in 10 stocks, McDonalds (NYSE:MCD), Coca Cola (NYSE:KO), Colgate Palmolive (NYSE:CL), Abbott Labs (NYSE:ABT), Exxon-Mobil (NYSE:XOM), Kimberly Clark (NYSE:KMB), AT&T (NYSE:T), Wal-Mart (NYSE:WMT), Procter and Gamble (NYSE:PG) and Johnson and Johnson (NYSE:JNJ).
In 2012, we decided to reconstruct the portfolio and add Intel (NASDAQ:INTC), Harris Corp (NYSE:HRS), Emerson Electric (NYSE:EMR), Illinois Tool Works (NYSE:ITW), and Aflac (NYSE:AFL) to the portfolio.
In order to do that, we had to sell existing holdings in order to raise capital for the $50k that we wanted to invest in the five new holdings. All the transactions were completed at the close of business, January 6th, 2012.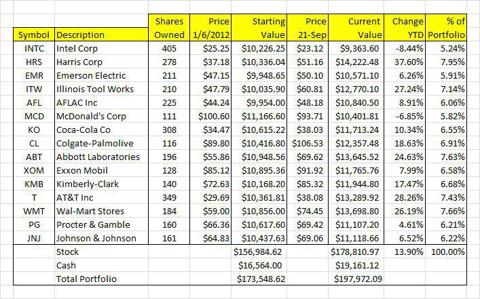 Every DG investor is going to be concerned about the growth of income from dividends within the portfolio. This portfolio has seen income growth at a rate that is greater than inflation, beginning in 2006 and through our 2012 projected dividend income, based on current dividend amounts for each of our holdings.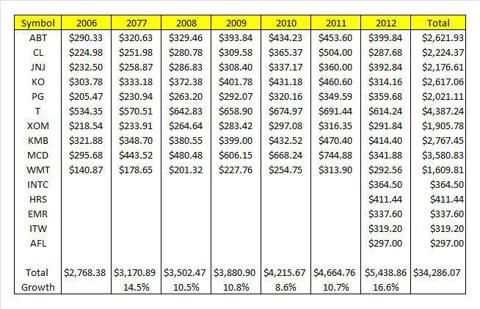 The income for the portfolio has a projected growth for 2012 vs. 2011 of 16.6%. As we move forward, we will be investing our cash holdings into the market and in a future article, we will share these stock selections and our reasoning for purchasing them.
After a lot of consideration, the kids have decided not to be reinvesting dividends, but instead to collect dividend payments in the form of cash so that they can reinvest that money in either additional shares of existing stocks or purchases of new companies.
Conclusion and Summary:
While the original portfolio of our 10 initial holdings took a significant decline in value during the stock market down turn in 2009, the results from that point have met our objectives.
What began as a 100k investment portfolio now has a value of almost 200k in 7 years and is throwing off a dividend income of around $450 a month.
While we don't anticipate growing the income stream at double digits moving forward, we are comfortable with a target dividend growth rate in excess of 6% annually.
Disclosure: I am long INTC, HRS, EMR, ITW, AFL, MCD, KO, CL, ABT, XOM, KMB, T, WMT, PG, JNJ. I wrote this article myself, and it expresses my own opinions. I am not receiving compensation for it (other than from Seeking Alpha). I have no business relationship with any company whose stock is mentioned in this article.