As followers of Ford (NYSE:F) probably are aware of, Ford has been negotiating with the Canadian Auto Workers. The Canadian dollar has increased over the last couple of years against the US dollar, and Canadian wages are higher than in the US. As a result, Ford has tried to reduce the wages they pay to their Canadians workers, but the union wasn't exactly accommodative to that suggestion, and rumors about a potential strike began circulating. However, the union has now abandoned the threat, as Ford and CAW have come to an agreement. Below, I have listed the most important elements of the deal:
New hires will start at an hourly rate of C$20 an hour down from the current pay of C$24.
It will take 10 years for new hires to reach the peak pay of C$34, compared with six years under the previous contract.
Base wages for existing workers will remain frozen for the first three years.
Workers will receive a C$2,000 lump-sum payment in the contracts' second, third and fourth year.
Workers will receive a C$3,000 ratification bonus.
For new hires, there will be a hybrid pension plan that mixes defined benefits and defined contributions.
Ford will hire 600 new Canadian workers.
Ford released a press statement where they mentioned that the deal will provide significant cost savings for Ford. But what is "significant cost savings" exactly? To answer that question, I have crunched a few numbers.
Effect of labor deal
First of all, I need to estimate the current total labor costs. Wikipedia tells me that Ford has roughly 4,000 workers occupied in Canada. Assuming each worker works 1880 hours/year, the total labor cost for Ford in Canada is $436 million.

In the below table, I have 2 made alternative scenarios. In the first scenario I assumed that no deal was made, and that Ford will not pay any ratification bonus or lump-sum bonus. Instead wages will increase by 3% a year. I assume Ford will hire 600 new workers in 2013 in both scenarios, though they will be paid less the scenario where the deal is made.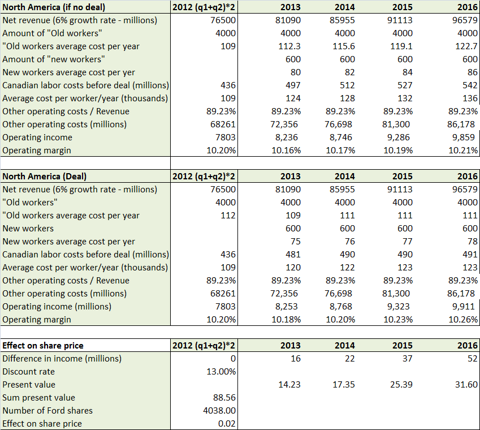 As you can see, the deal doesn't really matter, as it "only" increases the value of Ford by $89 million. So while the deal may sound nice and has generated a decent amount of media coverage, it shouldn't be your main reason to invest in Ford. You should instead focus on Europe and the U.S. If Ford can maintain the current level of sales and profitability in the U.S., your investment will generate a lot of alpha (almost regardless how the other regions perform). However, if margins in the U.S. decline by 1-3%, Ford will need to turn Europe around. I have previously written an article where I discussed some of the potential factors and catalysts that are important to understand the European situation.
I still think Ford is slightly undervalued at $10.10, but it's no longer a bargain, and I think I will wait until it comes down a bit before I invest in it.
Disclosure: I have no positions in any stocks mentioned, and no plans to initiate any positions within the next 72 hours. I wrote this article myself, and it expresses my own opinions. I am not receiving compensation for it (other than from Seeking Alpha). I have no business relationship with any company whose stock is mentioned in this article.