The issuance of new commercial mortgage-backed securities (NYSEARCA:CMBS) in the U.S. has declined more steeply than expected, totaling just over $12 billion in the first half of 2008, the smallest first-half total since 1996, according to Moody's.
The 2008 half-year total represents a 91% decline from first half 2007, which saw almost $137 billion in new issuance.
Lower issuance volume is likely for the remainder of the year, as the pipeline for new deals shows relatively little activity.
Ultimately Moody's expects the CMBS market to revive, but the process could take another year or two.
"While it will be a very long time before we see annual issuance volumes in excess of $200 billion again, most market participants continue to believe the portfolio lenders will not be able to absorb the financial needs of the commercial real estate industry and the capital markets will continue to play a role," says Moody's Group Managing Director Jim Duca.
Meanwhile, delinquency rates on the loans backing US CMBS continue to compare favorably to historical averages despite small increases recently. Moody's new Delinquency Tracker [Moody's DQT], a measure of 60+ days delinquent loans among all conduit and fusion loans backing US CMBS transactions over the past ten years, shows the delinquency rate in June at 0.45%, up one basis point from the month before and 23 basis points from the low of 0.22% in July 2007.
The healthcare sector showed by far the highest delinquency rate.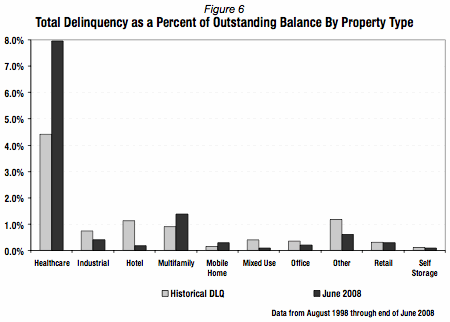 Moody's/REAL Commercial Property Index [CPPI], in turn, shows commercial real estate prices down 8.8% from their peak in October 2007. Transaction volume has dropped dramatically, with the average monthly volume through the first half of 2008, at $2.9 billion, less than half of the $6. 4 billion monthly average for 2007.
Moody's also says the credit outlook for REITS and REOCs remains stable, although key credit metrics have weakened modestly as leverage moves slightly upward and coverage remains flat to slightly lower.
Details are available in US CRE Finance 2Q 2008: CMBS Issuance Volume Continues Downward Trend.