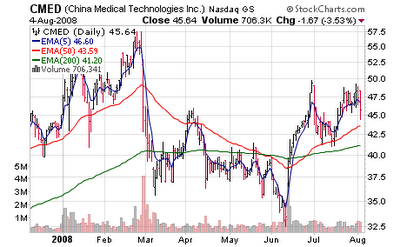 After some perceived hiccups the last 2 quarters, which in retrospect proved to be a great buying opportunity as the market overreacted to a 90 day (quarterly) period of time, China Medical (CMED) appears to be back on track judging from yesterday's earnings. The stock has taken some lumps earlier this year, and the last time around a lower gross margin rate and higher tax rates raised some concerns. Some of those concerns seem to have been alleviated with yesterday's numbers. Even more interesting to me, is the subtle shift in revenue stream to diagnostic reagents versus medical equipment - we like to see this in any of our medical equipment stocks since "consumables" are reoccurring revenue (thinks razor blade versus razor).
"We are pleased with the change in the Company's major source of revenues from selling medical equipment to selling diagnostic reagents which was achieved by the strong growth of our diagnostic reagent businesses," commented Mr. Xiaodong Wu, Chairman and CEO of the Company. "

More than 95% of our revenues from ECLIA and FISH operations this quarter came from sales of ECLIA and FISH reagents which generated higher gross margin and were recurring in nature

. We expect our diagnostic reagent businesses to continue their growth momentum in upcoming quarters."
On to the financial data - revenue data by 3 product lines.
The Company reported revenues of RMB226.8 million (US$33.1 million) for 1Q FY2008, representing a 49.7% increase from the corresponding period of FY2007. The Company's revenues are currently generated from three product lines, ECLIA diagnostic systems, FISH diagnostic systems and HIFU tumor therapy systems. ECLIA and FISH system sales include the sales of equipment and reagent kits.
ECLIA system sales for 1Q FY2008 were RMB111.7 million (US$16.3 million), representing a 41.3% increase from the corresponding period of FY2007. The strong year-over-year growth in the ECLIA system sales was primarily due to the increasing utilization of the Company's ECLIA analyzers by hospitals as well as the expanded installed base of the analyzers which resulted in increased sales of ECLIA reagents.
FISH system sales for 1Q FY2008 were RMB50.3 million (US$7.3 million), representing a significant increase from the corresponding period of FY2007. The strong year-over year growth in the FISH system sales especially sales of FISH reagents was primarily due to a significant increase in FISH users. The Company commenced sales of the FISH systems in June 2007 and as of June 30, 2008, over 200 large hospitals in China were using the Company's FISH reagents. (newer product line)
HIFU tumor therapy system sales for 1Q FY2008 were RMB64.7 million (US$9.4 million), representing an 11.6% increase from the corresponding period of FY2007. The year-over-year growth was driven primarily by increases in unit sales.
Due to this change to focus on consumables the gross margins expanded significantly.
Gross margin increased to 69.1% for 1Q FY2008 as compared to 57.5% for the corresponding period of FY2007. The increase in gross margin was primarily due to the change in revenue mix where a higher portion of revenues was generated from recurring sales of higher margin ECLIA reagents and FISH reagents.
Earnings
Non-GAAP income increased 61.2% to RMB110.7 million (US $16.1M)
Diluted Earnings per ADS increased 49.0% to RMB3.89M (US $0.57) (Haven't had time to confirm it but first glance it appears analysts @ $.43.)
Outlook
As the June quarter is the first quarter of FY2008, the Company maintains the current annual targets for FY2008. The current targeted net revenues for FY2008 range from RMB1,190 million (US$173.5 million) to RMB1,230 million (US$179.3 million). The current targeted adjusted net income excluding stock compensation expense and amortization of acquired intangible assets (non-GAAP) for FY2008 ranges from RMB585 million (US$85.3 million) to RMB605 million (US$88.2 million).

The current targeted adjusted diluted earnings per share excluding stock compensation expense and amortization of acquired intangible assets (non-GAAP) for FY2008 ranges from RMB20.10 (US$2.93) to RMB20.73 (US$3.02)

assuming a diluted number of ADS of about 31.5 million and excluding interest for convertible notes and amortization of convertible notes issuance cost.
Frankly this stock is dirt cheap compared to U.S. peer group - 70% gross margins, growing 50% in the US health care equipment stocks is in some cases generating forward P/E ratios of 40-70 as people "flee" to safety. Ironically, despite a huge market opportunity, many Chinese stocks trade at a huge discount (this is the opposite of the situation last fall when China was the flavor of the day in US markets). At $45 China Medical (CMED) trades at a forward P/E of 15. And this folks, is why the stock market can drive you batty.

After peaking in the $57 range earlier this year, the stock crumbled in early March (within days) to $36. After a brief bounce to the mid $40s it spent the next 2 months punishing shareholders, finally bottoming out near $33 around the last earnings report. Have I mentioned for the 1000th time this is not a buy and hold market? Technically, the stock is showing some nice relative strength because, after all, it's in the hottest sector of the stock market - health care. Even more impressive, it is holding up as most Chinese stocks have taken a major beating as investors move away from perceived risky assets. The stock was "rewarded" for its performance by "only" falling 4% post earnings.... which in this market is considered a victory.

CMED has fallen back to the 20 day moving average near $45 - if this stock was trading in a vacuum I'd be gobbling up shares hand over fist as we have a compelling story not reliant on banking or oil. However we don't exist in a vacuum and this very troubled market is stealing away capital like a thief in the night. At this point I'd like to buy the stock at either a pullback to its 50 day moving average (near $43) or on a newer high past its recent peak of $50 signaling institutional money is pushing in. That said, this move to consumables has really changed my perception (been following this stock for a few years) and I might begin a starter position later today simply to put a stake in the ground.
Disclosure: Author has no position.