The steel sector has taken quite a beating, and from a contrarian perspective it could make for a good long term investment. However, there are several factors that could make the ride pretty rough in the short to mid-term time frames. We are going to attempt to offer a balanced view of United States Steel Corp (NYSE:X) by listing the pros and cons of attempting to establish a position in this play.
Reasons to be bullish United States Steel Corp:
A positive levered cash flow of $471 million
Zacks

has

projected EPS of $2.73 for 2013, which represents a significant increase over its estimate of $1.58 for 2012
A projected growth rate of 67% for 2013, according to dailyfinance.com
Percentage short of float is at 25, which makes it a very good candidate for a short squeeze.
A five year cash flow average of $8.60
Strong institutional presence -

percentage

Held by Institutions is 78.2%
Net income has improved from -$1.4 billion in 2009 to -$53 million in 2011
Cash flow per share has increased from -$5.27 in 2009 to $3.62 in 2011
Sales improved from $11 billion in 2009 to $19.8 billion in 2011
A 3-5 year estimated EPS growth of 8%
A decent current ratio of 1.70
Charts and Tables of Interest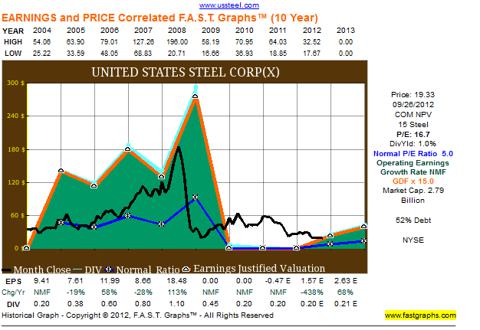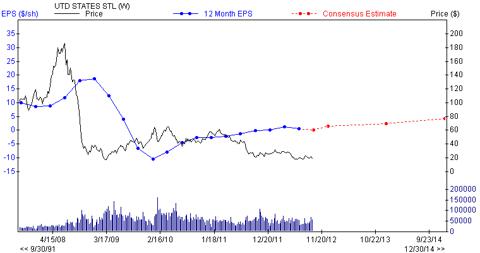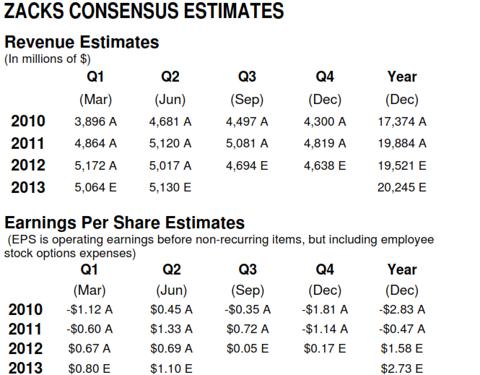 Reasons to be cautions
The current outlook in the steel industry is far from exciting. The industry is plagued with oversupply, and this has contributed to a decline in prices. Chinese steel production has outpaced demand putting further pressure on steel prices.
Lower production costs in China enable Chinese companies to sell their products at cheaper rates, and this further hurts the margins of players such as US Steel. As steel prices are falling all over the world, more imported steel products are making their way into the US markets. This combined with the present oversupply is putting even more downward pressure on steel prices and further squeezing margins of producers such as US Steel.
Concerns about slowing growth in emerging markets, the current Euro crisis and potential slowing of the US economy all continue to weigh negatively on steel producers. As a result, management at US Steel stated that they expected 3rd quarter results to be below second-quarter results. Management also expects the price of steel to drop further as a result of the oversupply of steel.
Technical outlook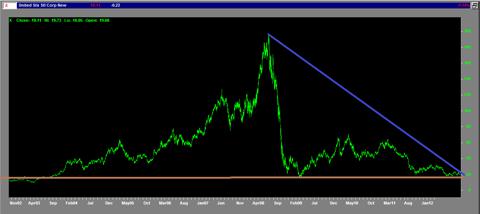 From a long term perspective, the stock is extremely oversold and appears to have found support in the 16.90-17.500 ranges. This zone offers a pretty good level of support as it has been tested on multiple occasions and has held so far. If the stock closes below $16.00 on a weekly basis, it will be a negative development and indicates that it may trade all the way down to the $10 ranges.
Depending on your time frame, a test of the $16.50-$18.00 ranges could make for a good long term entry point. If your investment horizon is short, then consider placing a stop at $14.00-$15.00 ranges to limit your losses. A weekly close above $22.50 will be a bullish development and signal higher prices.
The competition
US Steel versus Nucor Corp (NYSE:NUE) and ArcelorMittal (NYSE:MT). From a technical perspective Nucor Corp has the strongest and most bullish pattern out of the three.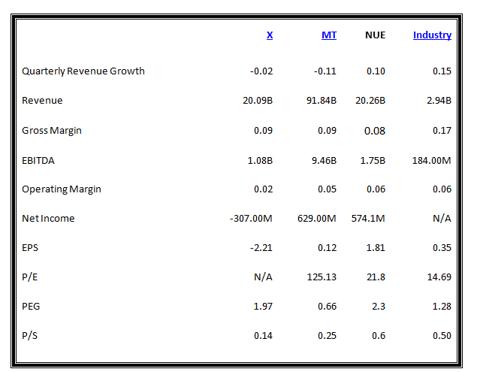 Company: United States Steel Corp:
Brief Overview
Profit Margin = -1.53%
Operating Margin = 2.07%
Quarterly Revenue Growth = -2.00%
Quarterly Earnings Growth = - 54%
Operating Cash Flow = $991 million
Levered free cash flow = $471 million
Percentage Held by Institutions = 78.2%
Short Percentage of Float = 25.00%
Growth
Net Income ($mil) 12/2011 = -53
Net Income ($mil) 12/2010 = -482
Net Income ($mil) 12/2009 = -1401
Net Income Reported Quarterly ($mil) = -219
EBITDA ($mil) 12/2011 = 898
EBITDA ($mil) 12/2010 = 468
EBITDA ($mil) 12/2009 = -1025
Cash Flow ($/share) 12/2011 = 3.62
Cash Flow ($/share) 12/2010 = 1.75
Cash Flow ($/share) 12/2009 = -5.27
Sales ($mil) 12/2011 = 19884
Sales ($mil) 12/2010 = 17374
Sales ($mil) 12/2009 = 11048
Annual EPS before NRI 12/2007 = 8.74
Annual EPS before NRI 12/2008 = 17.88
Annual EPS before NRI 12/2009 = -10.53
Annual EPS before NRI 12/2010 = -2.83
Annual EPS before NRI 12/2011 = -1.11
Dividend history
Dividend Yield = 1.00
Dividend Yield 5 Year Average = 1.05
Dividend 5 year Growth = -29%
Performance
Next 3-5 Year Estimate EPS Growth rate = 8
ROE 5 Year Average 12/2012 = 5.93
Current Ratio = 1.70
Current Ratio 5 Year Average = 1.85
Quick Ratio = 0.90
Interest Coverage = 0.3
Conclusion
Only investors willing to take some risk should consider this play as the markets are flooded with steel right now and US producers of steel are at a significant disadvantage in comparison to Chinese steel producers. However, from a very long-term perspective, it could make sense to nibble at the stock now. There are trillions in infrastructure projects that many of the emerging nations will have to undertake in the years to come, thus the long term growth prospects for steel manufacturers should be good.
According to the Asian development bank's estimate, Asian economies need to invest about $8-trillion in infrastructure in the next 10 years. Despite the somewhat sour outlook for the steel sector establishing a small position now could prove to be a good long term investment.
One alternative for those thinking of taking a position in US Steel or any other play in this sector would be to sell puts at strikes you would not mind owning the stock. If the shares are assigned to your account, your final cost will be below the strike price as you can apply the premium you received towards the cost. Investors looking for other ideas might find this article to be of interest: Abbott Laboratories: A Second Stream Of Income In Addition to The Dividend.
EPS charts obtained from zacks.com. A major portion of the historical data used in this article was obtained from zacks.com. Competitors data sourced from yahoofinance.com.
Disclaimer
It is imperative that you do your due diligence and then determine if the above strategy meets with your risk tolerance levels. The Latin maxim caveat emptor applies-let the buyer beware.
Disclosure: I have no positions in any stocks mentioned, and no plans to initiate any positions within the next 72 hours.
Business relationship disclosure: This article was prepared for Tactical Investor by one of our analysts. We have not received any compensation for expressing the recommendations in this article. We have no business relationships with any of the companies mentioned in this article.