Anyone who has been long Advanced Micro Devices (NASDAQ:AMD) for the past 6 months may be looking for a large cliff to visit. The stock has been mercilessly punished. Up until March of this year, AMD was moving nicely to the upside. It moved from the $5.00 range in December 2011 to a little over $8.00 in March 2012. Then, earnings came out and AMD quickly popped to $8.25 on the news only to fall back through $8.00 and finish at the lows of the day. Looking at the earning results from Q1 2012, revenue came in at $1.59B versus $1.61B in Q1 2011 and $1.69B in Q4 2011. Worse yet was the net income figure. AMD went from a net income of 510M in Q1 2011 to a net loss of (590M) in Q1 2012. Granted, a large part of this was due to the charge of $703M that AMD had to take to rid itself of the %8.8 percent stake it had in Global Foundries. Without that charge, AMD's net income would have been a positive $92M for Q1 2012. AMD has continued its down trend since this time.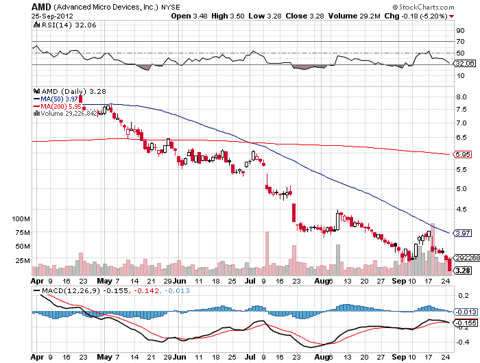 It Keeps Getting Worse
AMD stock continued to fall until it found support around the $6.00 range. PC demand had been faltering due to a soft world economy as well as the rise of the tablet. AMD had just about freed itself from Global Foundries and improved the supply situation of its 32nm processors when it dropped a bomb on its investors. AMD warned that revenue for Q2 2012 would be 11% lower than the first quarter of 2012. Blame was placed on weakness from China and Europe. As a side note, AMD also said operating expense would come in less than originally forecast. After hours, AMD got hammered and the stock headed towards $5.00 the next day.
When Q2 2012 earnings were officially announced, the results were underwhelming. As expected, net income was down to $1.41B. AMD did manage to post a small profit with a net income of $37M. Margins came in at 46%. GPU sales were down 4%. Lower desktop channel sales led to a 13% sequential and year over year decline in AMD's computing solutions group. Things were not looking good for AMD and investors once again punished AMD by driving the price into the $4.00 range.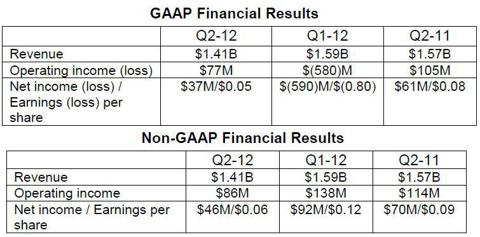 Into the Abyss
Fast forward to today, September 25, 2012. PC sales are expected to still be soft. Even with the Windows 8 release, many analysts do not expect any significant uptick in PC sales. Many AMD executives have left or have been fired lately. The most notable executive to depart was AMD's CFO Thomas Seifert. Once again, the stock fell lower. Analysts from everywhere have been lowering their estimates and price targets for AMD. JMP lowered their price target to $2.00. In a mysterious turn of events, Goldman Sachs upgraded AMD from Sell to Neutral saying that AMD was fairly valued at $3.50.
Is the Worst Over
After all that has happened to AMD this year, one must wonder how much more punishment can there be. AMD looks like one of those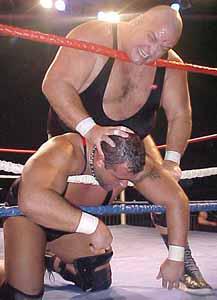 punching bag wrestlers that King Kong Bundy would destroy on Saturday morning wrestling. On the bright side, AMD has had some positive events take place this quarter. Jim Keller left Apple to join AMD as Chief of Processor Group. Mr. Keller is one of the best, if not the best chip engineer architect in the business. He played an important role on the design team responsible for the revolutionary AMD Athlon™ 64 and AMD Opteron™ 64 processors, which featured the world's first native x86-64 bit architecture. In addition, he was the architect of several generations of mobile processors, including the chip families found in millions of Apple iPads, iPhones, iPods and Apple TV's. Next up was John Gustafson. Mr. Gustafson left Intel to become AMD's Chief Graphics Product Architect.
AMD has launched its Trinity APU's. On October 2, 2012, the desktop versions and parts will be available. AMD is set to launch the new Steamroller chips in 2013. Other positive chip developments are AMD's Jaguar and Hondo. AMD should be, to some extent, in all 3 new gaming consoles. Finally, AMD is starting to gain some benefits from its acquisition of SeaMicro.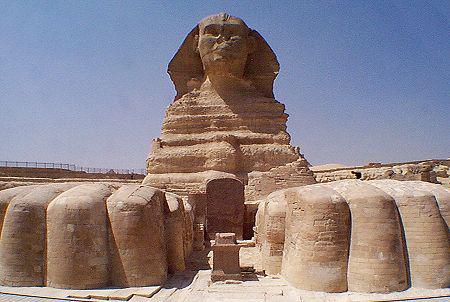 When you look at the current picture, AMD looks like a sphinx. On one hand, the past 6 months have been a train wreck for AMD. Intel (NASDAQ:INTC), the "Empire", has crushed AMD the "Ewok clan" for the last few years. The last minute revenue warning for Q2 left many investors with a decidedly bad taste in their mouth. Finally, the exit of AMD's CFO was the cherry on top of this disaster sundae.
On the other hand, AMD has survived much worse. If the first half of 2012 was a disaster, 2008 was almost the apocalypse for AMD. Annual EPS came in at negative ($5.09) in 2008. Whether AMD's new chips do well against Intel's chips remains to be seen. The major event for AMD is the hiring of Jim Keller. It is mind boggling that he would leave a powerhouse like Apple to come to a sink hole like AMD if he felt that AMD has no hope. It makes no sense. Even if he had any issues with Apple, why AMD? Why not Nvidia, Samsung, Intel or any other technology company. Mr. Keller is the "Michael Jordan" of chip architecture. People move around a lot in the chip space, but going to a company that looks like its on its last legs doesn't add up. Mr. Keller must have had some good reason, other than money, to go to AMD. He would have gotten paid anywhere he went.
In the end, AMD needs to right this sinking ship fast. As of this time, management has not warned on Q3. If they pull a stunt like the last quarter and warn ridiculously close to the earnings release, I fear that investors may never trust AMD again. However, if AMD pulls a rabbit out of its hat and beats expectations, the stock price may appreciate quickly. AMD has over 120 million shares short, or a short ratio of over 20%. In other words, it would take approximately 7 days for all of the short sellers to cover their positions. After earnings are announced on October 18, 2012, the riddle of AMD may be solved.
Disclosure: I am long AMD. I wrote this article myself, and it expresses my own opinions. I am not receiving compensation for it. I have no business relationship with any company whose stock is mentioned in this article.