On Thursday, Chinese energy storage and distribution company Longwei Petroleum Investment Holding Ltd. (LPH) completed a long-anticipated acquisition. The company acquired the assets of Huajie Petroleum Co., Ltd., which consists of a fuel storage depot with 100,000 metric tons [MT] of additional storage capacity. Longwei Petroleum primarily engages in the storage and distribution of finished petroleum products in the People's Republic of China and has steadily been growing its assets.
Prior to the acquisition, the company operated 120,000 MT of storage capacity through two facilities located in the Shanxi Province in Taiyun City and in the Gujiao area. In 2009, the company had acquired its Gujiao Facility which hosted 70,000 MT of capacity. The increasing size of the acquisitions has been a noteworthy accomplishment for this small, but quickly developing company.
Often overshadowed by much larger investment counterparts in the region marked with heavy governmental ties, Longwei Petroleum has failed to appear on many investment radars in the energy space. Chinese oil conglomerates such as CNOOC (NYSE:CEO), PetroChina (NYSE:PTR), and Sinopec (NYSE:SHI) have often dominated headlines within the Chinese energy sector. Yet Longwei Petroleum has steadily been giving rise to a complementary investment path to Chinese energy by addressing energy infrastructure.
The lack of a pipeline in the vicinity has allowed for Longwei Petroleum to establish itself as a rising key player in the influential energy distribution space. More akin to a Kinder Morgan Energy Partners, L.P. (NYSE:KMP) or Enterprise Products Partners L.P. (NYSE:EPD) than it is to Chevron (NYSE:CVX) or Exxon Mobil (NYSE:XOM), Longwei Petroleum has extended its concentrated distribution influence ever closer to the industrial hub found in Beijing. The image below gives a rough idea of the acquisition path as it moves closer to the country's capital.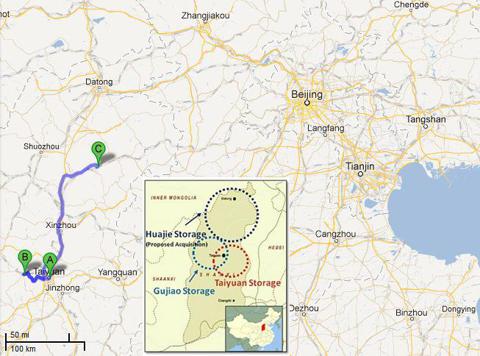 The company has taken significant steps of late to improve investor confidence in an investment region still struggling to recover from prior woes. Several small-cap Chinese investments proved to be less than trustworthy prior to 2012 in a series of events that utterly devastated market capitalizations across the board. More about this can be found in my other article.

Yet in a seemingly unprecedented maneuver, Longwei Petroleum went the extra mile to engage an independent auditor to verify and reconcile its filings between China and the United States which proved no material differences. The company also withdrew its $50 million shelf offering in 2011 that would've been used to finance the Huajie acquisition. In doing so, they chose to complete the acquisition via operating cash flows in order to preserve investor confidence. Additionally, the company has been providing more transparency on its website in form of facility video tours and pictures.
A glance at the company's financials illustrate an impressive track record only fortified by news of this additional acquisition. The upcoming increase in property, plant, and equipment will help to bolster confidence for the company already indirectly suffering from a lack of such confidence. Some key statistics can be found below.
| Longwei Petroleum Investment Holding Ltd. | June 2012 | June 2011 | June 2010 |
| --- | --- | --- | --- |
| Net Sales | $510.6 million | $481.6 million | $343.2 million |
| Net Income | $65.1 million | $62.7 million | $50.2 million |
| Total Assets | $342.3 million | $273.3 million | $187.6 million |
| Total Liabilities | $8.8 million | $11.6 million | $9.8 million |
| Total PP&E | $47.2 million | $45.7 million | $43.6 million |
| Total Net Receivables | $143.8 million | $81.6 million | $100.1 million |
| Advances to Suppliers | $109.9 million | $57.8 million | $74.3 million |
Net sales has steadily increased year-over-year as the company effectively put its business model to work. Total assets has largely been bolstered by net receivables in light of increased sales. Yet the large increase in net receivables is also largely due to advances to suppliers which is indicative of high business productivity with limited risk of default. Combined with virtually no debt as seen by the total liabilities and it seems as if Longwei Petroleum maintains a sound business experiencing rapid growth.
When taken altogether, it would appear that Longwei Petroleum remains sorely undervalued in light of its ongoing operations and recent accomplishments. This latest acquisition represents a critical addition that expands not only the operations of the company but also the reliability of a company indirectly affected by regional mistrust. Investors looking for a more speculative undervalued investment can find it here in Longwei Petroleum. Despite the company's promising growth in the right place at the right time, Longwei Petroleum trades at $1.57 intraday as of September 27, 2012. According to the company, the current book value per share stands at $3.31, a significant discount that is difficult to justify by any means.
Disclosure: I am long LPH. I wrote this article myself, and it expresses my own opinions. I am not receiving compensation for it (other than from Seeking Alpha). I have no business relationship with any company whose stock is mentioned in this article.