Waste Management (NYSE:WM) is the top company in the US solid-waste industry. With the help of its subsidiaries, the company offers services to more than 20 million industrial, residential, commercial and municipal customers in the US and Canada. WM offers waste collection, recycling and resource recovery, transfer and disposal services. Waste Management sites include about 270 landfills, around 110 material recovery facilities, 290 transfer stations and nearly 20 energy plants. However, landfill and collection services make up for about three-quarters of sales.
In my earlier articles, I looked at the business prospects and impressive revenue growth opportunities for Waste Management. However, WM does not just offer impressive growth opportunities; the stock also has an attractive dividend yield. In this article, I analyze debt, earnings and cash flows of the company to gauge whether the firm will be able to maintain its dividends.
Dividend History:
Waste Management has an impressive history of dividends and at present offers a dividend yield of 4.20%. The stock pays dividend of $1.42 annually. It has increased its quarterly dividends on a constant basis since it started paying dividends in 1998. One can expect another dividend raise soon, taking into account the history of dividends and healthy operations.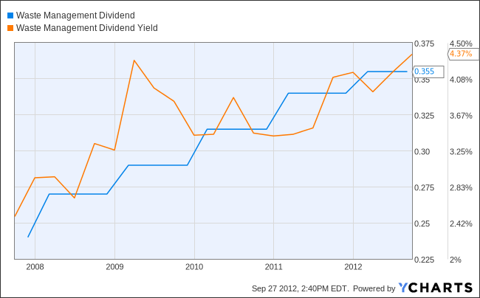 WM Dividend data by YCharts
Earnings:
In the recent earnings announcement, the company earned $0.52 per share, a 4% increase from the second quarter of 2011, as the company grew both its revenue and net income. During the quarter, WM core solid waste business continued to do well as the combined income from landfill and transportation business grew by 3.4%. In addition, the margins in the core business expanded by 60 basis points. WM also witnessed a second successive quarter of growth in its solid waste business. The core business continued to do well, but the overall company performance came down by $0.07 per share. Falling commodity prices brought the overall performance of the business. Over the past six quarters, the firm has experienced modest revenue growth but the income has been declining.
As I have pointed out in my earlier article, the company possesses an impressive set of revenue generating assets. In addition, the firm is also increasing its energy business which will be an integral part of WM in the future. At the moment, WM margins are reasonable, and the firm is growing its revenues. WM does not face any immediate threat of revenue decline, and should be able to post impressive profitability.
Cash Flows:
Waste Management has significant cash flows from operations. Over the past three years, the firm has been generating over $2 billion in cash flows from operations. At the end of 2011, WM generated $2.4 billion in cash flows from operations. However, the firm has been investing significantly in the business. In each of the last three years, WM spent more than $1 billion on capital expenditures. Over the past three years, the firm has been purchasing common stocks as well as cash dividends. In 2011, WM paid $637 million in cash dividends and purchased $575 million worth of common stocks. WM had $258 million in cash and cash equivalents. During the current year, the firm has generated over $1 billion in operating cash flows, and I expect the firm to generate total operating cash flows of just over $2 billion. Moreover, WM has paid $329 million in cash dividends. At the moment, the firm is generating enough cash flows to cover its dividends.
Debt:
WM debt stood at $9.7 billion at the end of 2011. Major portion of the long term debt is comprised of senior notes and debentures which mature through 2039. Senior notes and debentures collectively make up almost 64% of the long term debt. Total amount outstanding under senior notes and debentures is $6.2 billion and yield between 2.60% and 7.75%. In addition, the firm has tax exempt bonds maturing in 2041 worth $2.7 billion. Tax Exempt bonds yield between 0.1% and 7.4%. Interest expense for WM was $481 million at the end of the previous year. I believe the firm will be able to meet its interest expenses and debt obligations due to impressive cash flows.
Competition:
Waste Management is the biggest player in the market, and two of its closest competitors jointly are weaker than WM and have lower market share. Republic Services (NYSE:RSG) is the key competitor for WM. Republic services recently acquired Allied Waste to increase the size of the company and combat WM. Waste Connections, Inc. (NYSE:WCN) just announced that it will buy R360 for $1.3 billion.
Another operator, Heckmann Corporation (HEK) is also establishing itself in the market. After the merger with Power Fuels, HEK has also acquired a majority stake in Appalachian Water Services, LLC ("AWS"). Although, there has been substantial movement in the industry WM competitors still stay considerably behind in terms of pricing power and market share.
Summary:
According to my analysis, WM should be able to continue its attractive dividends. The firm is in a strong position as the market leader in its core business. In addition, WM is experiencing impressive revenue growth. In addition, cash dividends for WM are almost 25% of its cash flows from operations indicating adequate coverage through cash flows. At the moment, WM is focusing on increasing its revenues from the energy sector, and the company plans to double its operations by 2020. There is room for the company to grow in different segments of the business. I expect WM to maintain its impressive dividends.
Disclosure: I have no positions in any stocks mentioned, and no plans to initiate any positions within the next 72 hours. I wrote this article myself, and it expresses my own opinions. I am not receiving compensation for it (other than from Seeking Alpha). I have no business relationship with any company whose stock is mentioned in this article.