As I look through biotech stocks, one stood out clearly to me as an opportunity - Ampio Pharma (NASDAQ:AMPE). Here are ten reasons that I think make AMPE a compelling buy. The reasons are macro, stock-related, and most importantly, drug-related, as I think Ampio's diverse but simple pipeline of drugs has a solid chance of success in being approved by the FDA.
1. Drug patent cliff - This is a solid macro reason to get into the biotech stock world. Specifically to Ampio, the 3 main drugs in their pipeline are all 505(b)(2) submissions, which have a much quicker approval process (typically one to three years) than a new drug.
2. Capital raise is out of the way - Ampio just did a capital raise and has over 20 million in the bank and no debt. They also have a partner funding one of their stage III trials. With a current burn rate of about $600,000, they should not need to raise more capital for the next 12-18 months.
3. Insiders recently extended their lockup agreement - CEO Mike Macaluso and chief scientific officer David Bar-Or, Ampio's two largest shareholders, agreed to extend their lockup agreement.
4. Artificial downside pressure on stock price - The Street.com's biotech writer has it in for Ampio, and has constantly bashed it. He has stated multiple times that he writes to protect investors from pitfalls, but he also appears to protect them from profits (see: ARNA). Also, he frequently gets complimented by short sellers for his articles. Although I do believe in shorting when a stock is overblown and insiders are dumping huge amounts, I still wonder why it appears he caters to them. The Street.com had another writer publish something positive about Ampio.
5. Zertane could move to a super ED drug - Moving on to Ampio's drug pipeline, Zertane appears to have the most market potential. They already have a partner in South Korea, and are starting to manufacture the drug.
6. Optina is also a 505(b)(2) submission. - The company issued a press release stating a successful meeting with the FDA that provided guidance for a phase IIb trial for Optina, their drug for diabetic macular edema that could turn into a phase III if results are positive.
7. Ampion looks to have blockbuster potential - The company's signature drug has completed stage II trials and has amazing testimony.
8. Dr. Bar-Or has a huge catalog of patents to draw from- Over a 22 year period at DMI, Dr. David Bar-Or discovered over 100 novel compounds and new findings related to existing compounds. This has resulted in a wide array of patents and patents pending. Details can be found in company reports.
9. Aegis Capital coverage - On September 25, Aegis Capital started AMPE with a Buy and an $11 price target. A 48 page report is attached here.
10. Stock has huge upward momentum- Over the last 3 months AMPE has established a base and then broken out above the 20 DMA. Shorts are on the run!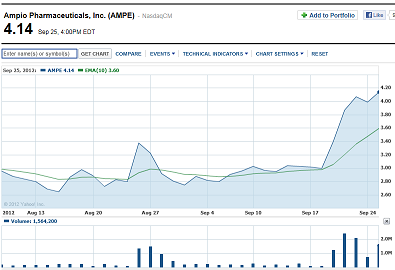 Although the small cap biotech sector is one of the riskiest, I thing this is an amazing opportunity.
Disclosure: I am long AMPE. I wrote this article myself, and it expresses my own opinions. It should not be construed as professional investment advice. I am not receiving compensation for it. I have no business relationship with any company whose stock is mentioned in this article.