In a period of near zero short term interest rates, many investors are seeking high dividend yields as a source of income and reliable return on their portfolios, which has been ravaged by over a decade of subpar capital appreciation. This has led to many of these companies' shares being overvalued by historical norms: the Utility SPDR (NYSEARCA:XLU) trades at 15 times earnings, more then the S&P500 (NYSEARCA:SPY) and roughly the same as tech stocks (NASDAQ:QQQ) with their superior growth and earnings potential! This had led some analysts to warn that capital losses can easily overwhelm dividend income: a 3.1% yield on a stock that has declined 40% in value, for example, is scant consolation. Yet that has happened to investors who bought Intel (NASDAQ:INTC) last May.
So some investors have taken a dangerous next step- they have begun to write covered calls against the stocks in their portfolio, hoping to pocket the premiums as income while also reducing their risk. Now as far as it goes, the predicate of the previous sentence is correct. Writing calls against stocks you own, especially on the monthly cycle available for many blue chips these days, does indeed bring in premium income. (Taxed at short term rates: but that's a subject for tax accountants.) And it does reduce portfolio volatility by reducing losses in a declining market. But it also reduces portfolio volatility by truncating gains, especially big gains, in an advancing market. The long term effects of the latter can be very pernicious on portfolio performance.
Rather than immediately jump into a chart, let's just imagine you have an equal amount of your capital in 10 blue chips and you write at or near the money calls on each every month. Each stock has one of five simple scenarios I bullet below. Think about what happens to your portfolio:
1 of the stocks advances sharply (say, 20%) and gets called away. You pocket the 2 or 3% premium typical for a monthly call, and leave the rest on the table.
2 of the stocks advance modestly. Maybe you keep them, maybe they get called away; but you do pretty much the same as if you had not written the calls.
1 stock stays at its current price. You pocket the 2 or 3% and are happy with your choice.
2 stocks fall but not too seriously. Your premium offsets some of your losses and you are happy with that choice as well.
1 stock falls sharply (say, 20%). Its scant consolation but your 3% premium offsets very little of your total loss. My broker used to say this was like a leper being content to lose only one finger.
Over time, you should see what will happen: your peak performers will be called away, and your dogs will become a larger part of the kennel!
Now let me respond to comments usually made by options traders:
Well, you can always buy the option back in the first case or buy the shares back and write another call (i.e. "rolling up.").
Yes, that is true. But now you have to buy the shares back at a much higher price--perhaps, in fact, at the very time you should think about selling. And don't forget your (slightly increased) funds will buy considerably fewer shares at the higher price, reducing the premium income you get in the future, since you now you can write fewer covered calls than before.
In the last case, you can always write a call at a lower strike price and earn premium income.
Again this is correct. But if the stock rebounds sharply you'll get very little of that rebound (it's basically the first case all over again, in the subsequent option cycle).
All this is not to say covered call writing is not a good strategy: I merely wish to point out that it has hidden 'gotcha!' that novice investors need to be aware of.
Can some of these shortcomings be overcome by investing in a covered call ETF, which has far more money and flexibility at its disposal than a private individual with a small portfolio? The Powershares SP500 Buy/write Index (NYSEARCA:PBP) is such an ETF. Yahoo Finance summary states "The fund generally will invest at least 90% of its total assets in securities that comprise the underlying index and will write (sell) call options thereon. " Lets see how it has done in its five years of existence: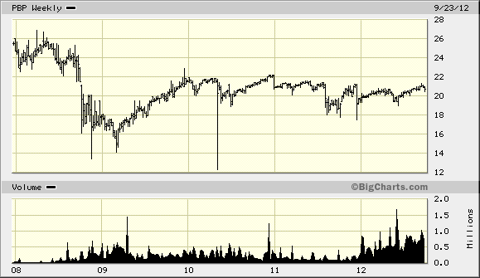 A knowledgeable investor can see the underperformance of the Fund in the last few years: the S&P500 is above its January 2008 level, while the Fund is not. Comparing the two on the same chart helps us reach other conclusions: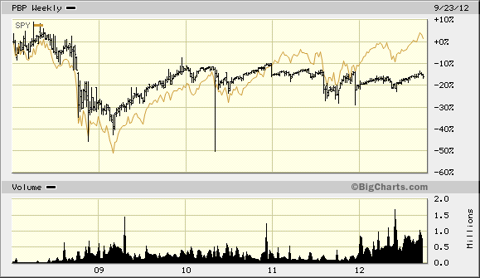 If you look carefully you will see that the covered call strategy outperformed during the crash. As expected, the premium income moderated losses: 40% for the fund, 50% for the broad market. Even better for fund owners, PBP bounced back and continued to stay ahead of the broad market for nearly 18 additional months. Finally, on January 2011, SPY pulled ahead and has remained so. By now the nearly 20% difference is a matter of concern. What can account for this?
The answer is that the decline in implied volatility of options as the markets have stabilized and the prospect of financial Armageddon has receded. You can see this by looking at the volatility index for the S&P500 (VIX):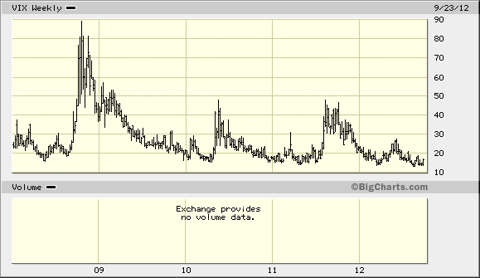 Volatility, one of the 'Greek' option traders are always mumbling about under their breadth, was greatly elevated in 2008 and early 2009; As a result call options on the stocks in PBP were far more richly priced in those days. Since then however, VIX has remained at far lower levels; even spikes in March of 2010 and summer of 2011 were not enough to make up for the fact that your stocks which gained were called away; and the premiums were not enough to offset the loss of your performers.
I wish to point out that PBP paid capital gains distributions of $1.35 at the end of 2010 and $1.83 in 2011. You can see the ex-dividend dropoffs in the price chart above. Alas, these are short term gains which are fully taxed as ordinary income.
So what does this mean for the average investor? You should heed the word of experienced options traders who will point out that performance of a buy-write portfolio will be dominated by the price of the underlying stock or index. Wily traders describe premium income as 'picking up coins in front of a steamroller.' If the price falls sharply your premium income seems pretty modest. If the price rises sharply you've little to show for it.
Thus a few rules to improve your performance:
Write calls only against shares where you do not expect big gains
Refrain from writing calls when volatility is depressed. You can obtain volatility data at www.ivolatility.com.
Consider more sophisticated strategies such as spreads, condors, and butterflies to more carefully control gains and losses.
I will cover some of these 'sophisticated strategies' in future articles.
Disclosure: I am long SPY. I wrote this article myself, and it expresses my own opinions. I am not receiving compensation for it (other than from Seeking Alpha). I have no business relationship with any company whose stock is mentioned in this article.
Additional disclosure: I trade options spreads on SPY on a regular basis.