Quick, name a mega cap stock with declining usage and trading at 32x forward earnings estimates. Don't research too long and hard, as such stocks don't exist outside the magical world of Facebook (NASDAQ:FB).
ComScore just reported that the company again saw declining usage of its service in August. With the stock valuation held up with the promises of mobile monetization, a new search tool, and eventual ability to mine all the data collected on users, the market appears to be missing that the company has lost all momentum.
The leader of social media could be falling victim to the whole issue with social concepts in the first place. Quick, name a club that remains popular for more than five years, or even a restaurant that you still frequent now as often as a few years ago.
Eventually, a social hangout no longer becomes the cool place to visit. Just ask MySpace, once owned by News Corp (NASDAQ:NWSA). In fact, it just launched a new website hoping to draw users back. Or check out the stock prices of other social media hot stocks like Zynga (NASDAQ:ZNGA) or Groupon (NASDAQ:GRPN). Both of those stocks now trade under $5.
ComScore
Forbes provided the following summary on the ComScore data:
Mobile users rose 4% sequentially to 90M in August.
Mobile average daily visitors were up 6% sequentially to 52M, while average minutes per user rose to 3% to 517.
Total minutes fell by 5% from July to 108B.
Desktop minutes dropped 13% to 61B.
Mobile usage now accounts for 43% of total minutes or 47B.
Desktop unique users were up 9% year-over-year, but down 2% sequentially.
All of these trends are startling for a company with a massive $40B valuation that trades at nearly 10x revenue estimates for this year. Total minutes are declining at an alarming rate and it appears to be picking up steam. All of the monthly totals are worse than the year-over-year numbers.
Growth has stalled long before the company can implement most of the monetization plans.
Instagram versus Twitter
One ray of hope for Facebook and the lofty valuation is that Instagram remains a huge hit with mobile usage soaring beyond that of even Twitter. The photo-sharing app has become a huge success making the $1B paid for the company well worth the price.
According to this article, though Twitter has more unique users, Instagram had more active daily users. The service also had users access the site for 257 minutes in August versus only 170 minutes for Twitter.
These charts highlight the usage comparison:

eMarketer
According to this report from eMarketer back in early September, Twitter is currently outpacing the mobile revenue generated by Facebook. It did forecast that Facebook would quickly surpass Twitter in 2013 as mobile ad revenue is forecasted to jump to $387M. See chart below: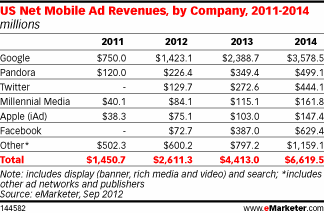 Remember that mobile monetization is suppose to be the savior of Facebook. Yet eMarketer is only forecasting a modest $629M in revenue by 2014.
Conclusion
Facebook has a huge valuation issue that appears to be crumbling. The stock that hit $45 on the first day of trading back in May has already collapsed to $20. Now desktop traffic has started to plunge.
Not only is the company seeing a huge shift to mobile traffic, but also it is losing traffic in the process. The fact that so many users are focusing more on Instagram now should further highlight the issue with paying premium valuations for a service that can't be certain to maintain users in the future.
Would you pay a premium valuation for the hottest nightclub in town? If not, then Facebook could be the ultimate short.
Disclosure: I have no positions in any stocks mentioned, but may initiate a short position in FB over the next 72 hours. I wrote this article myself, and it expresses my own opinions. I am not receiving compensation for it (other than from Seeking Alpha). I have no business relationship with any company whose stock is mentioned in this article.
Additional disclosure: Please consult your financial advisor before making any investment decisions.