We've been focusing on some undervalued high dividend stocks in recent weeks, in our articles on Energy Trust stock Chesapeake Granite Wash Trust, (CHKR) and LP Pioneer Southwest Energy, (PSE).
This week we've found a beaten-up foreign utility stock, which is listed in the Utilities section of our High Dividend Stocks By Sector Tables and have made some low-ball estimates about its future dividend payouts.
AES Tiete (OTCPK:AESAY) is Brazil's second largest private generation company, with a park comprising 19 hydroelectric plants with an installed capacity of 2,663 megawatts (MW), which represents 2.3% of Brazil's Total Installed Capacity.
AESAY has been a dependable high dividend paying stock that has traded as an ADR on the "Pink Sheets" since early 2010. Since mid-August, however, AESAY'S share price has tumbled over 25%, from $12.44 down to $9.29 as of 9/27/12. It's currently very oversold on its stochastic chart: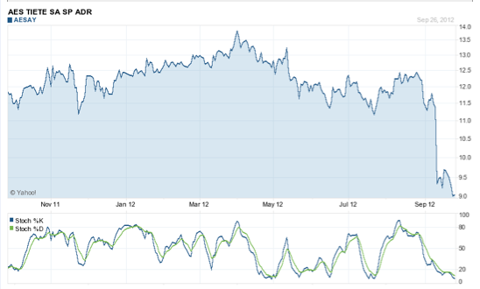 What's the problem? The stock took its biggest hit in early September, when Brazilian President Dilma Rousseff announced a provisional measure for reducing the cost of energy, which will fall 20.2% on average for the final consumer. The Brazilian Government said the cuts in rates for residential and industrial consumers would be, respectively, 16% and up to 28% cheaper, and that the rate reductions will apply from 2013 to the price of electricity.
Here's AESAY's dividend history from the past few years. They typically aim to pay out 100% of Net Income, but will sometimes exceed that figure: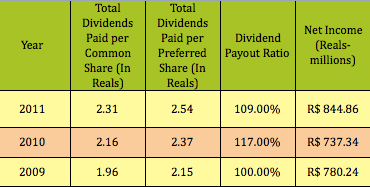 Earnings Growth Prospects: AES Tietê holds a 30-year concession, (2029 expiration), and almost all the amount of AES Tietê's assured energy is contracted for the long-term (2015) through a bilateral electric energy purchase and sale agreement with AES Eletropaulo. Energy rates are reviewed each year by the Brazilian government agency ANEEL, which gave AES a 5.41% rate increase in July 2012.
Long term, the company has a major R $1.1 billion project in Sao Paolo, which is projected to increase its generating capacity by 550 megawatts, a 21% rise. This plant is planned to begin operating in 2016.
AESAY has had major growth in the first 2 quarters of 2012...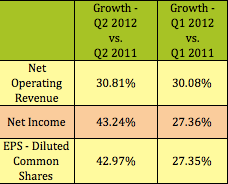 And also showed good growth in 2011, after a hiccup in 2010: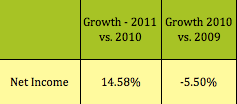 AESAY has one more quarterly dividend left to pay out in 2012. They paid $.32/ADR in December 2011, but the final 2012 dividend hasn't been declared yet. At the new, much lower share price of $9.29, their trailing 12-month dividend yield is a huge 13.72%:

Even if they decrease the December payout by 25%, at its current $9.29 price, this stock would still be yielding 12.81% for 2012: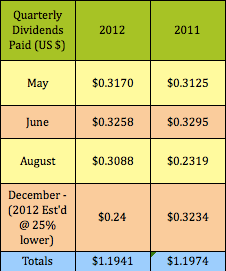 Future Dividends with Lower Net Income: To gain some perspective on how the government's new price cut proposals might affect AESAY's dividends, we looked at what could happen if AESAY's Net Income drops by 25%, and they pay out 100% of it in 2013: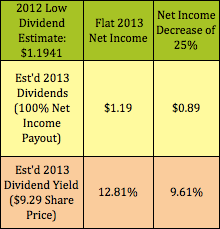 Opportunity: Even if the 2013 dividend drops by 25%, you'd still end up with a 9.61% yield, at the $9.29 stock price. Given the 27% and 43% quarterly earnings growth that the company has had so far in 2012, it could well be that their net income and dividends won't decrease nearly as much as the market is currently discounting.
Options: There are no call options or put options available for AESAY.
Disclosure: Author was long AESAY shares at the time of this writing.
Disclaimer: This article is written for informational purposes only and isn't intended as investment advice.
Disclosure: I am long OTCPK:AESAY. I wrote this article myself, and it expresses my own opinions. I am not receiving compensation for it (other than from Seeking Alpha). I have no business relationship with any company whose stock is mentioned in this article.