After looking at different industries and comparing average return on equity to average price-to-book multiples, grocery stores are neither overvalued nor undervalued as a group. Using this top-down approach to choose industries for a market-neutral position, attractively priced stocks and overpriced stocks were identified among grocery stores purely on the basis of valuation and growth prospects.
Why Create A Fully Or Partially Hedged Position?
Alpha hunters might consider net short positions in industries trading at indefensible multiples, market neutral positions for fairly valued industries, and net long positions in industries with attractive valuations. If they are willing to hedge their positions, investors can find more investment opportunities than they would by restricting themselves to find the best industries or stocks to buy today. Instead, they can use fully or partially hedged positions to bet on the mean reversion of different stocks in an industry while minimizing or reducing exposure to industry and market volatility.
Valuation Matters More Than Fleeting News
This analysis is based purely on growth predictors and past valuations. It is not based on news media sound bites or on personal hunches about where a stock is going. I would rather provide valuation-based recommendations that are validated by the persistence of the value effect than inklings that have not been tested as being predictive. Media attention to firm-specific details is contrary to investments based on financial metrics. Though the value effect has been empirically demonstrated many times over, financial news often showcases other factors that have not been proven to be predictive of future returns. In my view, these other factors often serve as distractors from what is important, and thus, are left out on purpose to focus on value and growth.
You might resist this idea because today's news is more urgent than financial statements. However, financial statements are more important that news media stories. Yesterday's newspapers are used to line birdcages, while analysts reference 10-Q filings for months, and 10-K filings for years after they are published.
Grocery Store Stocks
Growth and value were reconciled in this industry by plotting a measure of growth on the y-axis as a function of a measure of cheapness on the x-axis. Historical price-to-earnings multiples, price-to-book multiples, and price-to-sales multiples were used as measures of cheapness.
Analyst estimates for earnings growth, historical return on equity, and historical sales growth were plotted as measures of growth. These values are predictors of future growth. Though they are not perfect, they are better estimators than individual analyst estimates (including my own).
Plots of these companies reveal how some stocks are much more attractively priced than others:
(click images to enlarge)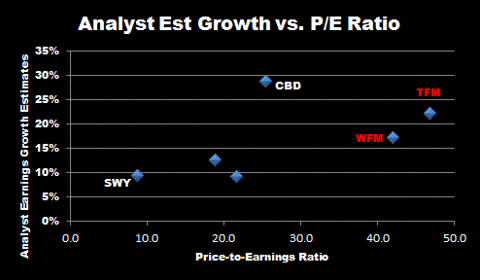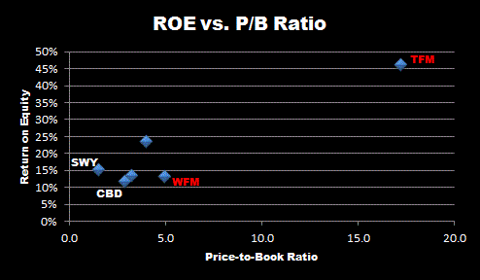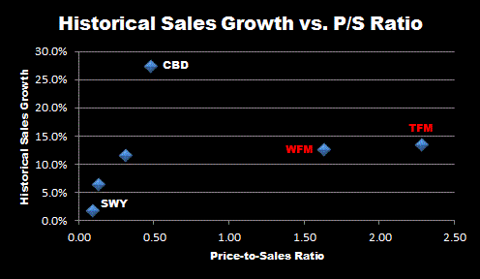 These graphs visually demonstrate how some firms offer investors better growth for value. More attractive stocks are found up and to the left, while less attractive stocks are found down and to the right. The disorder in these plots reveals opportunities to buy exceptional growth/value while shorting suboptimal growth/value.
Two above-trend stocks are presented in bold and two below-trend short picks are listed in italics:
| | | | | | | | | |
| --- | --- | --- | --- | --- | --- | --- | --- | --- |
| Ticker | Company | P/E | P/S | P/B | Growth Est | Sales Growth | ROE | Country |
| | Casey's General Stores | 18.9 | 0.31 | 4.0 | 12.7% | 11.5% | 23.7% | USA |
| | Companhia Brasileira de Distribuição | 25.5 | 0.48 | 2.9 | 28.9% | 27.4% | 11.9% | Brazil |
| | The Kroger | 21.7 | 0.13 | 3.3 | 9.3% | 6.5% | 13.4% | USA |
| | Safeway | 8.8 | 0.09 | 1.5 | 9.4% | 1.7% | 15.1% | USA |
| | The Fresh Market | 46.8 | 2.28 | 17.2 | 22.3% | 13.5% | 46.3% | USA |
| WFM | Whole Foods Market | 42.0 | 1.63 | 5.0 | 17.3% | 12.5% | 13.2% | USA |
Data from finviz.com
Safeway and Companhia Brasileira de Distribuição were found to lie among stocks in the upper left of these plots (higher growth, undervalued stocks) while The Fresh Market and Whole Foods Market were found to lie at the lower right of these plots (lower growth, overvalued stocks). Based on this work, a market-neutral position in the grocery stores industry can be constructed by buying CBD and SWY shares while hedging with an equivalent short position in TFM and WFM shares.
A long/short position using different stocks is not a perfect hedge, so care must be taken to monitor shorts so they do not grow out of hand. Alternatively, the short positions can be created by buying put options.
A Word On News
I would have come to this conclusion regardless of news stories, though they currently support a buy recommendation for Safeway more than they do for Whole Foods Market. Investors who buy shares of Safeway also stand to benefit from the spin-off of Safeway's gift card business. Spin-offs generally benefit investors, as the parts of the original firm are usually valued more than the whole. Safeway announced a planned IPO for its gift card business, Blackhawk Network Holdings, in the first half of 2013.
There is also some tough news for Whole Foods. Part of its allure for consumers is based on the illusion that they are somehow being healthier by purchasing higher-quality, organic foods, albeit at a price premium. A group of Stanford researchers recently published how they found conventional foods and organic foods to be mostly indistinguishable. Senior author Dena Bravata, MD, MS said, "There isn't much difference between organic and conventional foods, if you're an adult and making a decision based solely on your health."
Please read the article disclaimer.
Disclosure: I have no positions in any stocks mentioned, and no plans to initiate any positions within the next 72 hours. I wrote this article myself, and it expresses my own opinions. I am not receiving compensation for it (other than from Seeking Alpha). I have no business relationship with any company whose stock is mentioned in this article.