Since the company's initial public offering, CardioNet (NASDAQ:BEAT) has done a consistent job of disappointing investors, with shares off their 2008 highs more than 90%. While cardiologists appear to utilize the company's technology and find value in it, there has been debate among insurance companies over whether or not to cover it and at what price. Additionally, fewer doctors visits since the great recession began in 2008 have led to lower utilization. On a corporate level, the company has been distracted with shareholder lawsuits and management turnover. However, over the past two years, the company has settled those suits and should be complete with management turnover. Importantly, CardioNet spent $40 million in purchasing three companies in its core competency of monitoring over the past two years.
As revenues have been declining since 2009 the company implemented $7 million of cost savings initiatives that, when combined with synergies from the recent acquisition of Cardiocore Lab, should drive the company back to profitability for the first time in more than three years. Also, as management was negotiating payments from insurance companies over the past few years the company had a hard time collecting on its bills and bad debts got as high as 18%. As the company has better managed those relationships and increased coverage, bad debts have stabilized.
Even after the aforementioned acquisitions, the company has a solid balance sheet with $10 million or $0.40 per share in cash and a $45 million tangible book value or $1.80 per share. As shares trade at merely $2.45, the price/tangible book ratio is an appealing 1.4x.
While the company has not turned a profit since 2009, the trend has been favorable towards earnings and the recent combination of cost restructuring and possible merger synergies should drive operating profits higher. If the company is able to reach $0.30 in EPS in 2014, which should be achievable, BEAT could easily be a $5 stock, double its current price, based on a 15x multiple and adding in what should be $18 million in cash at the end of 2013. Additionally, the company has $50 million in NOL's which offsets future tax liabilities for at least the next five years and makes the company an attractive opportunity for strategic buyers.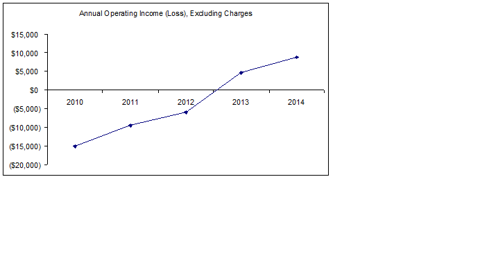 Over a month ago, the company's CEO, Joseph Capper, implemented a 105B-1 trading plan to purchase up to 75,000 shares and has since purchased over 65,000, bringing his total ownership to over 350,000 shares. The company's current CEO, hired in June of 2010, has relevant experience in the healthcare space. His latest venture was his work at Home Diagnostics, a maker of diabetes test kits, which he helped position for sale at a 90% premium to the company's market price after having been public for only three years.
We initiated a position when the stock capitulated this summer under $2. We would look to add to shares if there is evidence in the coming quarters that organic growth has returned and that management is able to reach profitability for the company in 2013. Currently, we see downside for shares around $1.80 (tangible book value) and upside as 100%, as further explained above. We think this represents a good risk reward opportunity in an otherwise expensive investment environment.
Disclosure: I am long BEAT. I wrote this article myself, and it expresses my own opinions. I am not receiving compensation for it (other than from Seeking Alpha). I have no business relationship with any company whose stock is mentioned in this article.