Despite the fact that we were impressed with First Solar's (NASDAQ:FSLR) Q2 2012 recovery with regards to revenues and profits, we're still not fans of the solar companies. As sympathetic as we are to alternative energy sources, we noticed that these companies have been largely spilling red ink despite receiving billions of dollars in direct and indirect subsidies. We had expressed concern that the weakness in the solar industry was beginning to catch up to First Solar before its most recent quarter in which it benefitted from the sale of larger scale solar power generation projects to offset the revenue and profit declines from its consumer solar panel business. While First Solar has yet to recapture the momentum it enjoyed from its IPO up until 2010, we can safely say that at least it isn't JinkoSolar (NYSE:JKS). We can make this conclusion because First Solar has a significantly larger presence in the solar power generation project segment than JinkoSolar, which relies primarily on consumer oriented solar module components. We have noted that JKS has recently won a bid from China Guangdong Nuclear Solar Energy Development to supply 30 MW of photovoltaic (PV) modules for a PV power plant project. This helped First Solar generate nearly 5X as much revenue as JinkoSolar in the Q2 2012 period.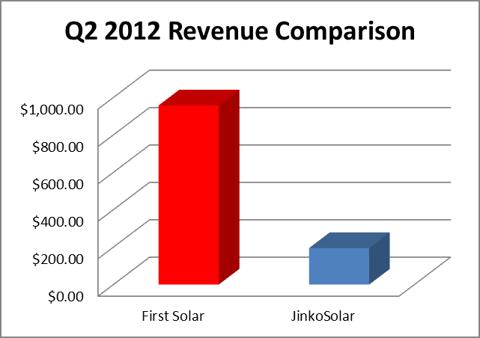 Sources: First Solar and JinkoSolar Q2 Earnings Releases
The good news for JKS is that its operating expenses were 28% of FSLR's. Unfortunately, JKS's revenue was barely 20% of FSLR's. We can plainly see that First Solar's operating expenses represent a significantly lower proportion of its revenue than JinkoSolar. Despite the fact that First Solar has shifted its gears to low-margin, high volume solar power generation projects, it still had a higher gross margin than JKS. JKS should also be worried that it saw its operating expenses increase by 11.75% year-over-year in Chinese Renminbi terms even though its revenues collapsed by 45% in the same time period. JKS saw a 19% increase in its solar product shipment volumes but a significant decrease in the average selling prices for its products. Notable companies that have purchased solar systems power generation projects from First Solar include Berkshire Hathaway's (NYSE:BRK.B) MidAmerican Energy and Exelon Corporation (NYSE:EXC).

Sources: First Solar and JinkoSolar Q2 Earnings Releases
We had also expressed our admiration for the fact that First Solar was probably the only solar company to be able to shift its focus from solar panels to large scale power generation projects. 70% of First Solar's Q2 2012 revenue came from solar systems power generation projects while the recent solar project bid won by JKS only accounts for 10% of JKS quarterly shipment volumes of 300MW. We noted that JKS is expecting its solar module shipments to increase from 223MW in Q2 2012 to 250-280MW in Q3 2012 and is expected to sell 1.2GW worth of silicon wafers, solar cells and solar modules collectively for FY 2012. First Solar has increased its guidance for revenue and EPS. First Solar increased the lower end of its revenue guidance range by $100M to $3.6B and increased its EPS by $.20 from $4.00-$4.50 to $4.20-$4.70.
With regards to each company's balance sheet we find that First Solar has a healthier balance sheet and financial performance than JKS. Also, we like the fact that First Solar has to release its statement of cash flows annually whereas Chinese companies like Trina only release it annually. While we can piece together a statement of cash flows from Trina's results, we find it more time efficient to look at an already prepared cash flows statement rather than build it from scratch ourselves. We can see that the net cash position of FSLR and JKS are a mirror image of each other in that the absolute value of JKS's net debt slightly exceeds FSLR's net cash position. JKS's balance sheet is financed by 50% interest bearing debt, 24% shareholders' equity and 26% operational related working capital. FSLR's balance sheet is financed by 61% shareholders' equity, 9.5% interest bearing debt and 29.5% operational related working capital.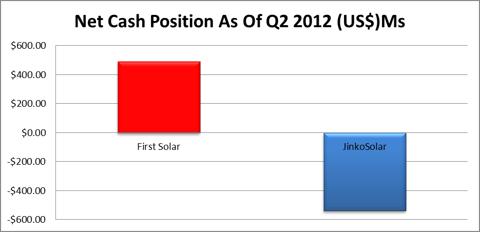 Sources: First Solar and JinkoSolar Q2 Earnings Releases
In conclusion, we are still bears on the solar industry. However, we can safely conclude that First Solar has more upside potential and less downside risk than JinkoSolar. While JinkoSolar has more revenue and profit from consumer oriented solar panels, we believe that First Solar is engaging in a strategic retreat from this segment. We see First Solar reorienting its operations away from consumer oriented solar modules and towards institutional oriented solar power generation systems projects. This is helping First Solar solidify its position as the solar industry's leader when it comes to profit generation and revenues. Well-known utilities such as Berkshire Hathaway's MidAmerican Energy subsidiary and Exelon Corporation have purchased solar system power generation projects from First Solar. We would prefer to see if First Solar can generate continued revenue stability and growth before we initiate a long position with our seed capital for our portfolio book. However, we can see that First Solar has better financial performance than JinkoSolar, a sturdier balance sheet and is not subject to the new solar tariffs passed by the US government.
Disclosure: I am long BRK.B. I wrote this article myself, and it expresses my own opinions. I am not receiving compensation for it (other than from Seeking Alpha). I have no business relationship with any company whose stock is mentioned in this article.
Additional disclosure: This article was written by an analyst at Saibus Research. Saibus Research has not received compensation directly or indirectly for expressing the recommendation in this article. We have no business relationship with any company whose stock is mentioned in this article. Under no circumstances must this report be considered an offer to buy, sell, subscribe for or trade securities or other instruments.