On September 18, Microsoft Corporation (NASDAQ:MSFT) announced that it would increase its quarterly per share dividend payout from $.20 to $.23. We were so disappointed in the "incrementalist" dividend increase implemented by Microsoft, we expressed our desire that Microsoft should just bite the bullet and pay the up to 35% repatriation tax on its $50B of net foreign liquidity to pay shareholders a special dividend of $4/share. While we still stand by our original proposal, we felt duty bound to follow up our report by offering a substitute proposal to liberate Microsoft's foreign source liquidity that does not result in Microsoft paying $17.5B to repatriate the foreign source liquidity to return it to shareholders.
We were originally going to propose that Microsoft's foreign source subsidiaries would repurchase the shares and due to the effects of consolidating intercompany transactions in the financial accounting and reporting process, this would serve to effectively return cash to shareholders and reduce shares outstanding for the company. Unfortunately, International Business Machines's (NYSE:IBM) blatant use of this repatriation mechanism ruined it for everyone else.
On May 29, 2007, IBM announced that it would use a foreign subsidiary (IBM International Group) to initiate an accelerated share repurchase program to repurchase $12.5B of its stock. Two days later, the Internal Revenue Service declared that it would disallow any similar transactions with regards to avoiding corporate repatriation taxes. In IBM's case, IBM International Group would buy the shares in the capital markets and then use the shares to pay its corporate parent for goods and services. We think that in this case, IBM ended up being too cute by half with regards to this program. We would have suggested that IBM International simply serve as the IBM entity that buys the shares back on the open market.
We also believe that the company could have and should have tapped its cash flows through intercompany loans. We were surprised that a US Senate Committee memo said that its fellow tech also-ran Hewlett-Packard (NYSE:HPQ) used loans from its foreign operations to its US operations in order to tap foreign source cash. We were surprised that the IRS did not object to this deal, but we saw how HPQ structured the loans to comply with the tax laws.
We think Microsoft should quickly structure a deal in which Microsoft International lends $50B to Microsoft Corporation and Microsoft Corporation pays the $50B out to shareholders as a special dividend. Microsoft Corporation and Microsoft International can approach the loans as a regular company would treat loans with the bank (short-term loans, willingness to refinance, demonstrated progress in making principal payments directly on the loan or indirectly through deposits in escrow accounts).
If the IRS and Congress change the corporate tax regulations to treat intercompany loans as constructive dividends, Microsoft could resort to a proposal last year by a hedge fund manager who wished to remain nameless, but who thoughtfully shared it with respected hedge-fund manager Whitney Tilson. The proposal involved Microsoft borrowing and using the money to repurchase shares. We support the proposal because it makes economic sense, given the alternatives and it serves to reward Microsoft's long suffering shareholders.
Growing up, we had admired Microsoft and Bill Gates and we were disappointed in Microsoft's fall from grace, even though we were not stockholders in Microsoft. We think that Bill Gates and Microsoft's record of results since 2000 is equivalent to what would have happened if Hank Rearden and Rearden Steel had thrown in the Moochers and Looters of Atlas Shrugged.
We are revisiting the buyback proposal because Strategic Analysis Corporation responded to it by saying "We oppose the proposal but we believe that the company should offer a one-time special dividend and increase the payout ratio. We are also revisiting these proposals is because Strategic Analysis's proposal had some similarity to our proposal last year.
The first step for Microsoft to liberate its net income would be to borrow up to $60B worth of new low cost debt and to use it to repurchase shares in a large-scale tender offer. This way, the company utilizes its net consolidated liquidity position of $60B as the foreign subsidiaries net liquidity position would be offset by the net debt position of the US subsidiary. MSFT could even repurchase the ~461M shares held by Bill Gates and his family as part of this tender offer.
If Microsoft was to repurchase shares at the September 19 closing price of $31.05, it would be able to retire 1.93B shares, which represents over 23% of its shares outstanding. While Microsoft would have to pay interest on the borrowed money, the interest cost would be offset by reduced cash outflows for dividend payments and tax-deductibility on interest. Microsoft's average pre-tax cost of financing last year was 3.17%, which is comparable to the 3% dividend yield. However, interest expenses are tax deductible whereas bond interest is not, so we expect this to generate net incremental cash flows of nearly $541.5M, as well as give MSFT's EPS an 18% boost.
Click to enlarge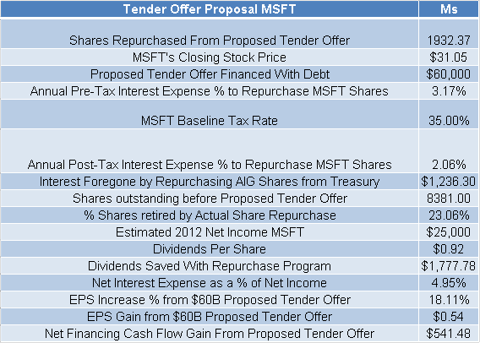 Sources: Microsoft's 2012 Annual Report and Saibus Research Scenario Analysis
The second step would be for Microsoft to pay out 100% of its domestically generated free cash flows to shareholders as a dividend. We can see in Microsoft's 2012 Annual Report that Microsoft generated $8B in domestically sourced adjusted net income excluding the impact of the AQuantive write-down from 2010-2012. During this time period, Microsoft earned $65.1B in total adjusted worldwide net income and generated $76.06B in free cash flows excluding $10.4B in acquisition related expenditures. Because Skype was a registered Swiss Corporation, Microsoft was able to use its foreign source cash flows in order to pay for that acquisition.
We can see that excluding acquisitions, Microsoft converted 117% of its net income to free cash flows. We estimate that Microsoft generated $9.36B in free cash flows from its domestically domiciled operating subsidiaries. Based on this level of cash flow, we estimate that Microsoft could pay $1.12 per share, assuming the company did not repurchase any shares during the year. That would be a very conservative assumption, considering that we are also modeling a one-time special share buyback program, and a recurring share repurchase program as well.
The third step would be for Microsoft to leverage its foreign source cash flows and to repurchase shares using borrowings from the US subsidiary in an amount equal to the foreign source cash flows. Microsoft averaged $18.4B in foreign source net income from 2010 to 2012 and generated $20.7B in 2012. We estimated that Microsoft's foreign operations generated the same conversion of net income to free cash flows as Microsoft USA and we estimated that Microsoft International generated $24.2B. This would enable MSFT to borrow $24.2B each year and use it to repurchase shares. Based on Microsoft's closing price of $31.05/share on September 19th, this would result in the company repurchasing 700-800M shares annually, depending on the price paid for the shares.
We believe that these capital asset management transactions will serve to enable Microsoft to unlock the value of the enterprise and to reward its long-suffering shareholders. A company that we own shares that has seen its value supported recently, even though it has been suffering through a patch of soft EPS and revenue growth is State Street Corporation (NYSE:STT).
State Street had a reputation as a deal-crazed acquisition-hungry company and it had reinforced this view amongst investors by acquiring Goldman Sachs's alternative asset servicing business and entering into negotiations with UBS and Deutsche Bank to acquire the asset management divisions of those companies. However, STT's management managed to scotch that image by announcing that STT will be devoting 100% of its net income to dividends and share repurchases. We expect that STT's recent conversion to fiscal responsibility will enable it to ensure that it doesn't underperform the S&P 500 and that it will reduce the likelihood of the company trading at a discount to book value.
In conclusion, we believe that Microsoft needs to pay out its foreign source liquidity holdings and cash flows to shareholders in order to monetize the value of its holdings. We are aware that the Internal Revenue Service is looking at ways to clamp down on the ability of firms to avoid punitive taxation on company profits and assets. We would have first suggested that Microsoft use a foreign subsidiary to repurchase shares, but IBM ruined that proposal for everyone by announcing its plans to repurchase $12.5B worth of its stock using foreign source cash holdings and that this strategy would save it $1.6B in taxes.
Instead Microsoft has to increase debt at its domestic subsidiary and pay interest (even though the interest rates are real cheap) in order to effectively liberate its cash from its foreign subsidiary. Still, we believe that it would be better to do this than to leave its assets festering away in low-yielding fixed income securities. Microsoft needs to realize that its days of exceptionally strong growth are gone.
Despite its blandishments about facing a "shortage of skilled labor", the reality is that Microsoft only hired about 2% of its applicants during the go-go growth days of the 1990s. This is a relevant observation because Bill Gates's friend Warren Buffett said it best when he said that the CEO who misleads others in public may eventually mislead himself in private. For years, technology companies like Microsoft have been misleading everyone about a shortage of skilled technology workers. We believe that as companies like Microsoft have been misleading people about this for years, we believe that Microsoft believes that it is still a growth company.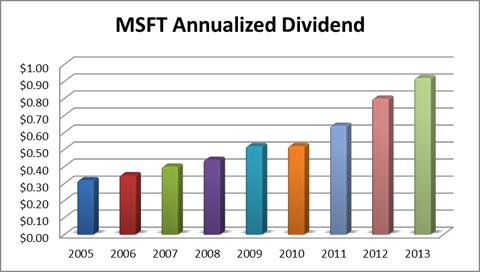 Source: Microsoft Investor Relations
Disclosure: I am long AAPL, STT. I wrote this article myself, and it expresses my own opinions. I am not receiving compensation for it (other than from Seeking Alpha). I have no business relationship with any company whose stock is mentioned in this article.
Additional disclosure: This article was written by an analyst at Saibus Research. Saibus Research has not received compensation directly or indirectly for expressing the recommendation in this article. We have no business relationship with any company whose stock is mentioned in this article. Under no circumstances must this report be considered an offer to buy, sell, subscribe for or trade securities or other instruments.