With earnings misses in the past three quarters, analysts and investors will be watching Tim Hortons Inc.'s (THI) second quarter results closely to see if it can beat the Street. The impact of a slowing economy may play a prominent role. They are also eager to see if the coffee and donut chain can continue to maintain its 2008 earnings before interest and tax [EBIT] growth guidance of 10%.
The company's "quarter of reckoning" will be reported on Thursday, August 7 and BMO Capital Markets analyst David Hartley thinks meeting the Street's expectations may be enough for the stock to stage a relief rally, particularly if the results suggest EBIT growth of 10% for the rest of the year.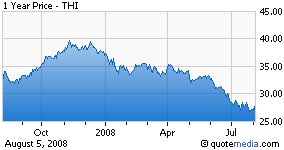 EBIT grew 9.3% and 2.4% in the fourth quarter of 2007 and first quarter of 2008, respectively, which does not necessarily indicate a trend due to calendar and timing issues. However, Mr. Hartley told clients that his 8% forecast seems appropriate given the threat of a slowing Canadian economy and challenges in the U.S. market.
He said:
While Tim Hortons has a loyal customer base in Canada that may shield the company from an economic slowdown, the same does not hold true in the U.S. market.
First quarter U.S. same-store-sales of just 1% may be a sign that the company remains small and relatively unknown in the U.S. market, the analyst added, noting that Tim Hortons may provide financial relief to new or struggling franchises in the form of reduced or waived royalty payments.
He also said that with a price-to-earnings ratio of 17.7 times, Tim Hortons offers an attractive buying opportunity since it is worth the premium to 16.8x for Canadian consumer stocks and quick service restaurant peers in the U.S. are at 19.3x.
Mr. Hartley rates Tim Hortons shares at "outperform" with a C$41 price target.