We believe that if investors want exposure to a telecom company that offers great turnaround potential, they should buy Sprint Nextel (NYSE:S) instead of Research In Motion (RIMM). Despite the fact that Research in Motion lost less money than anticipated in its most recent quarter, we can see that Sprint has made more progress in its turnaround project because not only does it have the right to sell Apple's (NASDAQ:AAPL) wildly popular iPhone smartphone device but also it has begun its Network Vision project to dismantle its 2G iDEN Nextel network and to join AT&T (NYSE:T) and Verizon (NYSE:VZ) in offering 4G LTE communications services. In contrast, Research in Motion won't be releasing the Blackberry 10 until the first quarter of the 2013 calendar year. Also, RIM's only LTE enabled device is the Playbook tablet computer. Here are more reasons why we believe that Sprint offers a better opportunity for investors than Research In Motion:
Magnitude of Revenue Decline:
Sprint's revenue peaked in 2007 at $41B, and this was because it acquired two of its former wholesale affiliates in 2007 and one of its former affiliates in 2006. Sprint's revenue troughed in 2009 at $32.26B and this represented a decline of 21.4%. Sprint's revenue had incremental growth from 2010 to 2011 and Sprint's wireless revenue growth rate in Q2 2012 actually exceeded Verizon Wireless's revenue growth. Sprint's wireless revenue growth rate has also exceeded AT&T Mobility's revenue growth rate in both Q1 2012 and Q2 2012. Now that the AT&T/Verizon duopoly has pushed forth with plans to boost monthly service fees for Data packages, we believe that Sprint's Unlimited Text and Data Package with 450 Anytime minutes for $79.99/month is a fantastic deal for smartphone customers, especially iPhone customers. While Sprint's 4G LTE Network footprint is smaller than that of Verizon and AT&T, we can see that Sprint has been making significant progress in extending its 4G LTE Network footprint since July. Sprint's revenue has increased in 7 out of the last nine quarters, thanks to strength in its prepaid and wholesale segment, and we are pleased that Sprint's Virgin Mobile USA prepaid subsidiary has been selling the iPhone without a contract since June.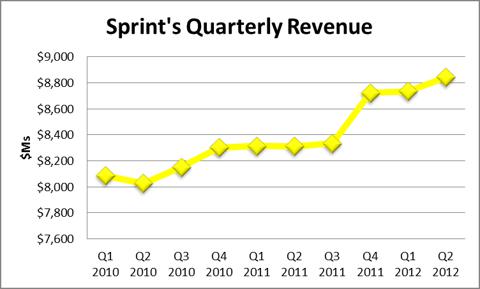 Source: Morningstar Direct
Research in Motion's annual revenue peaked in FY 2011 at $19.9B and has been declining since. The severity of RIM's revenue decline can be seen in its quarter-on-quarter revenue declines, which started in the second quarter of FY 2012 and reached a new low of 43% revenue decline in Q1 2013 versus Q1 2012. At least RIM's Q2 2013 revenue decline was only 31% versus the prior year's comparable period and it increased by 2% on a linked quarter basis. We see RIM's revenue remaining depressed until it begins selling the BlackBerry 10 devices. We believe that even with the potential boost from sales of BlackBerry 10 devices, RIM will be lucky to reach the $4.19B in revenue for Q4 2013 that it reached in Q4 2012. We are estimating that RIM will generate $12.7B in revenue for the current fiscal year, which represents a 31% year-over-year revenue decline versus 2012 and a 36% decline versus its all-time revenue high of $19.9B in 2011.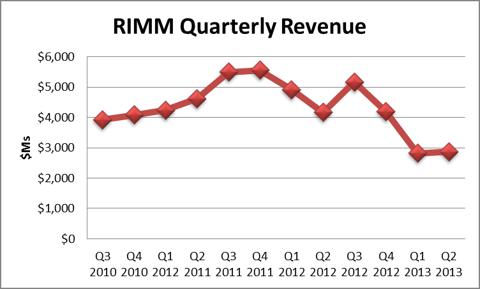 Source: Morningstar Direct
Tablet Computing Devices:
Sprint and RIM are currently also-rans in the tablet computing space. Sprint has the lowest number of connected devices customers and the sales volumes for the BlackBerry Playbook. However, we believe that there is more potential for Sprint going forward in the tablet computing space. Sprint began reporting to investors its connected devices customer numbers in Q1 2012, and the company has seen its connected devices customer base grow from 2.6M in Q1 2011 to 3.2M in Q2 2012 even though it only has between two to four tablets and laptops for sale at a given time. We believe that Sprint has the potential to improve its competitive position in the connected devices space because we expect Apple to let Sprint join the iPad party next year based on the following observations:
Sprint is on pace to satisfy its $15.5B iPhone purchase agreement with Apple.
Sprint's progress in building out its 4G LTE footprint and improving its 3G network as part of the Network Vision project.
Over 40% of Sprint's iPhone sales have been to new customers and the number of new customers buying an iPhone through Sprint is comparable to the number of new customers buying an iPhone through AT&T/Verizon.
Sprint's willingness to sell the iPhone through its Virgin Mobile USA prepaid brand.
Sprint has been aggressively promoting its iPhone availability while AT&T has sought to displace Apple's iPhone with Nokia's Lumia 900 Windows Phone and Verizon is pushing Android devices in order to displace Apple's iPhone.
Sprint's previously high end tablet computing device available for sale was the Samsung Galaxy Tab 10.1. Considering that Samsung infringed on Apple's patents, this would be a way to stick it to Samsung.
Sprint has reported a higher linked quarter connected devices customer growth rate than AT&T in Q1 2012 and Q2 2012 even though AT&T has the iPad.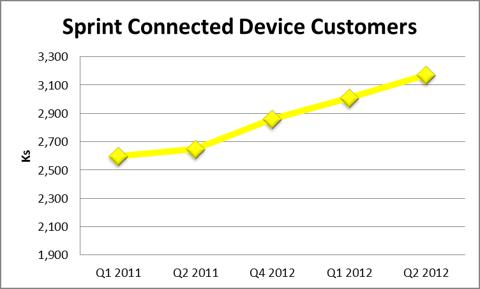 Source: Sprint's last two quarterly earnings releases
Research in Motion finally joined the tablet computing party in 2011 with the introduction of its BlackBerry Playbook tablet computing device. Sales have been pedestrian since the Playbook was launched and the only time the company sold more than 300K in a quarter was during Q1 2012 and Q4 2012 (500K in those quarters). Despite the fact that the BlackBerry Playbook 4G LTE was released in the most recent quarter, total Playbook sales were only 130K during the quarter. None of the four major carriers carry the Playbook for sale.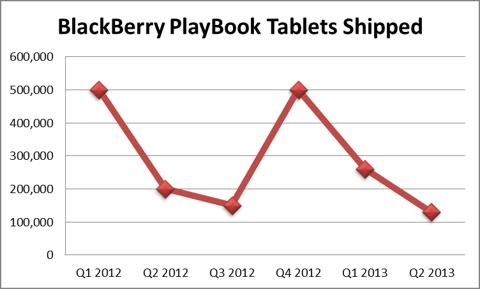 Source: Research In Motion's last six earnings releases
Cash Flows: Despite ramping up capital expenditures in 2011 and 2012 as part of its Network Vision transformation, Sprint had a small free cash flow deficit of (-$37M) in 2011 and positive free cash flow of $10M in Q1 2012 and $199M in Q2 2012. RIM had a free cash flow deficit of $433M in FY 2012 and it actually had positive free cash flow of $169M in Q1 2013 but only $84M in Q2 2013. RIM's operating cash flow in Q1 2013 collapsed by 31% versus Q1 2012. While RIM has had more FCFs in the last 6 months than Sprint, we take into account the fact that Sprint is increasing its capital investment spending while RIM has slashed its capital investment spending in order to conserve cash. We also expect Sprint's free cash flows to increase after 2013 once it completes the Network Vision project and shuts down the Nextel iDEN network. We see two ways that Sprint will see increased cash flows from the completion of Network Vision. The first way is through capital spending that is stable or lower in 2014 and afterwards and that the Network vision project is expected to save Sprint $1-$2B in annual operating expenses, which it can use to bolster profits and to reinvest in promotional activity to improve its competitive position against AT&T and Verizon.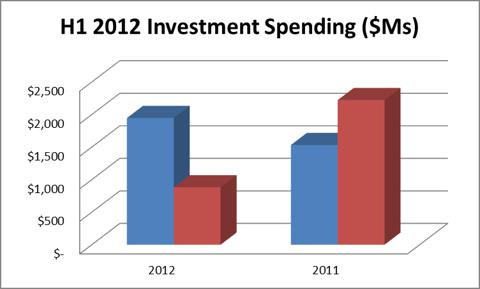 Macroeconomic environments: RIM has more global diversity than Sprint. RIM has access to fast growing markets in Asia, Latin America and Africa, as well as slow-growing markets in Europe and North America. By contrast, Sprint generates all of its revenues from the US, which we believe will perform better than Europe and offers greater potential than consensus economic estimates in 2013 and beyond. We also believe that the US market has potential to turn around its sluggish growth and better compete with emerging markets in Asia and LatAm, and we have also seen economic slowdown in the formerly fast growing emerging markets of Asia and LatAm.
Based on these four factors identified, we conclude that Sprint offers a much greater likelihood of turnaround potential in the telecom sector versus RIM. We see Sprint has made further progress in its turnaround journey than RIM and offers less execution risk than RIM. We can see how even while Sprint was in the midst of a multi-year, multi-step transition process, it was still able to outperform RIM by a wide margin since the end of 2008. We can see that both companies are gambling on a revolutionary smartphone. Sprint is gambling its company's future on selling the Apple iPhone and RIM is hoping to restore its growth and profitability with the BlackBerry 10. So far we find much greater momentum for Sprint and its Apple iPhone partnership than Research in Motion and its BlackBerry smartphone product suite. Sprint Nextel may never be Apple and it has a long way to go to catch up to Verizon Wireless and AT&T. However, we can see that at least it's not Research In Motion. BlackBerry's most famous user was Barack Hussein Obama and both RIM and Obama were hot properties in 2008. Unfortunately for the Democrat Party and RIM, Obama and the BlackBerry are now terribly out of fashion, utterly unreliable and will never recover the level of dominance that both organizations enjoyed at that time.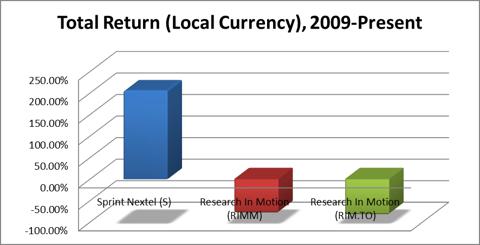 Source: Morningstar Direct
Disclosure: I am long S, AAPL. I wrote this article myself, and it expresses my own opinions. I am not receiving compensation for it (other than from Seeking Alpha). I have no business relationship with any company whose stock is mentioned in this article.
Additional disclosure: This article was written by an analyst at Saibus Research. Saibus Research has not received compensation directly or indirectly for expressing the recommendation in this article. We have no business relationship with any company whose stock is mentioned in this article. Under no circumstances must this report be considered an offer to buy, sell, subscribe for or trade securities or other instruments.