In 1998, Hasbro, Inc. (NASDAQ:HAS) issued $150M in 30-year Corp. bonds. The 2028 Corp. bonds currently yield 30% more than Hasbro's stock. The 2028 Corp. bond is priced at $116.78, so one unit costs $1,167, about as much as 31 shares of Hasbro stock. Those shares would pay $44.50 in dividends, while the bond should pay $66 in fixed income a year.
The Hasbro 2028 bonds are rated Baa2/BBB+ and are currently priced at the top of the range they have traded at in the past few months. To put the bonds into perspective here is a comparison to A1/AA+ rated General Electric Company (NYSE:GE) Corp. bonds. I've also included Aaa/AAA rated International Bank for Reconstruction and Development [IBRD] zero coupons and zero coupon U.S. Treasuries.
| | | | |
| --- | --- | --- | --- |
| | coupon | price | yield |
| Hasbro Inc Deb 6.6% 07/15/2028 (cusip: 418056AH0) call protected, sinking fund protection* | 6.6% | $116.78** | 5.04% |
| GE Capital Internotes Fr 5.45% 04/15/2023, Survivor Option (cusip: 36966R6H4) call protected, sinking fund protection* | 5.45% | $114.25 | 3.79% |
| Intl Bk For Recon & Dev Colts Zero Cpn 03/11/2031, OID(4.16/0.00%) (cusip: 45905ASE9) call protected, sinking fund protection* | 0.00% | $52.48 | 3.527% |
| U S Treas Sec Stripped Int Pmt Tint 02/15/2031 (cusip: 912833XZ8) | 0.00% | $61.07 | 2.701% |
*These bonds do not have a sinking fund and are not scheduled for sinking fund redemption. **Note this is an offer price on the secondary market, the current market price may be as low as $112.93.
Hasbro's July 1998 prospectus explains:
...the Debentures will mature on July 15, 2028...The Securities are not redeemable prior to maturity and will not be subject to any sinking fund.

The Company intends to use the net proceeds... to repay short term debt primarily incurred in connection with the acquisition of the operating assets of Tiger Electronics, Inc.
International Bank For Reconstruction and Development
Moody's January 2012 report on the International Bank for Reconstruction and Development explains its outlook and risk factors. These particular IBRD zero coupons were issued in 1991:
The IBRD is very strong in terms of Moody's capital adequacy measures. The sum of the Bank's convertible currency paid-in capital, total reserves, and callable capital of Aaa/Aa countries continues to comfortably exceed "risk" assets...

Rating Outlook

The outlook remains stable. The institution's strong capital base and reliable income stream should allow it to withstand crises in developing countries without impairing its ability to service its obligations.

What Could Change the Rating - DOWN

The rating could face downward pressure if one or more of the IBRD's largest borrowers were in default and unwilling or unable to meet their obligations to the Bank.
IBRD provides some Aaa exposure with a greater yield than comparable U.S. Treasuries. The IBRD and General Electric bonds may help balance quality with the lower rated Hasbro bonds' yield. (Though any of their ratings and outlooks could change.)
Hasbro's Dividend vs. Debt
While Hasbro cut its dividend in half in 2001, it has raised it steadily since 2003. The company paid a special dividend in 1986 of $1 a share; however, 2011 marked the first year its regular dividend topped $1.
Click to enlarge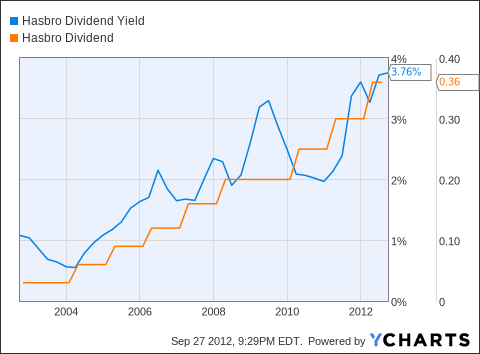 HAS Dividend Yield data by YCharts
The company's market capitalization is currently down quite a bit from early 2011, though it remained much higher in 2009 than it was in 2003. In February 2011, Moody's changed Hasbro's long-term outlook from positive to stable.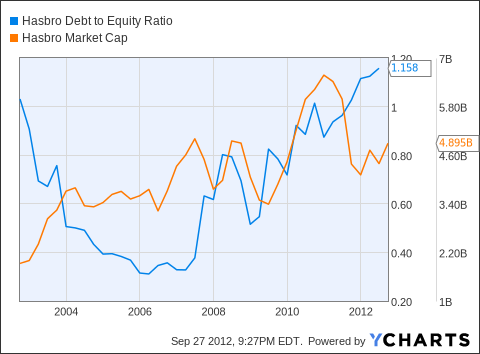 HAS Debt to Equity Ratio data by YCharts
Balancing GE, IBRD Quality and Hasbro Yield
Here is an example that combines Hasbro Corp. bonds, GE bonds, IBRD zero coupons with Hasbro and GE stock:
Hasbro 6.6% 2028

price: 116.78 /

Hasbro stock

price: 37.65

GE 5.45% 2023

price: 114.25 /

GE stock

price: 22.73

Intl Bk 0% 2031

price: 52.48
total / %
$50,000
$1,170 / $250
$1,150 / $250
$1,050

$3,870 /

7.7%

$150,000
$2,340 / $400
$2,300 / $400
$2,100

$7,540 /

5%

$500,000
$4,750 / $750
$4,600 / $750
$4,200

$15,050 /

3%

$1M
$7,100 / $1250
$7,000 / $750
$6,300

$22,400 /

2.2%
The next consideration is to use the Corp. bond income to increase overall yield. In the $150,000 portfolio example, every three semi-annual Hasbro and General Electric coupon payments should generate (2 ($66 x 1.5) = $198) + (2 ($54.5 x 1.5) = $163.50) = $361.50 total.
Hasbro bond coupon is paid in January and July
General Electric bond coupon is paid in April and October
By January 2014, this position should have three coupon payments on each Corp. bond. Every 1.5 years from now until 2023, the fixed income could be directed into a new income fund to try to raise the overall yield:
| | |
| --- | --- |
| | |
| 2012-2014 | Every three coupon payments use income to buy a new fund. |
| 2014-2016 | Every three coupon payments use income to buy a new fund. |
| 2016-2018 | Every three coupon payments use income to buy a new fund. |
| 2018-2020 | Every three coupon payments use income to buy a new fund. |
| 2020-2022 | Every three coupon payments use income to buy a new fund. |
If you search for income funds that yield more than the bonds you may be able to raise the overall yield. For instance BlackRock Income Trust (NYSE:BKT) currently yields around 6.4%. A $360 investment in it today would generate about $20 a year on top of the Hasbro and GE bonds.
There is always the risk that an income fund will not perform as expected - or that a company could default. This is a good reason to carefully consider allocation size relative to portfolio size. Investors might also consider near-term bonds that mature between 2018 and 2020, in addition to bonds for 2023, 2028 and 2031.
If you have any considerations to add to this example, please leave me a comment below.
Disclosure: I am long HAS, GE, BKT. I wrote this article myself, and it expresses my own opinions. I am not receiving compensation for it (other than from Seeking Alpha). I have no business relationship with any company whose stock is mentioned in this article.
Additional disclosure: I am long Hasbro 6.6% 2028 Debenture.
Disclaimer: This article is not a recommendation to buy or sell. There is no way to predict the market or the performance of a stock or bond. It is important to consult a financial advisor in order to tailor a strategy for your objective.