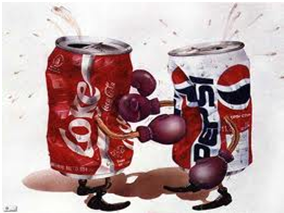 The Coca-Cola Company (NYSE:KO) and PepsiCo Inc. (NYSE:PEP) are wonderful businesses that have generated attractive returns for investors over the years. For example, during the last decade, both companies had an ROE average of about 30 percent. And I sure enjoy drinking the soda from both companies, but if I had to choose one stock to invest in, which one would it be? Let's find out.
Valuation
My first observation is that Coke's market cap is $60B higher than Pepsi and while Coke has a PEG ratio of 2.57, Pepsi's is 48% higher, at 3.81. I think Pepsi's PEG is too high for now, primarily because the market expects a lower earnings growth rate relative to Coke. Specifically, over the next five years, the market expects earnings per share to grow 7.77 percent for Coke and 4.86 percent for Pepsi.
Since Coke is expected to grow its earnings at a higher rate, the market is awarding the company with higher trading multiples. For example, for each $1 Coke generates in revenue, the market awards it with $3.90 in enterprise value, while Pepsi is awarded only $2.01 in enterprise value for each $1 of revenue it generates. From a valuation standpoint alone, in my opinion, Coke looks more attractive because of the following two reasons:
A higher earnings per share growth potential
Solid bullish sentiment from investors who are willing to pay a higher premium for Coca-Cola relative to Pepsi
Financial Strength
As far as financial strength goes, in fiscal year 2011 Coke had $14B in cash and cash equivalents and $13.6B in long-term debt, giving the company $1.03 in cash for every $1 in long-term debt. Its working capital for the same period was $1.2B. With further analysis, I calculated Coke's working capital per share to be $0.27, thus the stock is currently trading at about 142x its working capital per share.
For fiscal year 2011, Pepsi had a negative working capital of $713M, which means that first, it had insufficient funds to meet its short-term liabilities, and second, its working capital per share was negative $0.46, while Coke's was a positive $0.27 as calculated earlier.
If a company's current liabilities exceed its current assets, then it may run into trouble paying back short-term creditors. I went back as far as fiscal year ending 2008 for Pepsi's financials and 2011 was the only year it accumulated a negative working capital during that four-year period. Could this signal red flag for Pepsi? We would have to wait for fiscal year ending 2012 results to make a better forecast.
As of the last annual report, Coke has a quick ratio of 0.92, which means the company does not have enough cash to cover current liabilities since it owns $0.92 in assets the company can turn in to cash almost immediately for every $1 it owes in current liabilities. Pepsi, on the other hand, has a quick ratio of 0.75. Please note that because inventory may take months to sale and turn into cash it was excluded from the quick ratio calculation.
Regarding inventory turnover, Pepsi is much more efficient as it clears its inventory about every 21 days, while it takes 24 days for Coke. Pepsi and Coke collect their receivables every 36.3 and 36.7 days, respectively. Although the companies clear their inventory every 21 or 24 days, they collect their receivables every 36 days, which indicates there is still room for improvement to collect cash at a faster rate.
As of my most recent quarter analysis, Pepsi's debt to equity ratio is about 37 percent higher than Coke, 1.37 versus .99, which means investors are taking a higher risk when investing in Pepsi. If these stocks were to be evaluated exclusively on the debt to equity ratio, it would not be a concern because both earn high returns on equity. However, in this case, Coke's debt to equity ratio is less risky.
Final Thoughts
Analyzing historical data, Pepsi tends to announce stock splits within a few months after Coca-Cola's stock splits, with the exception of 1992. Therefore, it may be possible the company will announce a stock split in the next couple of months. Back to my original question; if I had the option to invest in only one of the two companies, I would select Coke for the previously stated reasons. Which one would you choose and why?
Disclosure: I have no positions in any stocks mentioned, but may initiate a long position in KO over the next 72 hours. I wrote this article myself, and it expresses my own opinions. I am not receiving compensation for it (other than from Seeking Alpha). I have no business relationship with any company whose stock is mentioned in this article.