Potash Corp. Saskatchewan (NYSE:POT), the aptly named chemicals and potash producer, finished another day in the red, ending the day Tuesday at $173.31 — despite a rip-roaring rally on the American stock exchanges. Between its 52-week high of $241.62 and today's intra-day low of $161.95, the stock has lost 30% of its valuation.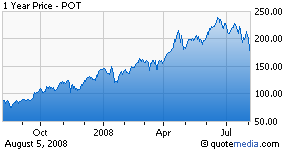 I said it before and I say it again, that's not an intuitive price development for a company that saw its Q2 earnings soar 217% and raised its earnings outlook by 30% for the year.
Sure, there is a labor dispute. And one blogger has blamed "spammers" for spreading bad news about the stock. And some techie analysts have diagnosed a bearish "head-and-shoulders" pattern that doesn't bode well for POT. Our old friend and frequent guest expert on TFN videos, Horacio Marquez correctly cites the slow eviction of ethanol trade players, the strengthening of the dollar, the falling of oil and commodities prices, as well as the prospective decline in energy-related inflationary pressures as reasons for the short-term price decline.
The trend appears industry-wide. Western Potash Corp. [TSE:WPX] has fallen from C$1.88 down to C$1.35, 33% since June, and 10% just today. Athabasca Potash Inc. [TSE:API] lost close to 12% Tuesday, closing at C$5.55, down alsmost 40% from C$9.21 in June. Agrium Inc. (NYSE:AGU), too, lost almost 8% yesterday, closing at C$82.78, down 27% from C$114 in June.
We're clearly not dealing with problems related to POT. We're looking at trend reversal affecting the major players in the entire industry.
Since it is unreasonable to expect that China, Thailand, India, Vietnam and other boom nations will make do with less agricultural production in the current years, the financials of potash and other fertilizer companies will in all probability continue to look excellent — even if the ethanol fad will no longer play a role.
But as bulk shipping and oil exploration stocks have shown in this year, excellent spreadsheets are no protection against loss of favor with the short-term punters. A difficult position to be in, in a market that seems almost abandoned by long-term investors.
We will not re-enter POT this week but are looking for confirmation of the trend.
Disclosure: None