The town of Chesterfield, MO is a second-ring western suburb of St. Louis and is the largest city in west St. Louis County, Missouri. With a population of around 47,484 (2010 census), Chesterfield ranks as the 14th largest city in Missouri. According to a 2007 estimate, the median income for a household in the city was $92,977, and the median income for a family was $117,092.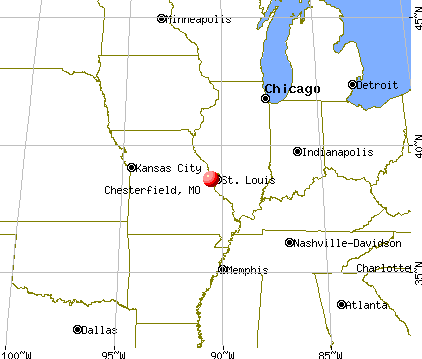 Chesterfield has an unemployment rate of 5 percent, considerably less than Missouri's unemployment rate of 7.9 percent.
So Chesterfield is the quintessential St. Louis suburb. A fine city with a butterfly attraction, restaurants, shopping, good schools, and soon home to two new outlet centers….
The Stand Off in Chesterfield
On April 3rd Simon Property Group (NYSE:SPG) revealed (registration required) that Saks Fifth Avenue OFF 5th (NYSE:SKS) agreed to anchor its St. Louis Premium Outlets, an outlet center slated to contain at least 350,000 sq. ft. of space. (St. Louis Premium Outlets is a product of a joint venture between Simon, Woodmont Outlets and EWB Development LLC, all experienced outlet center developers.)
Two days later (April 5th), Taubman Centers (NYSE:TCO) announced it broke ground for Taubman Prestige Outlets Chesterfield, a 450,000-sq.-ft. center. Taubman's press release noted that it had firm commitments from a number of tenants, but did not identify any retailers by name.
At that time, it became likely that only one of those two centers will get built in Chesterfield. As Robert "Bobby" Taubman discussed during the company's first quarter earnings call:
We've said publicly, I think, Simon has said publicly that there is only going to be one project built in St. Louis. We are way ahead, on a much better site with much better access, much better visibility. ... So to us it's very clear as to which project is going to be built.
Build It and They Will Come?
This week SNL writer, Agha Nawazish Ali Khan, explained that "Simon is constructing a 350,000-square-foot outlet center in the Saint Louis area alongside Taubman, and neither party seems to be backing down. A large percentage of outlet center profitability can be attributed to the quality of branded stores that operate within it".
According to Richard Hauer, managing director at BDO, a New York City-based consulting firm, said that neither Simon nor Taubman will build a second-rate outlet mall, and the first company to lure in brands like Coach, Polo and Saks Fifth Avenue will have an edge over the other. On May 14, Simon announced (registration required) that Saks Fifth Avenue OFF 5TH will open a total of seven new stores in the next two years in its Premium Outlets, including Saint Louis Premium Outlets.
Meanwhile, Taubman reports that the walls for the new project will start to go up in October and the first phase is set to open on August 2, 2013. During Taubman's April 27 earnings call, CEO Robert Taubman explained,
We've said publicly, I think Simon has said publicly, that there's only going to be one project built in St. Louis. We are way ahead on a much better site with much better access, much better visibility.
Taubman's website lists the following tenants for the new Taubman Prestige Outlets Chesterfield project including Banana Republic Factory Store, Gap Outlet (GAP), J.Crew Factory, Furla, Anne Fontaine, Brooks Brothers Factory Store, 2b Bebe, American Eagle Outfitters (NYSE:AEO) - Off Campus, Lucky Brand Jeans, Nine West, Ed Hardy, Body Shop, Jones New York, Carter's, Designer Fragrance Outlet, Easy Spirit, Elegante, Famous Footwear, Hot Topic, Kasper, Thomas Sabo, Aerosoles, Bachrach Outlet, Kitchen Collection, Maidenform, Motherhood Maternity, Ultra Diamonds, Naturalizer, Osh Kosh B'gosh, Billabong, Mikino/Mikino Men's, Gloria Jean's Coffee, Robert Wayne, Rocky Mountain Chocolate Factory, Saucony, T-Mobile, Things Remembered, Sunglass Hut, Time Center USA,and AT&T
On September 20th Simon announced that the company had the following merchants committed to join Simon's St. Louis Premium Outlets® including BCBGMAXAZRIA, Charlotte Russe, Jos. A. Bank, Motherhood Maternity, Max Studio and Sarar. Bass, Gold Toe, Jockey, Rue21, Saucony, Sperry and Vera Bradley, Kitchen Collection, Samsonite, Fragrance Outlet and Ultra Diamonds.
Also, Simon announced that these retailers will join a lineup of brands previously announced including anchor Saks Fifth Avenue OFF 5TH as well as Ann Taylor (NYSE:ANN), Brooks Brothers, Crabtree and Evelyn, Elie Tahari, Haggar Clothing Co., Hanesbrands, J.Crew, Jones New York, Lane Bryant, Loft Outlet, Maidenform, Tommy Hilfiger, Van Heusen, Asics, Clarks Bostonian, Easy Spirit, Famous Footwear, The Finish Line, Fox Racing, Hot Topic, Izod, Naturalizer, Nine West, Reebok, Skechers and Under Armour (NYSE:UA), Carter's and Hartstrings, Kay Jewelers, Yankee Candle, Great Wrap and Villa.
Location, Location, Location
Clearly the two mall giants are competing on the same turf and perhaps for some of the same tenants (I hi-lighted in bold letters above the tenants that are claiming to be going into both projects). It will be interesting to see how this is played out but for now construction crews are busy working feverishly on both sites. Taubman has announced an opening on August 2, 2013 and Simon has announced its opening for September 2013.
If both projects get built, I suppose consumers in Chesterfield will have plenty of options for finding a bargain. I'm just not sure how investors will benefit from owning real estate in a market that appears to be soon over-supplied with an abundance of outlet space. I guess the best location wins and maybe we can learn from Walt Disney when he said "the difference in winning and losing is most often, not quitting". Tick, tock, tick, tock….

Source: SNL Financial, Taubman website, Simon website
Disclosure: I have no positions in any stocks mentioned, and no plans to initiate any positions within the next 72 hours. I wrote this article myself, and it expresses my own opinions. I am not receiving compensation for it (other than from Seeking Alpha). I have no business relationship with any company whose stock is mentioned in this article.