Passing the Torch to China's ETFs
As the torch is lit during the opening ceremony of the Beijing Olympics, will it light a fire under the Chinese ETFs, too?
Many investors are pondering whether they should get back into the Chinese market now and what impact, if any, the Olympics will have in both the near- and long-term.
The Games of the XXIX Olympiad are showing off the best athletes of the world, but it could also be a chance for China to flex its economic muscle for investors. Over the past 20 years, the Olympics held in Greece, Spain, and South Korea have helped to spotlight the economies of the host countries. Now it's time for China's strength to shine, reports John Spence for MarketWatch.
China has long been growing since before the games, at a clip of 10% a year for the past 20 years. One strategist points out that he expects the trends to continue - games or no. Innovation, technology and labor will continue to be factors in driving China's explosive growth.
There are plenty of paths to take investors to China via ETFs: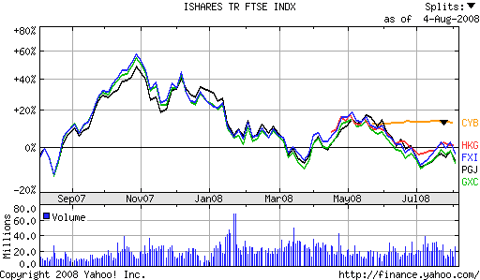 Good Numbers Raining Down on India's Index, ETFs
A recent end to India's dry spell could have something brewing for the coffee ETN.
Wait, what? Yes, we said India. Among the coffee-producing countries in Asia, India is the third-largest.
A drought last month threatened to lower coffee yields, but rains have rejuvenated hopes, reports Thomas Kutty Abraham for Bloomberg. Rain in the last month is said to be so good that it's nearly wiped out the deficit. The country's coffee exports rose 6.4% in the first seven months of the year as producers shipped more to nations such as Russia and Italy.
The stepped up production may have an impact on the iPath DJ AIG Coffee Total Return Sub-Index ETN (NYSEARCA:JO), which launched on June 24. It's down 4% since then, but has been trading higher.
Meanwhile, the Sensex Index rose to its highest point in six weeks, led by banks, reports Pooja Thakur for Bloomberg. In particular, ICICI Bank, the country's second-largest lender by assets, rose the most since July 23.
Sectors sensitive to interest rates, including banks, autos and real estate, are up on hopes that oil prices will continue to fall, says one analyst.
Two India-related ETFs launched this year, and they could benefit on the index's strength:
WisdomTree India Earnings (NYSEARCA:EPI): down 22.9% since Feb. 26 inception; 7% financials; ICICI is 3.2%
PowerShares India (NYSEARCA:PIN): down 16.5% since March 5 inception; 10.9% financials; ICICI is 1.4%