Today I have the pleasure of publishing an exclusive interview that took place this week between me and one of the leading senior analysts for medical technology, Mr. Matt Dolan of ROTH Capital Partners. Mr. Dolan has followed the industry for nearly a decade and has been the senior analyst at ROTH for about six years. His investment views have been cited in numerous publications, and he has spoken as an industry expert on Capitol Hill. Prior to joining ROTH Capital, Mr. Dolan helped develop a trading group at the Chicago Board of Trade and Chicago Board Options Exchange and also worked as an analyst with a hedge fund in New York, specializing in small-cap medical device, biotechnology, and pharmaceutical companies. In this interview, we discussed the major challenges facing Delcath Systems (DCTH).
Delcath is a specialty pharmaceutical and medical device company that focuses on treatments for cancer. The company's lead product is CHEMOSAT, a chemosaturation therapy system designed to administer high-dose chemotherapy and other therapeutic agents to diseased organs or regions of the body, while controlling the systemic exposure of those agents. The first application that Delcath developed CHEMOSAT for is the treatment of patients with liver metastases. In 2010, Delcath announced that its randomized Phase III clinical trial for patients with metastatic melanoma in the liver had successfully achieved the study's primary endpoint of extended hepatic progression-free survival.
The Company filed a New Drug Application (NDA) in December 2010,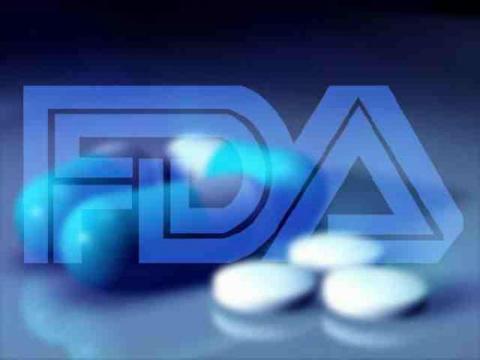 seeking the U.S. Food and Drug Administration (FDA) approval for commercial sale of its CHEMOSAT system with melphalan hydrochloride for use in the treatment of patients with metastatic melanoma in the liver. However, the FDA declined to review it and asked for more information about the manufacturing plant inspection timing, product and sterilization validations and additional safety information. In August 2012, Delcath resubmitted the NDA with a second-generation hemofiltration cartridge, which has demonstrated greater efficiency in melphalan removal from the blood in bench-top and in vivo porcine studies.
"Our team has achieved a significant milestone with the filing of our NDA. We believe that our chemosaturation system provides the opportunity to satisfy a high unmet medical need to treat patients with unresectable metastatic melanoma in the liver. We also believe including our Generation 2 filter in the CMC module represents the fastest regulatory review path for the Generation 2 system, and that it is in the best interest of U.S. patients that we accelerate the potential availability of Generation 2.

We have requested priority review of our NDA by the FDA. Assuming the NDA is accepted and that priority review is granted, our expected Prescription Drug User Fee Act (PDUFA) date would be in February of next year. Based upon the strength of our Phase 1, 2 and 3 data, along with the limited treatment options available for patients with unresectable melanoma metastases in the liver, we believe that our application meets the FDA's criteria for priority review."

- Eamonn P. Hobbs, President and CEO of Delcath Systems.
The FDA has granted Delcath orphan drug designations for melphalan in the treatment of ocular melanoma, cutaneous melanoma and metastatic neuroendocrine tumors, as well as for doxorubicin in the treatment of HCC. This grant allows for up to seven years of marketing exclusivity after gaining FDA approval.
The CHEMOSAT system is already approved in Europe for the administration of chemotherapy to the liver and the company is currently launching the product in key commercial Europe markets. Delcath is also pursuing the approval of the CHEMOSAT system in additional geographies worldwide.
Ben Yoffe: Mr. Dolan, what has changed since December 2010, when Delcath filed its first NDA for the Company's proprietary chemosaturation system (CHEMOSAT) for the treatment of patients with unresectable metastatic melanoma in the liver?
Dolan: As you can imagine, much has happened in a year and nine months. The FDA responded to Delcath's initial NDA with a refusal-to-file (RTF) letter, which we believe was driven by a desire to see a better distinction between the safety of the device versus that of the drug used in the pivotal trial. Since receipt of the RTF, Delcath went back to its investigational sites to collect further data to respond to these questions, and the company filed another NDA including this data in mid-August. The FDA should determine whether the application is acceptable in the very near-term (days to weeks), and we expect the FDA to respond to this filing in the first half of next year.
Additionally, Delcath has begun to commercialize the system internationally and performed its first CHEMOSAT procedure earlier this year in Europe, where the company subsequently introduced its second generation filter.
Yoffe: What can you tell us about CHEMOSAT's clinical data?
Dolan: From a clinical efficacy perspective, the treatment appears to work quite well. Our conversations with treating physicians suggest that outcomes were generally viewed as impressive. From the Phase III study, we saw a five-fold improvement in hepatic progression free survival (hPFS), the study's primary endpoint, as well as an improvement in PFS. More than half of patients in the control arm ended up crossing over into the treatment arm of the Phase III study, making it difficult to demonstrate an overall survival benefit. However, a deeper dive into the data showed overall survival in both the treated and crossover groups outpaced the control group that did not cross over dramatically. So, we think the efficacy side of the equation is quite strong for Delcath. From a safety perspective, the data we have seen surrounds use of the Gen 1 filter, and the treatment appears to carry a profile similar to that of systemic chemotherapy with melphalan. This makes sense considering the CHEMOSAT system delivers a highly concentrated dose of drug to the liver but only provides a typical systemic dose to a patient. We would only expect the side effect profile to improve with the more efficient Gen 2 filter.
Yoffe: Does the company seek an approval of CHEMOSAT in the U.S. without any Gen 2 filter data from clinical trials?
Dolan: The Gen 2 filter carries higher efficiency than the first generation device and has had some very positive initial experience in Europe, reducing many of the morbidities associated with the procedure due to its higher filtering efficiency. Therefore, Gen 2 represents a major improvement for patient tolerability of the chemosaturation procedure. One patient that received two treatments, one with Gen 1 and one with Gen 2, indicated that the difference in morbidity levels was quite dramatic and that she had even debated not undergoing the second procedure given the difficulties experienced in her first round of therapy with Gen 1. Recovery was much swifter, and side effects were minimized.
Gen 2 was included as a technical amendment to Delcath's NDA in the U.S., which would represent the quickest path to approval for this device. We think it is likely the FDA could respond to the question of Gen 2 either as one complete package or separately from that of the primary NDA for the first generation CHEMOSAT system. Based on what we know today, we view it as a promising sign that the FDA allowed Gen 2 to be included in Delcath's Expanded Access Program (EAP) in the U.S., which is actively enrolling patients.
Yoffe: Do you expect the FDA to grant Priority Review status to CHEMOSAT?
Dolan: At this stage, we place a higher probability on the company obtaining Priority Review, which implies a PDUFA date somewhere in the February timeframe. If the company fails to obtain Priority Review, we estimate the difference would only be an additional few months.
Yoffe: What is the potential market for CHEMOSAT, if approved, in the U.S.?
Dolan: The company's initial targeted indication is melanoma metastatic to the liver, including both cutaneous and ocular melanoma which collectively imply over a $500 million opportunity in the U.S. In our analysis of this market opportunity, we assume 2.5 procedures per patient and $15,000 per procedure kit.
CHEMOSAT can also be viewed as a platform technology whereby any cancer metastatic to the liver could potentially be treated, as well as other cancer types beyond the liver through this perfusion technique. When we include these opportunities, the numbers quickly add up to a multi-billion dollar opportunity for Delcath over time.
Yoffe: What can you tell us about the competition in this market?
Dolan: Delcath's primary competitor will be existing treatment practices with chemotherapy regimens. We don't see any direct competitors today that have run significant trials, and specific to this type of hemofiltration procedure, we believe Delcath's Orphan Drug designation will provide a healthy, seven year head start for the company, assuming approval. Surgical isolated hepatic perfusion was performed many years ago and was a precursor to this treatment but was complex and carried significant morbidities. So, the competitive landscape looks fairly clean. Of course, other effective treatments and/or drug therapies could arise in time.
Yoffe: Are you satisfied with CHEMOSAT's sales in Europe so far?
Dolan: In Europe, Delcath only recently booked its initial revenues, so it is difficult to assess how successful the company will be there based on only a handful of procedures and some anecdotal feedback. The company has purposely only introduced the system to 13 centers in seven countries, but we would note that this exceeded management's initial guidance of entering only six to eight European centers in 2012.
This is a methodical rollout, with this initial group serving as centers of excellence and a more aggressive launch anticipated next year. Therefore, revenues in Europe have been relatively insignificant and largely inline with expectations to date. However, beyond the company's U.S. regulatory pathway, European revenues will begin to be a more important component of the story in Q412 and especially in 2013 as the company scales this launch. In the meantime, we look for updates on treatments and reimbursement in key European countries as early indicators of viability there.
I would also point out that Delcath is expanding beyond Europe, with expectations to have treating centers in Australia and Hong Kong by the end of this year. Over the next year or two, we look for an approval of the system in Argentina, as well as the addition of Gen 2 in South Korea, Canada, Singapore, and Brazil.
Yoffe: Is there any other significant products in Delcath's clinical-stage pipeline?
Dolan: As previously mentioned, the CHEMOSAT system can be viewed as a possible platform technology, used in treating other cancer types metastatic to the liver as well as potentially being used in other major organs with tumor burden. The company is pursuing some new indications with clinical studies, such as one for colorectal cancer and one for hepatocellular carcinoma both metastatic to the liver, and success or failure with these indications will determine the technology's perception as a true platform.
Delcath is also working on obtaining European approval for a system that filters doxorubicin, which could open the door to more prospective patients there. Perhaps more importantly, doxorubicin is a commonly used therapy for liver cancer in Asia, as compared to melphalan, and therefore, this ability could open the door to a much larger liver cancer treatment market there. The prevalence of liver disease there is an order of magnitude higher than in the U.S. and Europe, therefore offering a substantial potential opportunity for Delcath.
Yoffe: Do you think the company is funded well enough to get through all of the upcoming steps or will be looking for additional funding?
Dolan: The company is funded to get through some key milestones in the coming quarters, which could help support the stock's valuation if positive. However, considering its current burn rate, we do assume the company will need to obtain additional funding, perhaps following progress with its U.S. regulatory approval process.
Yoffe: For closing, what is your one-year price target for DCTH?
Dolan: Our target price is $6 per share (268% upside on yesterday's closing price), which is driven heavily by the assumption that the company obtains regulatory approval in the U.S. Assuming this is the case, we look for revenues to begin ramping next year and to increase more aggressively in 2014. We apply a revenue multiple of 4x our FY14 projection, discounted at 15% per year.
We also currently have a Buy rating on DCTH, which is again based on the expectation of positive early experience in Europe, U.S. regulatory approval, and a successful U.S. commercial launch.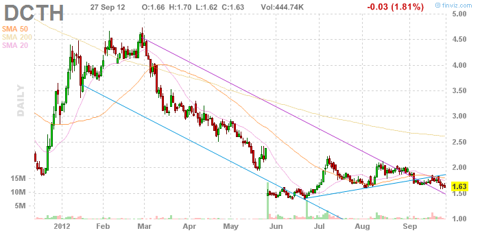 Disclosure: I am long DCTH. I wrote this article myself, and it expresses my own opinions. I am not receiving compensation for it (other than from Seeking Alpha). I have no business relationship with any company whose stock is mentioned in this article.