I'm married to the smartest investor I know. My wife has never opened a 10-K, doesn't know the difference between a put and a call, and has no interest in finance whatsoever. But when she starts telling me about some new thing she likes to buy or some new place she likes to shop, that company's stock always seems to rise.
Lately, my wife has been raving about Mariano's Fresh Market.
"I like it better than Whole Foods" (WFM), she says matter of factly. I'm adding the link parenthetically, of course - my wife doesn't quote tickers conversationally. But it's quite the endorsement, nonetheless.
Mariano's is a small but rapidly growing chain of supermarkets operating in the Chicagoland area. They are owned by Roundy's (NYSE:RNDY), a small cap group of supermarkets in the Midwest best known for the Pick 'n Save chain of grocery stores in Wisconsin.
The Mariano's near us just opened two weeks ago and the parking lot has been packed every day. I've seen reports that the same thing is happening at other locations. I have to admit it's an impressive experience. Mariano's carries higher quality merchandise than typical grocery store and also offers a variety of upscale, non-traditional services. Specifically, Mariano's also includes a sushi bar, brick oven pizzeria, and gelato shop inside the store.
Chairman Bob's History
Mariano's is the brainchild of Roundy's CEO "Chairman Bob" Robert Mariano. Roundy's opened the first Mariano's in 2010 and is scheduled to expand throughout Chicago by opening 3-5 new stores each year. The fact that Chicagoans are taking to the concept should not be surprising- while Mariano's markets and Roundy's are both new to the area, Mariano himself is already a well known local.
Prior to Roundy's, Bob spent 25 years at Dominick's Finer Foods. Bob became the CEO of Dominick's in 1996 and under his tenure the chain grew to become the second largest supermarket in the Chicagoland area. Jewel-Osco, owned by Supervalu (NYSE:SVU) is the market leader.
In 1998, Dominick's was acquired by Safeway (NYSE:SWY) and Mariano left the operation. Absent Mariano's leadership, Dominick's profitability declined and their market share in Chicago fell from 24.4% to 14.5%. At the time of the acquisition Dominick's operated 116 stores; more than 33 of them have now closed.
Mariano is now returning to the Chicago market to do what he does best. The current layout of Mariano's market is similar to the "Fresh Store" concept that Mariano employed successfully during the 90's. I could easily see Mariano's stepping up to reclaim the 33 lost Dominick's locations and possibly growing even more as Supervalu and Safeway struggle to understand the market. Additionally, Bob may be able to extend the Mariano's concept to other areas of the country and to the Pick N' Save chain.
In my recent article on Cambell's Soup, I pointed out that fast growing segments of otherwise flat businesses can surprise the market and create abnormally high returns for shareholders. Since Mariano's currently accounts for only 6 stores out of Roundy's 160 locations, I see Roundy's as a another "wag the dog" play with multi-bagger potential.
If Mariano's can recreate the performance of Dominick's in the 90's, Roundy's could easily double in size over the next five to ten years. If that happens, it is likely that the market will project further growth at the end of that time period. The current price-to-sales ratio of 0.08 could rise to match the Whole Foods price-to-sales ratio of 1.60. Under this scenario, it is plausible that Roundy's could become a forty-bagger.
High Debt Is High Leverage
Roundy's stock at the moment is anything but reflective of the future growth potential. Roundy's had an IPO at $8.50 per share in February, and has since lost 25% of its value.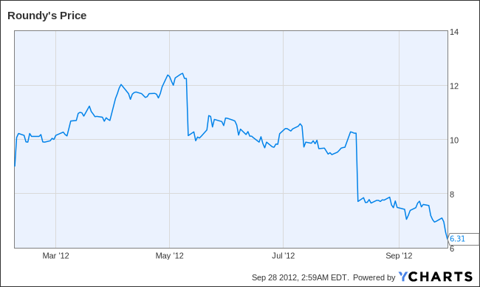 One big concern for Roundy's investors is the company's high debt load. Roundy's sports a scary debt-to-equity ratio of 232, and for many investors "debt" is a four letter word to be avoided. Few want to risk bankruptcy.
Call me crazy, but I actually prefer a company with lots of debt. The way I look at it, if the company I invest in are leveraged up than I don't have to be leveraged up myself. If things work out, the company will grow as planned, the debt will get paid down and I'll have my forty bagger. If not, I'm out only what I put in. I don't need to go on margin or use options to have a shot at meeting my personal investing goals.
Furthermore, I don't think Roundy's is all that likely to go bankrupt because Roundy's debt is well structured. I make a habit of checking the contractual obligations table in the annual reports of every company I consider investing in. Roundy's 10-K filing actually shows two tables, one showing the debt structure before the IPO and one showing it now.
This is how Roundy's contractula obligation table appeared before the IPO:
| | | | | | |
| --- | --- | --- | --- | --- | --- |
| | 2012 | 2013 | 2014 | 2015 | 2016 |
| Long-term Debt | $10,789 | $632,110 | $5,056 | $5,496 | $155,704 |
| Interest | $62,221 | $61,397 | $17,248 | $16,813 | $5,751 |
| Operating Leases | $112,469 | $115,777 | $119,329 | $116,975 | $112,295 |
| Sublease Income | $(4,761) | $(4,023) | $(2,877) | $(2,004) | $ (1,384) |
| Total | $180,718 | $805,261 | $138,756 | $137,280 | $272,366 |
And this is how it looks now:
| | | | | | |
| --- | --- | --- | --- | --- | --- |
| | 2012 | 2013 | 2014 | 2015 | 2016 |
| Long-term Debt | $10,863 | $11,319 | $11,806 | $12,246 | $12,454 |
| Interest | $43,779 | $40,923 | $40,139 | $39,316 | $38,457 |
| Operating Leases | $112,469 | $115,777 | $119,329 | $116,975 | $112,295 |
| Sublease Income | $(4,761) | $(4,023) | $(2,877) | $(2,004) | $(1,384) |
| Total | $162,350 | $163,996 | $168,397 | $166,533 | $161,822 |
All numbers in thousands.
Since Roundy's annual gross profits have been just above $1 billion in each of the past three years, it likely that contractual obligations eating up 80% of that amount would have triggered a default in 2013. With the refinance, obligations in that year only eat up 16% of profits. That should be manageable.
Go Long
The high potential reward for Roundy's more than makes up for the risk posed by the debt load. Now is a good time to purchase the stock.
Disclosure: I have no positions in any stocks mentioned, but may initiate a long position in RNDY over the next 72 hours. I wrote this article myself, and it expresses my own opinions. I am not receiving compensation for it (other than from Seeking Alpha). I have no business relationship with any company whose stock is mentioned in this article.