Congratulations to those of you who were able to ignore the bears on housing and have been sticking with housing stocks this year. The SPDR Homebuilders ETF (NYSEARCA:XHB) has finally recovered all its recession-driven losses and recently hit 5-year highs.
Click to enlarge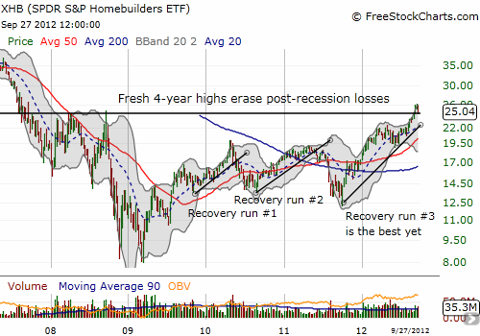 XHB has increased 46% year-to-date in the midst of its best post-recession recovery run
Source: FreeStockCharts.com
The gains in individual stocks have been breathtaking. The chart below shows the year-to-date performance over the course of the year in ten homebuilder stocks. The legend lists these stocks in approximate descending order of their current year-to-date performance. The worst stock in this list is up almost 50% for the year. The best performers have been up as high as 160% on the year in recent weeks. (Note that XHB contains other housing-related stocks besides homebuilders).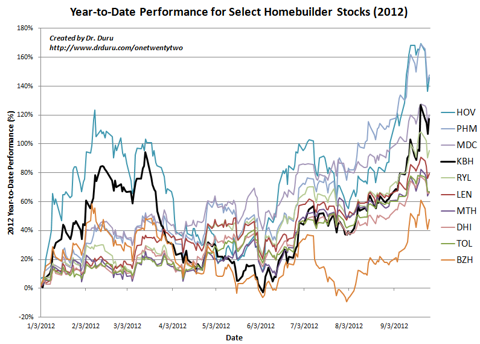 Year-to-Date Performance for Select Homebuilder Stocks (2012)
Source for prices: Yahoo! Finance
Key in order of performance shown in the above legend: Hovnanian Enterprises, Inc. (NYSE:HOV), PulteGroup, Inc. (NYSE:PHM), M.D.C. Holdings, Inc. (NYSE:MDC), KB Home (NYSE:KBH), Ryland Group Inc. (NYSE:RYL), Lennar Corporation (NYSE:LEN), Meritage Homes Corporation (NYSE:MTH), D. R. Horton Inc. (NYSE:DHI), Toll Brothers Inc. (NYSE:TOL), Beazer Homes USA, Inc. (NYSE:BZH)
Despite these performance, or maybe because of these performances, bears remain unconvinced. Data on shares short through September 14, 2012 shows that only three of these stocks have experienced year-over-year declines in shares short: TOL, MTH, and MDC.
Three other stocks are close to even: LEN, KBH, and PHM. The remaining four have experienced sustained increases in short interest: HOV, BZH, DHI, and RYL. BZH has seen the most dramatic increase from the relatively least shortest stock in this group to the second highest. TOL and KBH shares short are down significantly from peaks earlier this year.
The chart's legend lists the stocks in descending order of shares short. The shares short have been normalized to one versus September 15, 2011 for ease of comparison across stocks.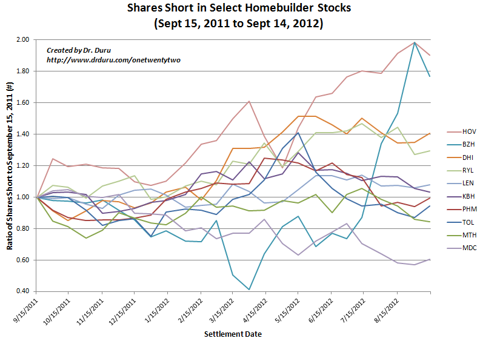 Shares Short in Select Homebuilder Stocks (Sept 15, 2011 to Sept 14, 2012)
Source: NASDAQ Short Interest
After experiencing these kinds of gains, it is natural to wonder whether it is time to lock in profits. Most of these stocks sit at multi-year highs. TOL recently reached prices last seen in late 2005, just as the housing bubble was starting to pop.
From the perspective of my 2010 theory on a housing bottom arriving in 2013, all these stocks seem to have finally priced in the best case scenario of BOTH a housing bottom this year and healthy growth next year. I still prefer to wait for 2013 guidance to make a judgment call on specific valuations, but I think now is a perfect time to take some profits. These profits should be saved for buying into future dips in homebuilders that should come when data appear to take an ominous turn south.
Value investors who loaded up on homebuilders earlier this year or in late 2011 when negativity was as high as ever on housing are now facing much improved (media) sentiment toward the general industry. This improved sentiment does not yet seem extreme, however. The chart above shows shorts generally remain entrenched in their positions.
As a small example of media sentiment, a September 19 Daily Ticker piece on last week's bullish existing home sales numbers was titled "More Good News on Housing But Hold the Champagne." The deflationary mindset in housing is so strong that it is still hard to accept that good news is real or can last. So, based on sentiment, it seems reasonable to continue holding some portion of homebuilder stocks in anticipation of the potential for continued improvement in sentiment to drive these stocks further higher.
In mid-August, I argued it was time to hedge against holdings in homebuilder stocks. I sold October calls against my position in KBH, expecting some kind of market correction in the two months until expiration. Just as my bullishness in January on homebuilder stocks proved too conservative, it seems my interest in protecting gains may prove premature. In other words, 2012′s upward trend has proven much stronger than I could have imagined.
I am looking in retrospect and recognizing that I did not fully appreciate the benefits of momentum and steadily improving sentiment or how my own lingering doubts clouded my assessment of this momentum. I am almost sure my KBH shares will get called away after which I will be itching to rebuild exposure to homebuilding across a spectrum of stocks (I have covered some of these in earlier posts like Lender Processing Services (NYSE:LPS) and Whirlpool (NYSE:WHR)).
I mention my own positioning as a reminder of the benefits of maintaining some exposure to winning stocks in industries with improving fundamentals. I will cover KBH's 16% post-earnings surge in a future post.
Finally, in the aforementioned Daily Ticker piece, host Aaron Task interviewed Kermit Baker, a senior research fellow at Harvard University's Joint Center for Housing Studies. Baker made some very interesting points and forecasts. Most intriguing is the possibility that housing has become the leading indicator it typically is after a recession. Baker argued that after a decade of overbuilding, the needed corrections were so deep that housing could not lead the economy out of the last recession.
Here are some of the interesting bullets I got from the interview:
Housing prices are finally moving off the bottom in the last 3-6 months (I described this in earlier posts).
3-4% annual increase in prices for next couple of years.
Product levels, starts, and sales likely bottomed a couple of years ago.
At least 2, maybe 3-4 years away from 1.6-1.7M housing starts per year (levels considered indicative of a strong market).
The recovery will be "slow and painful."
The data that prompted this interview were quite encouraging. In its press release, the National Association of Realtors (NAR) announced broadly bullish news for the housing market that was widely heralded as a sign that the housing market has finally bottomed. For example:
"Single-family home sales rose 8.0 percent to a seasonally adjusted annual rate of 4.30 million in August from 3.98 million in July, and are 10.0 percent above the 3.91 million-unit pace in August 2011. The median existing single-family home price was $188,700 in August, up 10.2 percent from a year ago…

…The national median existing-home price for all housing types was $187,400 in August, up 9.5 percent from a year ago. The last time there were six back-to-back monthly price increases from a year earlier was from December 2005 to May 2006. The August increase was the strongest since January 2006 when the median price rose 10.2 percent from a year earlier."
The NAR concluded that homes are spending a lot less time on the market before getting sold. Inventory in months of supply is down 18.2% year-over-year. The total number of existing homes sold, including townhomes, condos, and co-ops rose to its highest level since May 2010 when buyers were rushing to take advantage of tax credits. All this activity has encouraged builders to start constructing more homes even as labor shortages have started to pressure margins a bit in some particularly strong markets (also reported in an earlier piece).
It is difficult to tell how long the pent-up demand from years of a housing depression will continue to drive this market, particularly because the NAR claims that "…if most of the financially qualified buyers could obtain financing, home sales would be about 10 to 15 percent stronger." However, as the data stand now, it seems I can continue to stand by my expectations for a 2013 housing bottom - recognizing now that this bottom may have arrived "ahead of schedule."
Be careful out there!
Disclosure: I am long KBH. I wrote this article myself, and it expresses my own opinions. I am not receiving compensation for it (other than from Seeking Alpha). I have no business relationship with any company whose stock is mentioned in this article.
Additional disclosure: I am also short calls in KBH.