Is this round two of the price of oil vs. the Dow Industrials?  Will the effects on the Dow of the 1973 Oil Crisis repeat itself?  There are several similarities and differences.  One similarity, which got me thinking, was that the percentage increase in oil prices was similar to today – albeit it happened slower this time. 
The chart below compares the 1973 Dow Industrials with the price per barrel of oil. The charts begin with oil and the Dow Industrials with relative values of one.
click to enlarge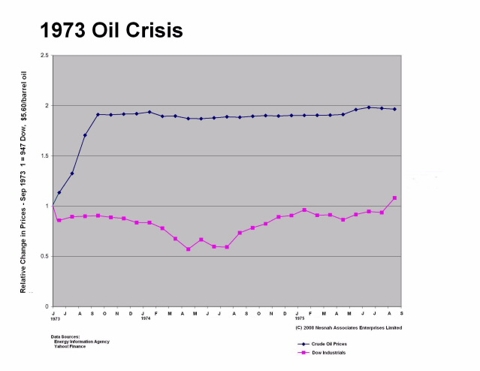 This next chart shows the effect of the price of oil on the Dow beginning in July 2007 where again the price of oil and the Dow have a relative value of one.  After July 2008, the relative movements noted during 1973 Oil Crisis were used for forecasting. 
click to enlarge
This forecast assumed oil prices did not fall much below its peak – as the same happened in 1973.  A reduction in oil prices would obviously create a different model.
Using historical data to model the future is usually doomed to failure.  The situations between 1973 and today are vastly different.  However, understanding the effects of the1973 oil prices on the Dow is important in understanding its potential effects on the Dow today. It took the Dow almost two years to regain the value lost by the 1973 Oil Crisis and the continuing high prices of oil.
Finally, I am not suggesting oil prices are the biggest influence on the Dow today.  However, judging from 1973, the long-term effects of high energy prices cannot be ignored. 
Disclosure: Author holds long positions in GE and T - under $20K each.