MarkWest Energy Partners LP (NYSE:MWE), which pays a dividend of 5.92%, engages in the gathering, processing, and transportation of natural gas, NGLs, and crude oil. It is also involved in the fractionation, storage, and marketing of NGLs. I may have left out items. MWE's net operating margin is approximately 44% fee-based as of Q2 2012. This is relatively immune to commodity price changes. However, the remainder of the business is exposed to varying degrees to commodity prices. In 2012 approximately 65% of commodity exposure is hedged. Currently for FY2013 only about 55% is hedged. That percentage goes down to less than 30% for FY2014. This makes the outlook for MWE worrisome in the near future. There may be little near term chance to acquire more hedges at relatively high prices for commodities.
That said, even if prices fall, energy prices are due for a secular run up over the long term. This means that MWE's expansion plans for the next few years should put it in an excellent competitive position. The following graph taken from the May 2012 Wells Fargo NGL Report shows how MWE's announced processing capacity will compare to that of other companies' announced expansions in the Northeast. Notably MWE's capacity will expand from about 1000 MMcfe/d at the end of 2012 to about 2500 MMcfe/d at the end of 2014. That's great growth. The chart below about the Northeast Propane Supply and Demand Perspective shows how MWE's growth compares and will compare to some of its main competitors: NiSource (NYSE:NI), EV Energy Partners (NASDAQ:EVEP)/Chesapeake Energy (NYSE:CHK), Dominion Resources (NYSE:D), and Williams Partners (NYSE:WPZ).
This chart looks extremely bullish for MWE longer term. It includes only currently announced projects, so you have to take the apparent leveling off at 2014 and beyond with a grain of salt.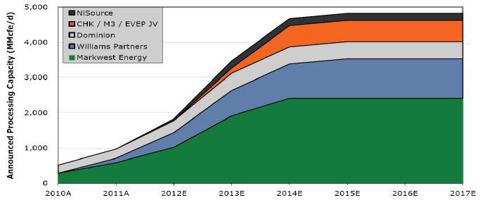 The above Northeast chart is reflective of MWE's good growth there. However, MWE has good growth in most other areas it operates in too. It has about 12 Bcf/d of new gas processing being built by 2015. 32% will be in the Marcellus/Utica region. 32% will be in the Texas Inland region (Eagle Ford, Avalon/Bone Springs, Granite Wash, and Cotton Valley plays). 12% will be in the Texas Gulf Coast region (Eagle Ford). Notably MWE's rich-gas processing plants will account for 65% of the total new capacity being built in the prolific Marcellus and Utica Shale plays.
With regard to near term results, MWE reported adjusted EBITDA for June 30, 2012 of $130.5 million versus the year ago Q2 result of $120.0 million. This doesn't sound too bad. However, MWE generated distributable cash flow (DCF) of $91.2 million for Q2 2012 versus $109.2 million for Q1 2012. This provided 1.03x distribution coverage. This was down considerably from the 1.35x coverage for the Q1 2012. The exposure to commodity price declines accounted for much of the decline either directly or indirectly. The Northeast segment's operating profit of $24.2 million was down 22.1% year over year. This was due to reduced NGLs fractionated and a dip in crude oil transported. The Southwest segment's operating income was down 13.8% year over year due to lower throughput. The Gulf Coast segment's operating income was down 30.4% year over year due to decreased NGLs sales volumes coupled with higher expenses. The Liberty segment by contrast more than doubled its operating income in partial compensation for the other segments. It further helped that operating expenses for Q2 decreased 30% year over year to $187.2 million.
With the above changes in mind, it is appropriate to look at the natural gas and NGLs price movements. The EIA chart below shows the historical and near term projected natural gas prices.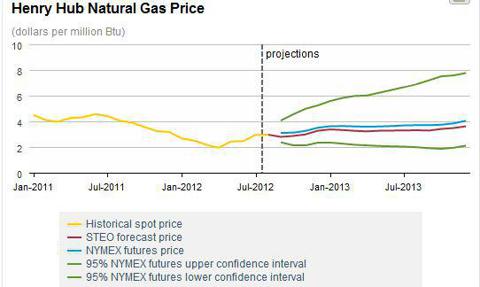 The historical prices show the price bottomed in April. The projections show a slow return to higher prices over the next couple of years. Many think this will be largely dependent on the winter weather this year, 2012-2013. The early projections for the upcoming winter are for an el Niño year -- a colder than normal US weather. This should help natural gas prices rise. It should help NGLs prices too. Some people in rural areas use propane for heating, etc. Plus a rebound in natural gas prices will tend to raise NGLs prices at the same time. In addition, natural gas and NGLS exports are increasing. The chart from EIA below shows the beginning of what I think will likely be a steep ramp up in natural gas exports and re-exports.

The above chart doesn't really show NGLs, but the export of NGLs is ramping up too. Both Enterprise Product Partners (NYSE:EPD) and Targa Resources Partners (NYSE:NGLS) will soon be exporting more propane. Enterprise Products Partners exported a record 3.9 million barrels of propane in April 2012. Its Houston Ship Channel expansion project should allow it to expand its capacity by another 3.5 million barrels per month. With the recently completed debottlenecking project for another 100,000 barrels per month, the new project will bring EPD's export capacity to 7.5 million barrels per month. The new expansion is scheduled to go online in Q4 2012. Targa Resources' expansion project for its Galena Park terminal in Texas is scheduled to go online in Q3 2013. Many more have either announced plans or are seriously considering plans for new export facilities.
Further many more companies have either announced plans for propane dehydrogenation plants or are actively considering them. These are essentially refineries that will convert propane into propylene. Other plants are either converting over from oil refineries or will be new builds to use ethane, etc. to produce ethylene and other needed compounds. Exxon Mobil (NYSE:XOM), Chevron Phillips Chemical Co., Dow Chemical (NYSE:DOW), and Shell (RDS-A) have big new refineries planned to produce polyethylene, etc. This is by no means a complete list. The point is that they will provide increased demand for NGLs in the near future. Most of these projects have dates in the 2015+ time frame.
Cheniere Energy (NYSEMKT:LNG) and others plan to export natural gas via LNG. Again most of these are scheduled for the 2015+ time frame. MWE itself has recently contracted to be part of the Mariner project to export Propane from the Marcellus and Utica from the East Coast. Plus EPD and others are going to build the ATEX Express to send NGLs from the Marcellus and Utica to the Texas Gulf Coast for refining and/or export.
In sum the glut of NGLs and natural gas may soon be much diminished. Those that build the infrastructure necessary to feed all of the above mentioned systems should do well in the future. MWE is one of the clear leaders in this space. As such it is a long term buy.
The two year chart of MWE gives some technical direction for this trade.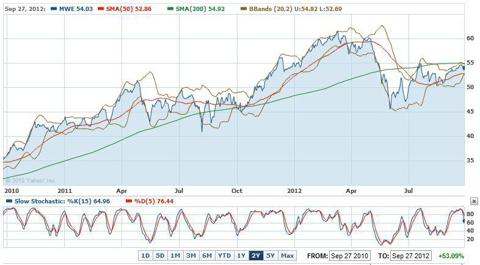 The slow stochastic sub chart shows that MWE is near overbought levels. The main chart shows that it is likely about to enter a consolidation phase. You may even see it fall if oil and natural gas prices tumble too much. Still you cannot deny its long term potential. It trades at a PE of 20.59, which many think is reasonable or even cheap for its long term growth prospects. It pays a 5.92% dividend/distribution (K-1). It has an average analysts' recommendation of 1.6 (a buy), and it has a five star CAPS rating. It is a buy. However, the overall market is overbought. Therefore averaging in (or possibly even waiting for an overall market retracement) around the fiscal cliff is a good idea.
Note: Some of the above fundamental fiscal data is from Yahoo Finance.
Good Luck Trading.
Disclosure: I have no positions in any stocks mentioned, but may initiate a long position in MWE over the next 72 hours. I wrote this article myself, and it expresses my own opinions. I am not receiving compensation for it (other than from Seeking Alpha). I have no business relationship with any company whose stock is mentioned in this article.