Many companies listed on the Nasdaq that have high financial debt find it difficult to get financing, so they have to renegotiate or expand their debt to the financial institutions. These movements produce an extra cost of interest and a negative charge to their balance sheets. A good strategy in long-term investments is looking for companies that can afford to obtain funding for future investment. These companies are ones that currently have very little financial debt.
In this article, I am going to discuss Celsion Corporation (NASDAQ:CLSN), which has a tiny financial debt but a pipeline portfolio with a bright future.
Celsion is an innovative oncology drug development company singularly focused on improving treatment for those suffering with highly difficult to treat forms of cancer. It is working to develop and marketing more efficient, effective, and targeted chemotherapeutic treatments based on its unique heat-activated liposomal technology. Its method is an elegant approach that delivers high concentrations of anti-cancer agents directly to the tumor site. The promise of this drug technology is to maximize efficacy while minimizing side effects common to cancer treatment. According to analyst opinions and pipeline studies, the expected target price will reach $16 in 12 months, with a considerable upside of 300%.
Celsion is developing its study in Phase III Thermodox. This treatment approach is designed to deliver high concentrations of anti-cancer drugs directly to those cancer cells that survive RFA. In conjunction with ablating the center of the tumor, RFA simultaneously activates ThermoDox to release its encapsulated doxorubicin, killing the remaining viable cancer cells throughout the heated region, including the tumor margins. Its approach, while increasing the delivery of the drug at the desired tumor site, has the potential to reduce drug exposure distant to the tumor site and associated side effects.
Celsion, through Special Protocol Assessment Guidance, has reached agreement with the U.S. FDA for a pivotal Phase III clinical trial program in the treatment of HCC. This global trial -- with sites in the U.S., Hong Kong, Canada, Taiwan, Korea, China, and Italy -- is currently enrolling approximately 600 patients in the study designed to demonstrate the efficacy and safety of ThermoDox with RFA compared to RFA alone in HCC.
The following shows clinical trials in development:
Click to enlarge images.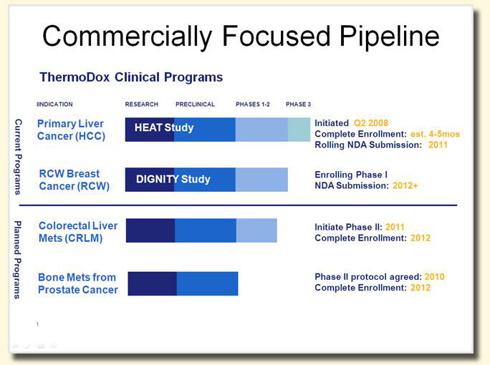 Celsion Technology
The science of LTSL has already been reviewed and validated by major scientific institutions and investigators. The technology, further developed by Celsion, is being used to enhance existing chemotherapeutics.
The graphs below represent studies that were conducted that demonstrate ThermoDox's comparative value in delivering high concentrations of doxorubicin at clinically achievable temperatures, 39ºC-43ºC. In vitro experiments represented in the graph below demonstrate the rapid release of doxorubicin from ThermoDox when activated at temperatures above 39.5ºC. For comparison, the non-heat sensitive liposomal formulation shows little increase in release characteristics at similar temperatures.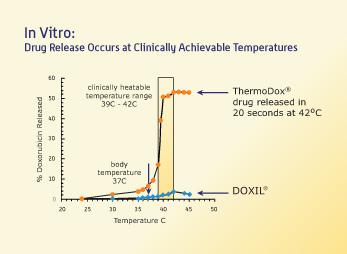 In vivo experiments represented in the graph below show drug concentration in tumors at temperatures above 39.5ºC to be substantially greater with the ThermoDox formulation when compared to either free doxorubicin or a non-temperature-sensitive liposomal formulation administered to mice with tumor xenografts.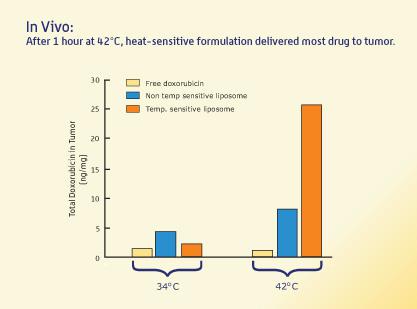 Source: Celsion.com.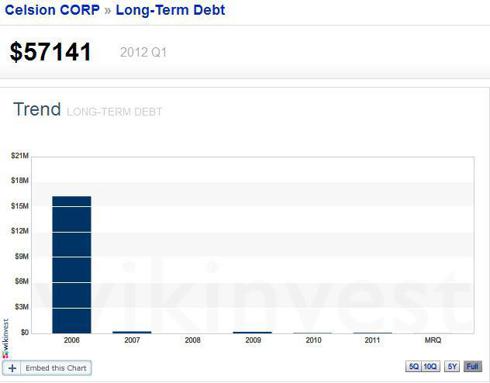 Source: www.wikinvest.com.
The assignment column on the graph above shows that the long-term debt is only $57,141.
Analyst Research
On Aug. 16 2012, Griffin Securities set its Celsion price target at $18.00.
Market Estimation
According to the most recent American Cancer Association's annual report, published on Jan. 12, 2012:
A total of 1,638,910 new cancer cases and 577,190 deaths from cancer are projected to occur in the U.S. in 2012. Between 1990/1991 and 2008, the most recent year for which data is available, overall death rates decreased by about 23% in men and 15% in women. This translates to more than 1 million deaths from cancer that were avoided.
Thermodox could work in most of cancer types. The estimations would be up to billions of dollars annually.
On June 19, 2012, Celsion Chief Executive Michael Tardugno said:
There is a chance if we execute perfectly here that we could be seeing an approval by the end of 2013. Certainly this is a $1 billion drug.
Insider Activity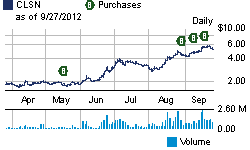 Conclusion
Celsion is a company with some very promising studies and a large potential market. It is really difficult to find a biotechnology company with such a reduced debt, but also with such advanced studies against cancer. The target price of Celsion continues to be $9 for the short term. In my opinion, Celsion could be above two digits in the long term.
Note: Pipeline overview data sourced from Celsion and chart data sourced from wikinvest.com and Nasdaq.com.
Disclosure: I am long CLSN. I wrote this article myself, and it expresses my own opinions. I am not receiving compensation for it (other than from Seeking Alpha). I have no business relationship with any company whose stock is mentioned in this article.