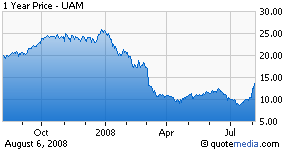 I have followed Universal American (NYSE:UAM) ever since it was Universal American Financial (UHCO) and I even managed to own shares in the company from 2004-2005 during the stock's great run up in preparation for the company's entrance into the realm of Medicare supported insurance products for the elderly. 
One of the key instigators in my decision to sell my stake was my belief that the businesses that it was getting into, namely the PFFS (private fee for service) segment of the Medical Advantage, while capable of producing dramatically higher top line growth rates would fail to achieve corresponding increases in the company's net income.  For the most part, this assessment has proven to be correct and the stock has fallen dramatically from it's all time high in the mid 20s. 
Recently, I re-entered my position in the company as a result of its upcoming earnings reports (which was very positive), Universal American's tremendously low P.E. at the time and the positive sector comments being made by Leon Cooperman of Omega Advisors in a recent Barron's issue.  While these three all add various character lines to the Universal American story, I was greatly impressed by a recent analyst report put out by the analysts over at Oppenheimer & Company.
The most recent quarterly report shows a company that ,while not quite hitting on all cylinders, has a lot going for it.  If Universal American can prevent costs for escalating too quickly and holdout for the next re-pricing of it's Medicare products the company should find itself in good shape going into next year.  In holding the line on costs, the company should be able to produce a tremendous amount of cash in a manner similar to what Leon Cooperman believed possible for some of the large insurance companies namely United Healthcare (UHC) and Aetna (NYSE:AET).  While I am not to particular on how they use their free cash flow, I believe that the company could potentially buy back in excess of 10% of its float each year for the foreseeable future just as Cooperman suggested United Healthcare and Aetna could.     
Oppenheimer's informative call on Universal American follows this thought process, they suggest that tremendous amounts of cash can be brought up from the subsidiary level to the holding company level and still allow the individual insurance companies to meet all legal capitalization requirements. Here is their statement on the matter from their most recent report:
 "Assuming Universal remains in all its products, it has to hold a minimum amount  of capital to keep the regulators happy. This generally amounts to about 200% to risk based capital (NYSE:RBC), which for Universal American works out to about $390 million. Of course, it's unlikely Universal would allow its statutory capital to fall to the absolute minimum, so at 300% of risk based capital, or $583 million. Relative to the $950 million currently held at the subsidiary level, this analysis suggests that Universal has the opportunity to transfer approximately $360 million in excess cash from the subs to the parent company. This would be additive to the $126 million that Universal currently holds at the parent company."
The company could use these cash proceeds to buy back as much as half of the company's outstanding shares at current prices.  This would add tremendous leverage to the company's business model in terms of EPS and allow for a significant expansion in the share price of the remaining shares, as the company would be purchasing shares for well below book value. 
For those of you that are interested here is Oppenheimer's sum of the parts valuation for Universal American:
Universal American Sum of The Parts Analysis 
| | | |
| --- | --- | --- |
|   | Multiple | Price |
| Medicare Advantage – HMO | 9.5x | $4.35 |
| Medicare Advantage - PFFS | 7.0x | $2.42 |
| Medicare PDP | 6.9x | $5.94 |
| Traditional Insurance | 8.0x | $0.82 |
| Senior Administrative Services | 8.0x | $2.31 |
| Corporate | 8.0x | ($3.29) |
Current stock price $12.55
Source: Company reports and Oppenheimer & Co. analysis. 
In looking at this table, provided by Oppenheimer, it is important to note that a buyout premium is not included.  This is especially important for Universal American as the vast majority of its Medicare related business is concentrated in just six states.  These states are New York, Indiana, Pennsylvania, North Carolina, Virginia and Texas.  Such a focus makes the company an attractive buyout by a larger suitor.  If you were to value the company at 10x the midrange of its 2008 guidance you would get stock price of 16 dollars a share. If you bring the multiple up to 12x the mid range of 2008 earnings to reflect a buyout premium you would be left with a stock price of closer to 19 dollars a share.  Such a price would leave significant upside to the stock from its current levels.    
Disclosure: Long Universal American (UAM)