Imagine a method by which you could sell a product at a high price, buy it back at a low price, hold it for a short period of time and then repeat the process. You would have a virtual ATM machine on your hands! With the way Arena Pharmaceuticals (NASDAQ:ARNA) has been behaving over the past few months, it seems that perhaps that is what's happening.
Subsequent to garnering FDA approval for its anti-obesity product Belviq, the excitement surrounding the approval began to wear off. Even though approved by the FDA, Belviq needed to acquire DEA scheduling, a process that could take four to six months, and investors have found themselves in the quagmire of potential vs. patience as the process has rolled slowly along.
With essentially no real news to work with, Arena has been trading in a range between about $7 and $9.30. Often the cycle is between $8 and $9 per share. This represents 10% swings in an equity, and an active trader can make some good margins by going long then short, then long, then short.
Click to enlarge image.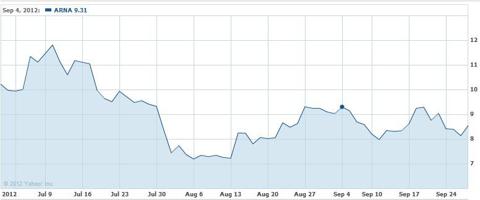 While no trading plan is bulletproof, there are factors that would seem to remove a lot of questions from the equation. The biggest factor right now is uncertainty. The potential is that Belviq will be a blockbuster. The risk is that it may not be as big as people think. The uncertainty in that helps to create a very fluid market. Knowing that the DEA process takes time allows these dynamics to continue to play out. Knowing that the earliest the market will see any meaningful results is during Q1 of next year, when the company reports, also allows this process to continue.
Essentially, Arena will be like a roller coaster at least until the DEA finishes its work and the company can announce its plans about when it will get Belviq to market. As you know, a roller coaster has ups and downs. In the market, people who play both sides and active traders look for this type of behavior. The bigger the swings the better, and Arena has some pretty healthy swings.
At some point, as the window on uncertainty begins to close, the swings will become less dramatic and traders will stake their final bets, having banked dollars throughout the process.
With Arena, the moving averages are all very consolidated right now. Support is just below $8 and resistance is just below $9. That 10% range coupled with very tight moving averages is a recipe for swings as the equity seeks an equilibrium, and ultimately a move in one direction or another. Until this situation changes, I feel we will see Arena trading in this range.
Ultimately, I feel that the DEA scheduling and announcements of the drug going to market will carry a positive impact, allow the equity to stretch its proverbial legs, and give some space between the moving averages. That news flow could still be at least a month away. One key is to just be ready when the news flow starts.
Disclosure: I am long ARNA. I wrote this article myself, and it expresses my own opinions. I am not receiving compensation for it (other than from Seeking Alpha). I have no business relationship with any company whose stock is mentioned in this article.