Adam Parker, Morgan Stanley's Chief Strategist, recently said that expectations may be simply too high.
I'd say it this way: If the revenue estimates are right, the earnings expectations are way too high, so it's margins for 2013 that are a problem. On average, about half of the U.S. companies that get net margin expansion year over year, the analysts are currently betting 86 percent of them can do it again next year.
- Adam Parker, Chief Strategist, Morgan Stanley
Parker has pegged his S&P 500 year-end target estimate at 1167. This is a big difference from the current 1432 level the S&P stands at. While I believe that Parker's target for the S&P is absurdly low, he still has a point in regards to expectations.
While many companies are seeing margins expand, the market may be too optimistic going forward. The question is not about margins improving, but rather about improving enough to satisfy expectations.
Take for example, Campbell Soup (NYSE:CPB). The company beat earnings, but its gross margins were under pressure. The reason Campbell Soup's margins fell was because commodity costs rose.
Commodity costs are an important part of many S&P 500 stocks. A small rise could leave a lasting impact on margins. Commodity costs are not the only way margins can get hurt.
Big Lots saw its shares get hammered last month as consumer spending declined. Big Lots (NYSE:BIG) was trying to wrap its business around higher-margin products. However, retailers such as Wal-Mart (NYSE:WMT) are able to offer products at lower margins. Competition has forced companies to push margins down in order to grab market share.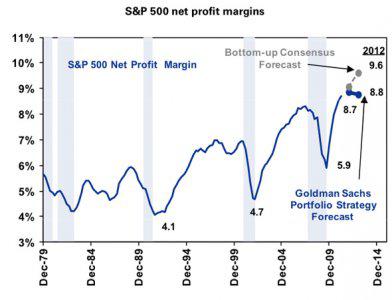 Goldman Sachs is actually predicting that margins will top out in 2012 and then begin to see a gradual decline. If the forecast predictions are even partially right it will be an issue since expectations are high at this point.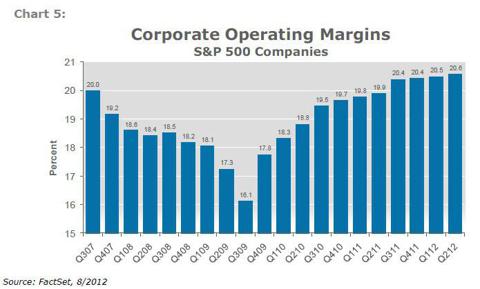 Goldman's predictions may not too farfetched either. Operating margins are flatlining. Margins have barely increased from Q3 2011 to Q2 2012. While it's nice to see margins still increase, they need to be growing at a faster rate in order to justify future expectations.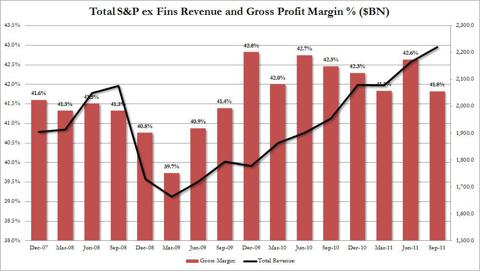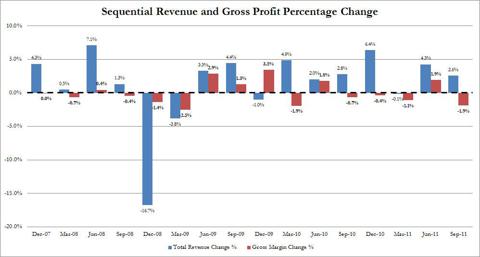 The charts above from Zerohedge show that although revenue increased, margins fell by 1.9%, which represents one of the largest declines since 2009. The article that discusses the fall in margins can be found here.
It's good to see companies increasing revenue, but it doesn't mean much if margins fall. With the S&P at nearly a 4 year high, it's difficult to believe that the market can continue an uptrend if margins don't improve fast enough. Increase in competition, costs, and uncertainty in consumer spending will be an issue for the market going forward.
(NYSEARCA:SPY) (NASDAQ:QQQ) (NYSEARCA:DIA)
Disclosure: I have no positions in any stocks mentioned, and no plans to initiate any positions within the next 72 hours. I wrote this article myself, and it expresses my own opinions. I am not receiving compensation for it (other than from Seeking Alpha). I have no business relationship with any company whose stock is mentioned in this article.