Keeping up with my coverage of the natural gas and coal (NYSEARCA:KOL) sectors, this is my latest update. Recent developments in natural gas, together with a renewed significant correction in the stocks, are starting to allow for a bit more positivity for coal producers. Here's why:
Natural gas stocks almost back to normal
As I had predicted, dispatch switching and the increased power production demand it meant for natural gas has been enough to drive natural gas stocks almost into their normal range. Although natural gas still needs production to drop, the inventory overhang is almost done with, and that's a positive (source: EIA).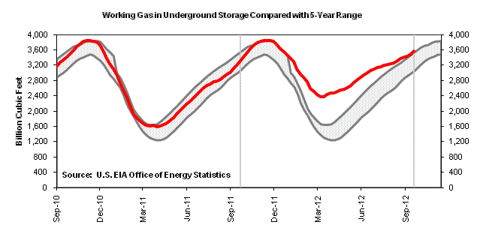 Drilling rigs and number of new wells both down
As for production, natural gas rigs continue to trend down, and with them the number of new production wells has also been declining. Now, due to increased productivity of the rigs as well as increased production from each well from better techniques, the decline in natural gas production has barely materialized at this point. Still, production has for the most part stagnated, and it is still likely to decline given the rigs and new wells' trend (source: EIA rigs, EIA wells).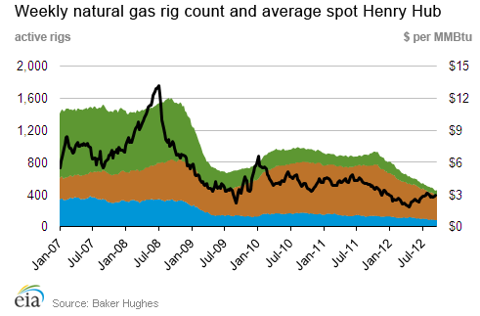 Natural gas rally, near upper bound
The developments regarding inventories and rigs/wells, together with a few haphazard events with weather, have permitted natural gas to trade up to the top of the range I spoke about a few weeks ago. As I said at the time, I expect the top of this range to eventually break (barring some unfavorable weather) as the cumulative effects of reduced drilling and depletion make themselves felt. Although I am not certain this is the time such breakout will happen, having natural gas at the top of the range is in itself positive.
Natural gas futures curve is favorable
This is perhaps the most important factor right now. The natural gas futures curve implies natural gas at $3.70 soon (within 2 months). If nothing changes, $3.70 is enough to warrant 20% higher CAPP coal prices at a neutral breakeven point for dispatch switching, which would already be a significant improvement. Cyclical bottoms are not made when the stocks show increased profitability, they're usually made with stocks pumping out losses but with there being a fundamental improvement and the likelihood that it will continue (source: CME):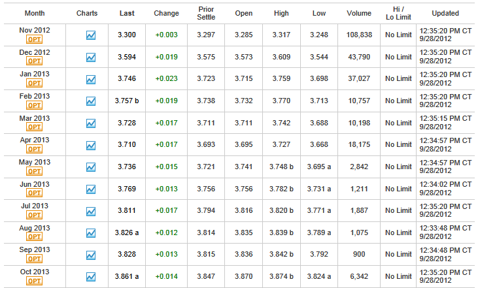 The natural gas contango, if it holds, is enough of a fundamental improvement to warrant a cyclical bottom for thermal coal, and hence for coal producers heavily reliant on it, such as Arch Coal (ACI), Cloud Peak Energy (NYSE:CLD) and maybe even Alpha Natural Resources (ANR) (see "The bad" note below)
The bad
The signs I cited are mostly relevant for thermal coal. For some companies, such as Walter Energy (NYSE:WLT) and Alpha Natural Resources met coal represents a large part of their business. Met coal responds to a different set of catalysts, with the most important being demand for steel production in China. And right now, there are still very few signs for improvement there.
Another factor which warrants caution has to do with the coal companies being seen as economically cyclical. This was on full display in the recent brainless rally, but might also be a factor as we get economic data which points toward cyclical weakness. Keeping this in mind, any buying in the sector, even when acknowledging the improvement I described, should be done with care and perhaps by easing into the sector, fully aware that there might be chances to increase exposure at lower levels.
Conclusion
For thermal coal producers, the backdrop is slowly improving. Coal's future demand and pricing is mostly dictated by natural gas, and natural gas is slowly inching upwards and likely to continue doing so, namely due to the strong contango which can be seen in the first 2 months of the curve. If natural gas converges to the $3.70 prices now implied in the futures, this should mean CAPP coal gets some space to breathe, with up to a +20% move on pricing. This could be even more pronounced for PRB coal (since a large part of PRB coal pricing is transport, which should remain stable).
Disclosure: I have no positions in any stocks mentioned, but may initiate a long position in ACI, ANR, CLD over the next 72 hours. I wrote this article myself, and it expresses my own opinions. I am not receiving compensation for it (other than from Seeking Alpha). I have no business relationship with any company whose stock is mentioned in this article.