We have written a few articles on Altria Group (NYSE:MO) over the past few months and in several of the articles, we stated that a pullback to the $33 ranges would make for a good entry point. Many at that point felt that this was wishful thinking and that the stock would never trade below $35. The stock traded as low as $32.72 on the 14th of September, and at this point we think it's time for long term dividend investors to start thinking about purchasing additional shares. We would, however, suggest implementing the following strategy. Divide your money into two lots and use one lot to purchase the shares outright. The second lot can be used to sell puts. We will provide suggested entry points to purchase the shares and more details on what puts to sell shortly. First of all, let's look at some reasons as to why this stock makes for a good long term play.
Reasons to consider Altria Group:
Altria's brand building initiatives on popular brands such as Marlboro Eighty-Threes, black and mild summer blend and Copenhagen southern blend is paying off. Gross profits in the 2nd quarter increased 26.5% to $2.5 billion year over year. Operating companies' income surged to $1.9 billion from $1.4 billion when compared to the same period 1 year ago, an increase of 42%
Net revenue in the wine segment increased to $128 million, an increase of 10.3% in the 2nd quarter. Exports helped drive the volume of wines shipped, which rose by 2.12% in the 2nd quarter.
Altria reported second-quarter earnings of $05.9 per share, an increase of 9.3% year over year. The dividend was raised by 7.3% from $0.41 to $0.44 cents per share payable to shareholders of record Sept 14, 2012. Total revenue rose to $6.5 billion, an increase of 9.6% year over year.
Net revenue for the cigarette's segment rose by 0.8% year over year to $5.9 billion. Net revenue for the Smokeless product segment rose to $426 million, an increase of 5.4%.
Reported and adjusted operating income for the financial services segment rose to $42 million, an increase of $15 million in the second quarter.
Altria reported net income of $1.44 billion in the second quarter and of $973 million in the first quarter. At this rate total net income for the year could top the $4.1 billion mark. This would represent an increase of $700 million over last year's net income of $3.39.
The company has adapted to changes in consumer sentiment. Consumers are gradually shifting to reduced risk and smokeless tobacco products. It has joined forces with Okono A/S (a pharmaceutical research company) that is involved in the development and manufacture of nicotine gum and technologies to produce smokeless nicotine containing products. This new venture should help the company garner market share in this segment of the industry. Copenhagen and Skoal

which are both

part of the new smokeless tobacco brands performed well in 2011 with a rising retail share of the market.
In 2011, management initiated a new $1 billion cost savings program. This program is expected to deliver annualized savings of $400 million by the end of 2013. It also reduced its work force by 700 as of Feb 2012 as part of its cost reduction program.
A 3-5 year estimated EPS growth rate of 6.42%
A very strong quarterly earnings growth rate of 175%
Cash flow per share increase from $1.90 in 2009 to $2.18 in 2011
It has a strong levered free cash flow of $4.84 billion.
Zack's has a projected EPS of $2.21 and $2.38 for 2012 and 2013 respectively.
A 5 year dividend average of 8.00
A good yield of 5.2%
A good interest coverage ratio of 4.5
Technical outlook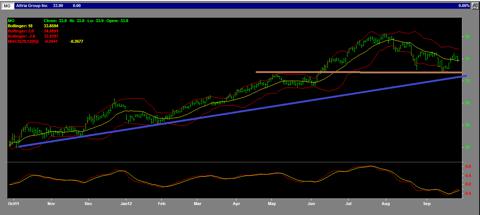 It has strong support in the $33 ranges. It has tested this zone twice recently and on each occasion was able to close above $33 on the same day or the following day. Additionally, multiple technical indicators such as Stochastic, RSI, etc are trading in the oversold ranges. This is usually a positive development as it signals that the stock is getting ready to trend higher. In this case as the stock has tested its support levels twice ($33) without breaking down, it should be viewed as a bullish development. A weekly close above $34.50 will signal that a test of the highs is likely.
While the stock could trade down to the $32 ranges, it might not make sense to wait for this range to be tested. Risking an entry to save an extra $0.75-$1.00 is not worth it in our opinion.
Charts and Tables of Interest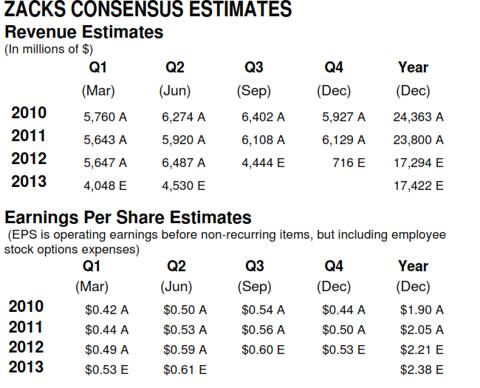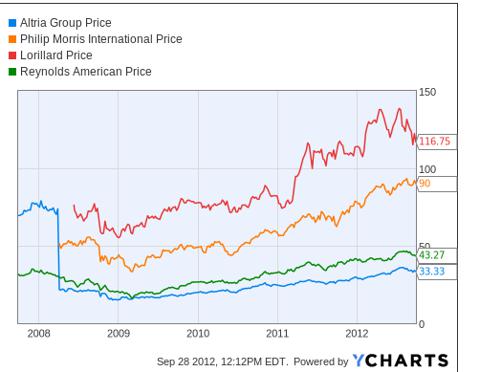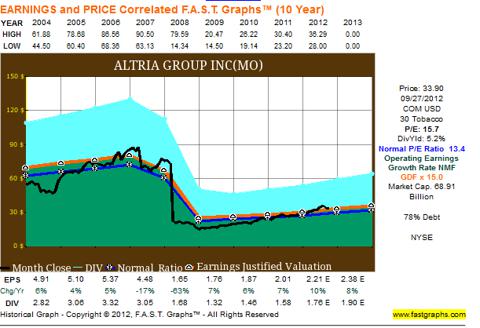 The Competition
Altria versus Philip Morris International (NYSE:PM), Lorillard, Inc. (NYSE:LO) and Reynolds American Inc. (NYSE:RAI)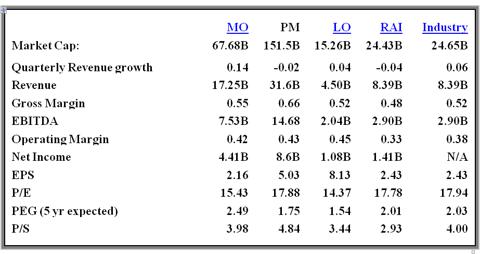 Suggested Strategy
We are going to employ a two-pronged strategy for this play. Divide the money you are going to invest into two lots. Put in a limit order to purchase shares in the $32.75-$33.00 ranges.
The second part of the strategy entails the selling of puts. If you are bullish on the stock and would not mind purchasing it at $33 or better, then it would make sense to sell in the money puts as it would increase the odds of having the shares put into your account. Investors should aim for the Jan 2013, 34 puts, which are currently trading in the $1.65-$1.67 ranges. If the stock pulls back to the suggested ranges, these puts should trade in the $1.80-$1.85 ranges. We will assume that these puts can be sold at $1.80 or better. The benefit of selling puts is that it lowers your overall cost per share as you have the chance to apply the premium to the cost. It's like putting in a limit order and getting paid for your efforts. On the other hand, if the shares are not put to your account, you still walk away with a gain of 5.29% in roughly four months, which is significantly higher than Altria's yearly dividend payment. If the shares are assigned to your account, your final price will be $32.20 per share.
Company: Altria Group
Overview
Quarterly earnings growth = 14.4%
Quarterly revenue growth = 175%
Operating margins= 42%
Profit margins = 25%
Operating cash flow = $3.05billion
Levered free cash flow = $4.84 billion
Long term debt to equity = 3.06
Growth
Net Income ($mil) 12/2011 = 3390
Net Income ($mil) 12/2010 = 3905
Net Income ($mil) 12/2009 = 3206
Net Income Reported Quarterly ($mil) = 1,444
EBITDA ($mil) 12/2011 = 7051
EBITDA ($mil) 12/2010 = 7132
EBITDA ($mil) 12/2009 = 6353
Cash Flow ($/share) 12/2011 = 2.18
Cash Flow ($/share) 12/2010 = 2.03
Cash Flow ($/share) 12/2009 = 1.9
Sales ($mil) 12/2011 = 23800
Sales ($mil) 12/2010 = 24363
Sales ($mil) 12/2009 = 23556
Annual EPS before NRI 12/2007 = 4.38
Annual EPS before NRI 12/2008 = 1.65
Annual EPS before NRI 12/2009 = 1.75
Annual EPS before NRI 12/2010 = 1.9
Annual EPS before NRI 12/2011 = 2.05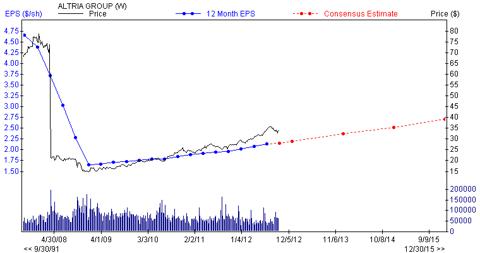 When the price is trading above the EPS consensus estimate line, the stock tends to perform better and vice versa.
Dividend history
Dividend Yield = 5.2
Dividend Yield 5 Year Average = 8.00
Dividend 5 year Growth = - 12.8
Dividend sustainability
Payout Ratio = 0.80

Payout

Ratio 5 Year Average = 0.73
Performance
Next 3-5 Year Estimate EPS Growth rate = 6.42
ROE 5 Year Average = 79.95
Return on Investment = 23.9
Current Ratio = 0.90
Current Ratio 5 Year Average = 0.89
Quick Ratio = 0.5
Cash Ratio = 0.67
Interest Coverage = 4.5
Conclusion
This stock is a dividend champion. It has been paying dividends since 1928 and has raised them consecutively for 46 years. The suggested two-pronged approach provides investors with an opportunity to acquire shares in this dividend champion at a great price. Investors looking for other ideas might find this article to be of interest - Pros And Cons Of Taking A Position In U.S. Steel.
EPS charts obtained from zacks.com. A major portion of the historical/research data used in this article was obtained from zacks.com. Competitor data sourced from yahoofinance.com.
Disclaimer
It is imperative that you do your due diligence and then determine if the above play meets with your risk tolerance levels. The Latin maxim caveat emptor applies - let the buyer beware.
Disclosure: I have no positions in any stocks mentioned, and no plans to initiate any positions within the next 72 hours.
Business relationship disclosure: This article was prepared for Tactical Investor by one of our analysts. We have not received any compensation for expressing the recommendations in this article. We have no business relationships with any of the companies mentioned in this article.