Dryships (NASDAQ:DRYS) is being closely watched by the market, after the Baltic Index showed a surge in the last 10 days because of improved iron ore activity in China. Although the dry bulk business forms only 20% of the company's revenues, it has attracted a lot of market attention. Along with tanker operations, DRYS also owns a 65% stake in Ocean Rig (NASDAQ:ORIG), which is expected to help the company survive recessionary times.
Operations
The following chart shows the exposure of the company to different segments. Drilling operations, because of the ownership of ORIG shares, forms the major source of revenues.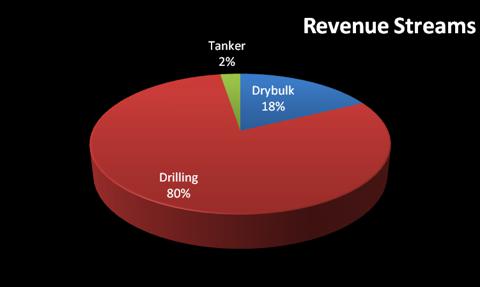 Dry Bulk Industry and Baltic Index
The Dry Bulk Industry was at its peak in the middle of 2008, when the Baltic Dry bulk Index (BDIY) was trading near 12,000 points. The BDIY is composed of weighted average indices of Capesize, Panamax, Supramax and Handymax. A rise in freight rates of the aforementioned vessel types leads to a rise in the BDIY. The vessel rates are determined by the forces of demand and supply of ships, which are dependent upon the global demand for dry bulk commodities like iron ore, coal, grain and gravel.
Dry bulk was plagued by overcapacity issues, when in 2008, many dry bulkers ordered large quantities of vessels sensing a sustained rise in demand. This led to low utilization rates and eventually vessel rates had to be brought down to attract better pricing. Many dry bulkers, as a result, locked in long-term contracts at depressed charter rates. The following chart shows the industry's order book: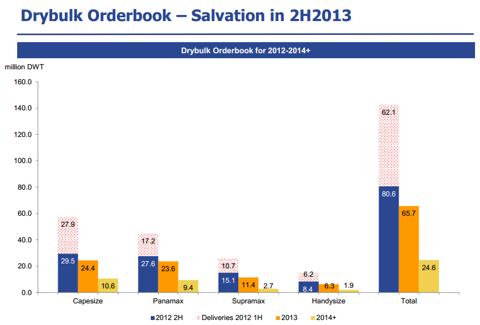 The addition in capacity is now on a decline, which is a bullish signal for the industry.
Interestingly, the BDIY moved 14% upwards in the last week. Traders bet that demand for iron ore and steel had finally rebounded in China, the biggest importer of these commodities. The rise has come particularly due to a rise in the demand for Capesize, which is known to transport iron ore. Capesize fixtures rose from 21 to 29 vessels, with 23 vessels going to China. The following table shows the increase in indices for different vessels over the last week i.e. 17-21 September: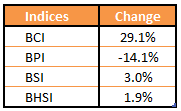 *BCI - Capesize Index
*BPI - Panamax Index
* BSI - Supramax Index
* BHSI - Handymax Index
DRYS and Dry Bulk Industry
DRYS is one of the few dry bulkers still operating as a pure play on the Baltic Index. This means that it has not locked much of its fleet into long-term contracts in the anticipation that vessel rates will soon recover. However, this has also led to a low utilization rate of 44% for the company. Given the recent surge in the BDIY, DRYS has also benefited. However, the main surge has come from a rise in demand of iron ore, which is transported by Capesize vessels. DRYS' fleet is mainly composed of Panamax vessels that are known for transporting coal. Due to the weak global coal demand, the BPI collapsed by 14%. Therefore, some of the gain was offset by weak Panamax rates:

The table shows the number of vessels for competitors Genko Shipping (NYSE:GNK), Diana Shipping (NYSE:DSX) and Paragon Shipping (PRGN) of each class and the percentage it forms of the total fleet.
Given the future outlook, what needs to be answered is whether the rise of iron-ore demand in China is sustainable, or is it just a dead cat bounce because of the recent approval of $157 billion in infrastructural development in China?
Coal exports have remained soft for some time, although the demand is expected to rise in China, given that 26 new coal-fired plants are being constructed. There is a potential headwind as well, as China is switching towards natural gas and hydro power for electricity generation.
DRYS and ORIG
DRYS has enormous levels of debt. Although the company is making positive cash flows from operations, it is bound to pay almost $750 million in 2013 and $1 billion in 2014. This is huge given the current cash balance of $367 million.
However, DRYS enjoys a 65% stake in the drilling company OceanRig . Earlier, DRYS has used the holding to pay off its debt, and avoid breaching loan covenants. DRYS sold 11.5 million shares of ORIG few months back to fund its CAPEX and pay off a part of its debt.
The stakes provide DRYS with a cushion against the headwinds of slow demand during recession. It is also believed that ORIG is a 'free business' for DRYS investors, as shown in the table below: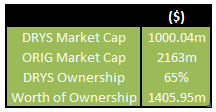 The table shows that the market value of the ORIG stake is more than the market value of DRYS. Therefore, when an investor buys a DRYS share, he is buying an ORIG share for free.
Many investors have criticized the policies of George Economou, and have blamed him for often being involved in destroying shareholder value. Therefore, it is most likely that the CEO will keep on selling ORIG shares to fund the company's projects, which will increase its vulnerability to the weak dry bulk business.
Conclusion:

DRYS' dry bulk business reported a YoY decline of 33% in revenues in the last quarter. Marine transportation is an ever green business, and will recover one day or another. What needs to be answered is whether a company operating in this industry will be able to survive the current crisis or not. The sell-side expects the slowdown in dry bulk to continue till the end of 2013. DRYS, with a 65% stake in ORIG, is expected to survive the crisis. The stock is expected to go up as we see some more catalysts in the form of a recovery of coal demand in China, and the sustained rise in global demand for iron ore.
Disclosure: I have no positions in any stocks mentioned, and no plans to initiate any positions within the next 72 hours.
Business relationship disclosure: The article has been written by Qineqt's Industrials Analyst. Qineqt is not receiving compensation for it (other than from Seeking Alpha). Qineqt has no business relationship with any company whose stock is mentioned in this article.