The Netherlands exchange traded fund is in focus following the general election earlier this month. The center-right VVD party won a sufficient number of votes as Prime Minster Mark Rutte took office. The country is known for its strong economy, which investors hope will handle the leadership transition smoothly.
"This really shows voters were voting strategically. They realized the extremes are not the solution at the moment. The Dutch are not anti-European. They are pro-European," Famke Krumbmueller of the Eurasia political risk consultancy said in a report.
Both the left-wing Socialist Party and the right-wing Freedom party were opposed to domestic austerity. There are currently new budgetary goals set in place by the fiscal compact and the Stability Pact.
There are parallels with French President Francois Hollande and German Chancellor Angela Merkel, and prospects of an uneasy coalition, reports Anna Holligan for BBC News. Analysts agree that whatever floor the new government takes, the Freedom Party is likely to be kept out.
Rutte has not confirmed any coalition and has not specified if he would approach Labour, reports BBC News: "As leader of the largest party I feel a particular sense of responsibility and therefore I don't want to comment [on coalition deals]," Mr Rutte said. "I'm calling for radio silence."
The biggest obstacle for the Dutch country to overcome is the high mortgage debt that stands at 111% GDP, reports Shareholders Unite. The domestic housing market is open to public intervention and can be haphazardly run. The Rabobank expects house prices to fall 5% this year and another 4% next year, and construction is basically at a halt.
Household savings within the country is one of the stronger points. Overall household savings is about one-half the mortgage of the nation. And the Dutch pension system is still healthy and in place, as it is the strongest system in Europe.
The Dutch ETF is the iShares MSCI Netherlands Index ETF (NYSEARCA:EWN) which is dominated by Unilever. This company is a consumer staples play, and it would be logical to think that this defensive play has given the fund some stability. The fund has gained about 20% over the past quarter.
iShares MSCI Netherlands Index ETF
(click image to enlarge)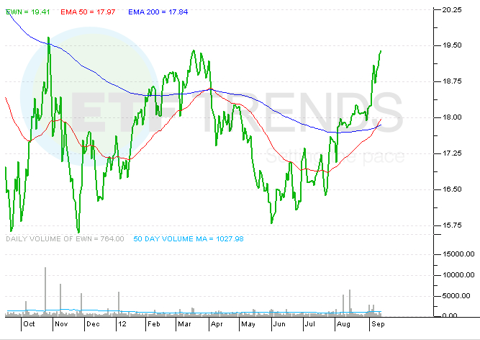 Tisha Guerrero contributed to this article.
Disclosure: I have no positions in any stocks mentioned, and no plans to initiate any positions within the next 72 hours. I wrote this article myself, and it expresses my own opinions. I am not receiving compensation for it. I have no business relationship with any company whose stock is mentioned in this article.