Introduction
In my previous article on Apple (NASDAQ:AAPL) (which focused on the iPhone), I estimated that the operating profit of the iPhone (in the most likely scenario) would increase from 25,000 million in 2012 to roughly 40,000 million in 2017. Since then, I have revisited my estimations, and you can see the updated earnings estimates in the below table.

This is a pretty good growth rate, but according to analysts Apple is "supposed" to grow at 23% y/y for the next five years. And as I forecast that earnings of the iPhone will grow by less than 10% y/y from 2015-2017, I assumed in my previous article that other segments of Apple would grow at a higher rate to compensate for the "low-growth" iPhone. At the time, that assumption made sense, as the tablet market is forecasted to grow at a very high rate, and therefore I estimated that earnings of the iPad would grow by 30% y/y.
In this article, I question the realism of that assumption.
The iPad
I will start my article, by providing some background information on the tablet.
The iPad has undoubtedly been extremely success since the first model was introduced April 3rd 2010. As you can see in the below graph, sales have increased every single quarter, except the two quarters prior to releases of new models as consumers don't want to purchase an "old" model when the new model is just about to arrive.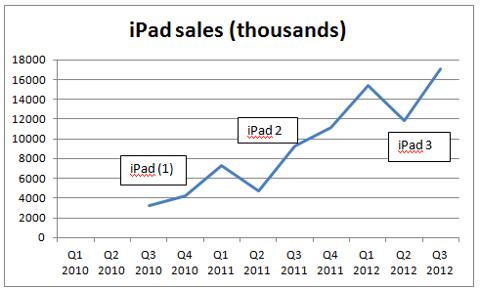 Market share
Due to the success of the iPad, an increasing amount of competitors have entered the tablet market, as they want a part of the fast growing tablet market. However, as you can see in the below diagram, Apple was (and still is) the clear leader in the tablet market.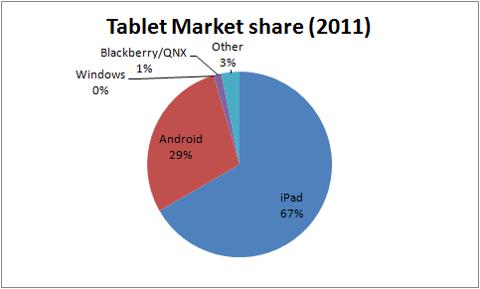 Amazon's (NASDAQ:AMZN) Kindle Fire has been a large success and due to the business model of Amazon, they don't have to make a profit on the tablet. This makes it difficult for their competitors to be profitable. Amazon has recently launched a new Kindle Fire HD, which has received pretty decent reviews. Though there are still some performance issues with the Kindle Fire HD, it has improved on the original in almost anyway. Luckily for Apple, the Kindle Fire appeals to a slightly different customer than the iPad does, as the size of the tablet is smaller. So while I think the Kindle Fire will increase its market share in the future, it's probably mostly on behalf of other Android tablets. Therefore I think we can expect the market share of Android (including Kindle Fire) to be somewhat stagnant over the next five years.
But Microsoft (NASDAQ:MSFT) will also enter the market, when they release the Surface on October 26 2012. The Surface is a ten-inch tablet, and given its expected sales price, it will probably be a closer competitor to the iPad than the Kindle Fire HD. Trustedreviews compared the two tablets to each other, and argued that the Surface had all the ingredients to be a better laptop replacement than the iPad. They made the following comment regarding who would win the "tablet" war in the future.
It might be too early to call a winner, but it's certain that if Microsoft can launch its tablet as presented and with everything working smoothly, it will have one heck of a contender on its hands.
When that is said, Apple has a very large loyal fan base, and they have a history of launching products of high quality. They are also expected to release a 7-inch tablet priced at $250 this fall, and this could "steal" customers from Google's (NASDAQ:GOOG) Nexus 7. I still remain confident that Apple will remain the clear market leader, but I forecast that their market share will drop to 60% in 2017.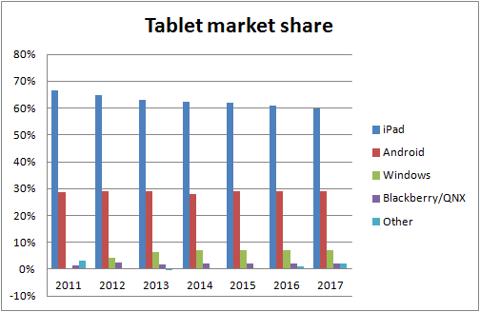 The good news for Apple is that the size of the tablet market is forecasted to increase from 60 million in 2011 to 250 million in 2017. As you can see in the below graph, I expect that sales of the iPad over the same period will increase from 40 million to 150 million.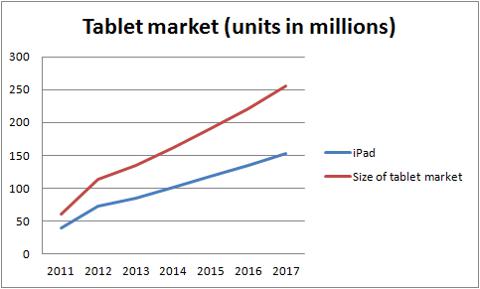 Source: IDC.com
The average selling price
Though sales of the iPad historically has increased at a high rate, the average selling price has declined from almost $700 in 2010 to $540 last quarter. This is a natural consequence of increased competition. When Apple entered the market in 2010, they had a unique product and they could therefore sell the tablets at a higher prices. One example of the impact of increased competition, is the decision by Apple to slash the price of the iPad 2 16GB to $400 after the iPad was released, which meant that the cheaper iPad 2 would be capable of competing against the Android tablets.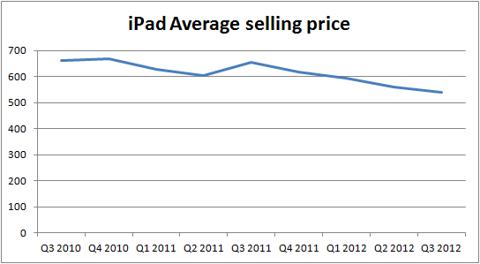 In the future I expect the decline in prices to continue. I do, however think the decline will be less steep, and I have forecasted that the average selling price will be roughly $500 in 2017.
Operating profit of the iPad
Apple has reported that the gross profit of the iPad was between 23-32% in USA. On a global level I assume that the average gross profit is 30%. This means that costs related to good are roughly $385 for each iPad that is sold.
In the below diagram, you can see where your money went each time you bought an iPad in 2011. 62% went to cost of goods sold. 6% to "Sales, General and Administrative" and Apple kept the remaining 32% as profit.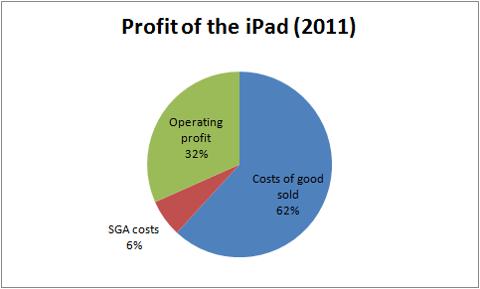 Given my estimations of future sales of the iPad, cost of goods sold and average selling price, I am now capable of estimating the future operating profit of the iPad. As you can see in the below table, I believe that earnings will grow by 21% from 2011 to 2012. But the rate of which earnings grows, decreases as the average selling price is reduced and growth in revenue declines. From 2016 to 2017 I believe that earnings will increase by 7.3%.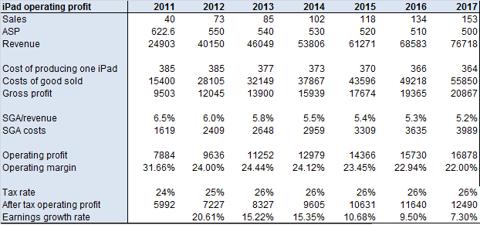 22% earnings growth is nowhere in sight
So it should be obvious by now, that there is almost no way the iPad will grow at an annual rate of 30% over the next five years. But I have only looked at "69%" of Apple, and haven't discussed the iPod or the Mac yet.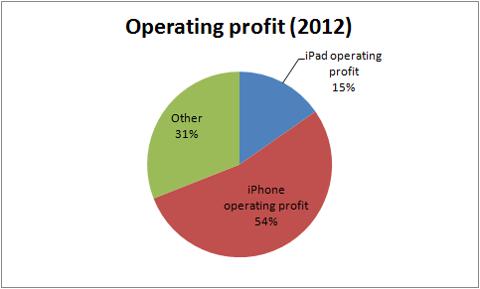 Source: My own estimates
As you can see in the below graph, revenues of the Mac has grown by roughly 20% over four years, and sales of the iPod has declined from $4 billion in Q1 2008 to $1 billion in Q3 2012. In these "post-PC" times, it seems unlikely that any of these two products will be huge contributor to earnings of Apple in the future.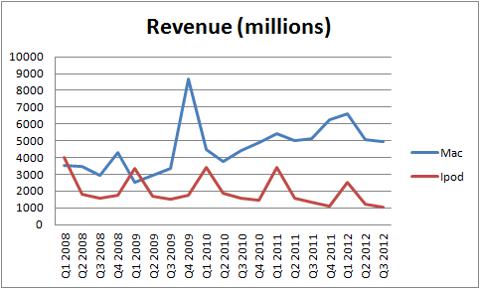 So I conclude that analysts most likely are too optimistic on Apples behalf, but that doesn't make me an Apple bear. The P/E-ratio is still relatively low, and Apple doesn't necessarily need a high future growth rate to be a worthwhile investment. Apple can grow earnings by "just" 10% a year, and still be a decent investment as long as it continues to be very profitable over a longer period. I am however a bit skeptical of the long-term earnings of Apple (10+years), as earnings in the tech-industry are very volatile. But I am always interested in listening to good arguments. So if you can convince me that earnings of Apple 10-20 years from now on will be higher than today, I might invest in the company myself.
Disclosure: I have no positions in any stocks mentioned, and no plans to initiate any positions within the next 72 hours. I wrote this article myself, and it expresses my own opinions. I am not receiving compensation for it (other than from Seeking Alpha). I have no business relationship with any company whose stock is mentioned in this article.