No Economy, No Problem… All I Need Is My Printing Press
- QE3 decides the fate of the market, but not the economy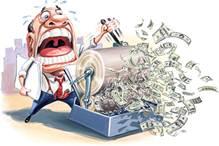 Wouldn't it be great if we look back at these times in five, 10 or even 20 years and find out all we have to do is print money and we can now avoid recessions? It would be like curing cancer, HIV and the common cold all in the same day! Unfortunately, it doesn't work that way. Adding more stimulus with QE3 may ease the pain in the moment, much like Sudafed allows you to get through the day but doesn't cure your cold, but its long term implications are devastating. In fact, it's more like taking Viagra…every single day (NOT doctor recommended!). You'll be a happy man while it lasts, but the effectiveness eventually wears off, and when it does you and the economy will hit a severe soft patch. As I said back in November 2010, we are in the Great Viagra Market. OK, time to put away the medical journal, but you get the point.
The last time we injected money like this was 1929, and back then, we were a creditor nation. Today, we are a debtor nation, seriously in debt, rivaling that of a banana republic kind of debt. It's nice to spend money we don't have. We Americans did it for the last 30 years, which is what got us in this situation, but the problem is debt and deficits do matter. Since 2006, our debt to GDP has risen from 66% to 104%, and is expected to rise to 110% next year.
What is that "Bang Point" at which the market decides it doesn't want to lend you cheap money anymore? As I discuss in my book, Facing Goliath - How to Triumph in the Dangerous Market Ahead, a crisis of confidence happens in a flash, when the fewest people are prepared for it, causing the most damage. If a country refuses to get its debt and budget deficits under control, it will not be able to issue bonds at reasonable rates, which is critical for every country. There have been no exceptions. There is a point at which the bond market gets worried about getting paid back. For Greece it was 140%, but they were first, so people were in denial. For Italy, it was 120%. Spain recently lost access to the bond market and they are only at 68%.
The economy is clearly slowing as previous stimulus programs wear off, which is probably what the Fed saw when it issued QE3. What is disconcerting to me is that it is starting to affect the upper crust. Just recently, Tiffany, Burberry, as well as many other high end retailers, signaled trouble ahead. This is the opposite of the way it was the last time around. Back then, I was saying they would be the last man standing. Although QE3 as well as the European equivalents will smooth it over for a little while, these cracks in the hull cannot be ignored in the rough seas ahead.
Investor Strategy
For now, the Viagra cup runneth over, but you don't want to be in the board room, the bedroom, or on the trading floor when it stops working, or when the pharmacy (the Federal Reserve) runs out. QE3 should have a fairly positive affect on stocks as the election gets behind us, and with all enormous liquidity in the markets and the all new QE3. Aggressive investors can buy growth opportunities, which will also do well, such as the SPDR S&P 500 (NYSEARCA:SPY), SPDR Select Sector Fund - Financial (NYSEARCA:XLF), iShares MSCI Emerging Index Fund (NYSEARCA:EEM), Emerging Markets Consumer ETF (NYSEARCA:ECON), Brazil (NYSEARCA:EWZ), PowerShares QQQ Trust, Series 1 (NASDAQ:QQQ), iShares Russell 2000 (NYSEARCA:IWM) and iShares FTSE China 25 Index Fund (NYSEARCA:FXI).
Individual growth stocks with good momentum and strong product and sales growth will outperform the most -- such as Apple (NASDAQ:AAPL), which will benefit from new products, especially the Iphone 5, which everyone and their mother will be getting. There are lot of other leading companies that will continue to rise the innovation wave, like Google (NASDAQ:GOOG), Intel Corporation (NASDAQ:INTC), Qualcomm (NASDAQ:QCOM), Microsoft (NASDAQ:MSFT), Cisco Systems (NASDAQ:CSCO), Dell (DELL), Caterpillar (NYSE:CAT), General Electric (NYSE:GE) and Yahoo (YHOO), Red Hat Inc. (NYSE:RHT), Schlumberger (NYSE:SLB), VMware Inc. (VMW.
Commodities will also be big beneficiaries of further stimulus, and aggressive should buy commodity and metal stocks such as Goldcorp. (NYSE:GG), Barrick Gold Corp (NYSE:ABX), SPDR Gold Shares (NYSEARCA:GLD), Power Shares Double Gold (NYSEARCA:DGP), Market Vectors Gold Miners ETF (NYSEARCA:GDX), Newmont Mining Corp. (NYSE:NEM), Freeport-McMoRan Copper & Gold Inc. (NYSE:FCX), PowerShares DB Gold Double Long (NYSE:ETN) for the not so faint of heart, plus Silver Wheaton Corp. (SLW), ProShares Ultra Silver (NYSEARCA:AGQ) and Fortuna Silver Mines (NYSE:FSM).
Less risky investors should focus on dividend stocks like MLPs such Terra Nitrogen (NYSE:TNH), Legacy Reserves (NASDAQ:LGCY), Vanguard Natural Resources (NYSE:VNR) and BrietBurn Energy (BBEP) and healthcare REITs related to the aging baby boomers such as Healthcare Properties (NYSE:HCP), Senior Housing (NYSE:SNH) and IShares Healthcare (NYSEARCA:IYH).
Disclosure: I have no positions in any stocks mentioned, and no plans to initiate any positions within the next 72 hours. I wrote this article myself, and it expresses my own opinions. I am not receiving compensation for it. I have no business relationship with any company whose stock is mentioned in this article.