In late 2007, The Economist magazine said that while the strong global economy had been a boon to most Southeast Asian economies, "perhaps the most impressive performer is Singapore."
HSBC economist Robert Prior-Wandesforde said Singapore is "a developed country that grows at developing country rates," noting that the island nation has outperformed Hong Kong since the 1997 Asian crisis, and that while a U.S. slowdown could hurt the economy, it might be just the ticket to "avoid the only danger to its sizzling economy: overheating."
Now that such a slowdown is under way, the performance of iShares MSCI Singapore ETF (NYSEARCA:EWS) indicates that Prior-Wandesforde was prophetic.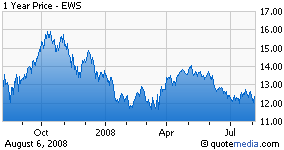 Though there have been some bumps—the ETF is down 9.6% year to date—given what's happened in the region, that's nearly 11 percentage points better than Morningstar's Pacific/Asia ex-Japan Stock fund average, placing the fund in the top 1% of the category. We added EWS to our ETF Momentum Tracker International portfolio on July 30.
EWS hit an all-time high in October and fell nearly 22% through last week. Still, it outperformed iShares funds focused on China, Taiwan and South Korea. Plus, with a five-year annualized return of 22.6%, EWS tops its category over the longer term, too, and has beaten the MSCI EAFE index every year since 2001.
Gross domestic product grew an average of 7% annually from 2004 to 2007, with another 5% jump expected in 2008, all in keeping with an economy that's grown by 5% to 15% nearly every year since its independence in 1965, according to the International Monetary Fund.
The boom is a result of international investment and the growth of China, India and intra-Asian trade; The Economist attributes it to an efficient government, a world-class education system and a commitment to manufacturing, which still makes up 25% of GDP. "Anticipating the competitive threat from China," the magazine said, "[Singapore] has moved up the value chain ... and found lucrative new niches" especially in marine engineering, biotech and finance, where it "has cornered the market in private banking for the wealthy."
EWS plays into those trends, as iShares classifies 49.2% of assets as financial stocks, followed by industrials (23.1% of assets) and telecom services (14.3%). That's worked well recently.
The fund invests heavily in three financial titans—DBS Group, United Overseas Bank and Oversea-Chinese Banking—which combine to make up nearly one-third of the fund's assets.
All three, among the largest banks in Southeast Asia, announced in July that they have little exposure to equity or debt from Fannie Mae (FNM) and Freddie Mac (FRE). Still, DBS shares were down 7.1% through July, with earnings to come Thursday.
That's not to say that Singapore is immune to the U.S. slowdown. On Monday, Barron's reported that expectations for "robust domestic consumption and intra-regional trade" haven't insulated Asia as well as expected.
Inflation, which averaged 7.1% in the first half, is at a 26-year high, and a strong Singapore dollar, up 5.6% versus the dollar this year, has impacted exports. Singapore's trade agency recently cut its 2008 forecast for export growth between 2% to 4%, from 4% to 6% earlier in the year.
Again, Singapore has held up better than some Asian countries. Through July, the country's Straits Times Index was down 15% year to date, compared to an average loss of 22% for ex-Japan stock funds.
The rampant inflation is stressing Singapore's economy, which posted its worst contraction in five years during the second quarter according to Financial Times; one analyst quoted there is predicting a technical recession in the third quarter.
Top holding Singapore Telecom (OTCPK:SGAPY), which has bought up an array of firms across the region, reported an 11% jump in quarterly net profit back in May, but also announced a cautious outlook because of global economic uncertainties, according to The Wall Street Journal.
Thus, despite the fund's five-year record, investors should be wary. First, EWS has not had a smooth ride all its life. The economy of Singapore depends heavily on exports, especially consumer electronics and IT products. Thus, the tech slump and the recession from 2001 to 2003 hurt EWS, and the country's economy took one more blow in 2003, when the outbreak of Severe Acute Respiratory Syndrome [SARS] cut into tourism and consumer spending.
From the start of 2001 until June of 2003, the fund's NAV fell 39.5%. Likewise, the fund took a beating in the Asian financial crisis just over 10 years ago, even though Singapore recovered better than many nations. EWS's NAV fell 72% in 18 months, from February 1997 to August 1998—and did not regain pre-crisis levels until 2007.
No one's predicting such a disaster, but Singapore and the fund are tied to the region's economy, the world economy and the U.S., especially given the island's emphasis on exports and services. Investors here should be wary going forward.