We know that General Motors (NYSE:GM) is a favorite of Warren Buffett's Berkshire Hathaway (NYSE:BRK.A), and that it has a lot of growth potential in China. But how sound of an investment is it? Maybe not as sound as some people think. Reuters reported that GM is in the market for up to $10 billion in revolving credit to cover its debts.
It is not clear exactly what GM is looking for in the credit market, but it is asking for at least $8 billion in credit. The Reuters staff reported that the company wants $5 billion in three-year revolving loans and another $5 billion in five-year revolving. The credit will be used to "beef up liquidity" and refinance existing debt according to the article. This sounds like classic double talk for "we need cash and fast."
Naturally, skeptics will ask: Why does General Motors need $10 billion in additional credit if it is doing so well? Not surprisingly, the company's spokesman declined to comment. Call me a cynic, but it sounds like GM thinks it's going to need a lot of extra credit and fast.
The market seemed to agree with this cynicism. GM fell by almost a dollar on September 24th and September 25th. Investors are beginning to wonder what is going on here. GM's trading volume was also above average; its average volume in the past 13 weeks was 8.37 million shares a day, but on September 25, 2012, it rose to 10.25 million. That means almost two million more shares than normal moved on that day.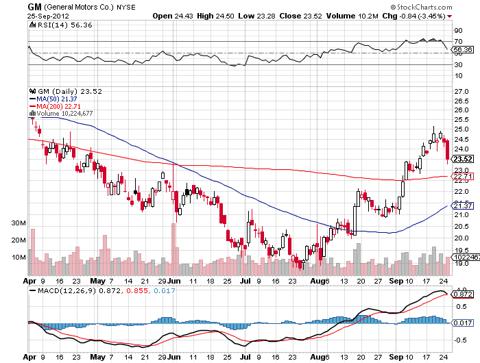 Catastrophe Looms for GM in Europe
Is this an opportunity for value investors or a sign that General Motors is headed for trouble? Most likely there is some sort of trouble on the horizon, so the question to ask here is: Why does GM suddenly need all that additional credit? Anybody who's been following the auto business knows the answer: Europe.
Car sales in Europe are so bad that General Motors has shut down its two factories in England for a week: the Vauxhall car factory at Ellesmere Port and a van plant in Luton. The company also shut down three auto factories and an engine facility at GM's German subsidiary, Opel. A General Motors spokeswoman interviewed by Britain's Financial Times newspaper even admitted that the cheapest course of action was to shut the factory down for a week. Opel and Vauxhall's sales fell by 15% between August 2011 and August 2012.
The collapse in car sales is leading to huge losses in Europe; GM has admitted that its Opel unit has lost $16 billion in the past twelve years. At the same time, General Motor's Chief Financial Officer (NASDAQ:CFO), Dan Amman, refused to say whether Chevy is profitable in Europe or not. Things in Europe are so bad that some analysts are recommending that GM simply get off the continent altogether. Opel and Vauxhall have had a hard time competing with Volkswagen (OTCPK:VLKAY) and Japanese brands, like Toyota (NYSE:TM), on the continent.
Yet even getting out of Europe by selling off Opel/Vauxhall might hurt GM. The same analysts estimated that it might cost General Motors as much as $13 billion to sell Opel/Vauxhall because of pension obligations and other costs.
The timing of the credit line request and the latest crisis in Europe doesn't seem like a coincidence. Despite its success in China and the U.S., General Motors is being dragged down by Europe. The company has to do something drastic, or Europe will drag it down.
Volt Is a Money Loser
Europe isn't the only anchor dragging GM's profitability down. Industry analysts estimated that GM is losing $49,000 on every one of the Volt hybrid sedans it is making. Reuters found that General Motors is selling the Volt for $39,995 but spending an estimated $89,000 to manufacture the car. So far the company has invested $1.9 billion in the Volt but has had a hard time selling it.
So General Motors is facing major losses on at least two fronts right now, but is it a good buy and hold stock? If the company can get over problems like the Volt and the mess in Europe, will it make money? The answer is "possibly" because of success in China and the U.S.
GM's Chinese Money Machine Is Working
On September 21st, General Motors sold its two millionth car in China for 2012. This makes 2012 the third straight year in which GM has sold two million cars in China. More importantly, this is the earliest date that General Motors has ever reached that level of sales in China, and the sales figure was reached in a year in which car sales in China are slowing.
Just as importantly, General Motors did show sales growth of 10.8% and income growth of 62.5% in the last year. That means it is making money on all those cars it is selling in China, so it has the resources to overcome the losses it is facing in Europe and on the Volt. GM has a relatively low debt to equity rating of .36%, so it can absorb the extra $10 billion in credit fairly easily. It also puts GM in better shape than Ford (NYSE:F), which has a debt to equity ratio of 5.86% and a share price of $10.09 on September 25, 2012.
General Motors is a mixed bag. On one hand, it is having huge success in China. On the other, it faces massive losses in Europe and on the Volt. That makes GM more of a buy and hold play. There's a good chance the company can get through these troubles, but it's going to take a few years. I think buying GM around its current price of $22 will likely provide investors with gains of around $5 to $7 per share in the next 12 to 18 months.
Disclosure: I have no positions in any stocks mentioned, and no plans to initiate any positions within the next 72 hours. I wrote this article myself, and it expresses my own opinions. I am not receiving compensation for it (other than from Seeking Alpha). I have no business relationship with any company whose stock is mentioned in this article.