VIX Posts Double-Digit Gain For The Week
VIX, the CBOE S&P 500 Volatility Index, also known as the "fear" index, jumped sharply this week as equities declined and fear re-entered global markets. Poor economic reports, concern over ongoing problems in Europe and technically overbought conditions led to this week's decline in equities and concurrent jump in VIX.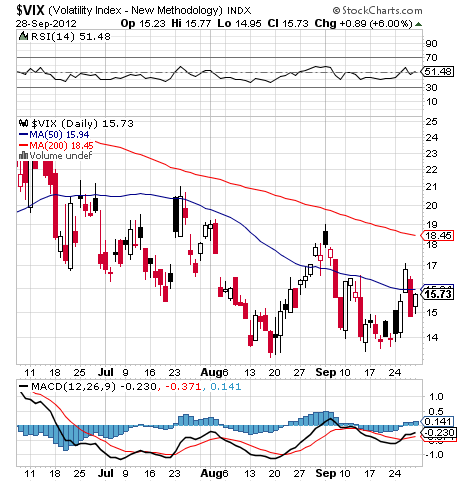 Chart courtesy of StockCharts.com
In the chart above, we can see the recent action in VIX as it bounced off the bottom in the 14 range, momentarily breached its 50-day moving average and closed the week just below the 50-day average. It still remains well below the 200-day moving average, but MACD has switched to positive, indicating short-term positive momentum for the index.
The 14 level is extremely low on a historical basis, and even now in the 15s, the VIX index is well below its long-term average of the mid 20s.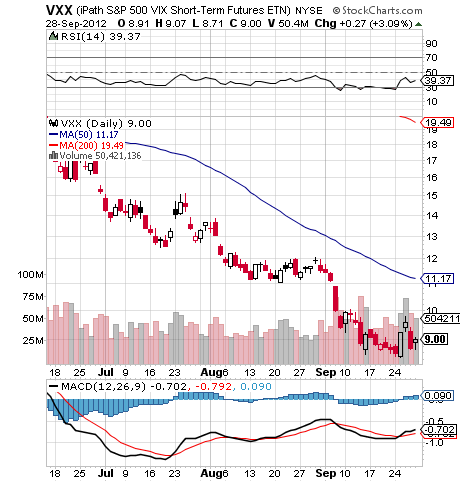 Chart courtesy of StockCharts.com
In the chart of VXX above, we can see how the ETN has put in a bottom and MACD has generated a "buy" signal. Still the ETN resides well below its 50 and 200-day moving averages and so still rests firmly in bear market territory.
VIX ETN Weekly Update:
VIX Index +12.5%
iPath S%P 500 VIX Short-Term Futures ETN: +0.8%
VelocityShares Daily 2X VIX Short-Term ETN (NYSEARCA: TVIX): +5.5%
iPath S&P 500 VIX Mid-Term Futures ETN (NYSEARCA: VXZ) +0.2%
Barclays iPath ETNs has announced that VXX will experience a 1-4 reverse split on October 4th and start trading at its new price as of October 5th. VXX tracks a daily long position in the first and second months of the VIX futures contract.
Although this is the second reverse split for VXX, the ETN has become widely traded with more than $2 billion in assets under management and daily volume on Friday of more than 50 million shares. However, it is down more than 65% year to date as volatility has drained from the markets on the strength of central bank support and quantitative easing measures.
Overall, VIX and VXX have been extremely oversold and at extremely low historical levels and so have been due for some recovery which we now see taking place. For the short term, momentum is to the upside but VIX will need to breach significant resistance before we can say that a real and potentially lasting uptrend is in place.
Disclosure: I have no positions in any stocks mentioned, and no plans to initiate any positions within the next 72 hours. I wrote this article myself, and it expresses my own opinions. I am not receiving compensation for it (other than from Seeking Alpha). I have no business relationship with any company whose stock is mentioned in this article.