As shown in the chart below, whenever a new iPhone model is introduced, the percent change in Facebook's (NASDAQ:FB) active users peaks one quarter later. Not only is there a peak in the rise of active users, but the rise in Daily Active Users (DAU) is noticeably more significant than the Monthly Active Users (MAU).
Click to enlarge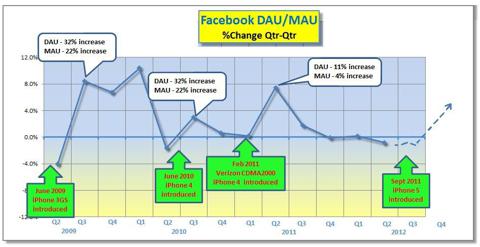 Note: USA and Canada DAU/MAU statistics were used in the figure above. The iPhone 4S was not shown but resulted in only a very small surge the following quarter. The iPhone 4S, from a user perspective, could be considered a minor upgrade from the iPhone 4.
As Facebook CEO Mark Zuckerberg indicated, mobile users are more likely to be Daily Active Users, hence the reason for the rapid increase in DAU after introduction of a new iPhone model.
A significant increase in Facebook DAU is good for profits, much more so than MAUs.
Apple (NASDAQ:AAPL) introduced the new iPhone 5 in September, but don't expect increased daily Facebook activity to show up until after the Facebook quarterly results are released in October. The subsequent quarter should be a blockbuster however, not only due to the iPhone effect, but also for the following reasons:
The actions listed above are too recent to have any significant effect on Facebook's bottom line in October. In fact, there are significant risks in holding Facebook stock short term, as employees are hired to develop new and better applications for the very competitive mobile market and, of course, more stock lock-up periods end.
However, the quarter following October 22 is a no-brainer, buy Facebook.
Disclosure: I am long FB. I wrote this article myself, and it expresses my own opinions. I am not receiving compensation for it (other than from Seeking Alpha). I have no business relationship with any company whose stock is mentioned in this article.