I am not going to repeat the numbers on Research In Motion's quarterly results, I think Bill Maurer here on SA did a good job at that and there's no reason to repeat ourselves.
I do however want to return to specific elements of my previous article on Research In Motion (RIMM) - please read: Research In Motion: Good Speculation Play With Limited Risk - where I said it was a good speculation play with limited risk.
Speculation time frame updated to infinity
For starters, lets start with our speculation time frame that I mentioned in my previous article. As of the latest quarterly results, that has significantly expanded. Why so? Because the cash flow situation has improved dramatically.
Please note that the cash burn rate mentioned in the previous article, was a worst case situation scenario, exclusively crafted to set a worst case cash burn scenario. In reality it had little to do with the actual cash burn rate itself.
Cash burn not a concern anymore
Cash and cash equivalents rose to $2.3 billion, an increase of about $100 million from the previous quarter. This means that there was no cash burn rate at all. This raises our previously speculation time frame from 12-15 months to infinity, for under these circumstances, or until conditions change, cash burn is not a concern.
The company will probably burn plenty of cash for marketing purposes when they unveil their BB10 platform, but we can also expect increased revenue at the same time to offset that. In any case, we will reevaluate the cash burn situation if needed in the future. For the time being however, cash burn is no longer of any concern.
Revenue has bottomed out
While revenue was lower on a yoy basis as expected, quarter over quarter there was an actual increase. This is important, for it means that revenue has probably bottomed off. For special situations plays, in which we are betting for a stock to turn around, short term revenue is the time frame we want to follow and not what happened a year ago, which more or less is ancient history.
Technical picture
In my previous article I had a stop-loss of $6.30 for those that decided to speculate on RIMM. Well the stock hit that target but then it bounced from there and went as high as $8.20 on Friday, before closing $7.50.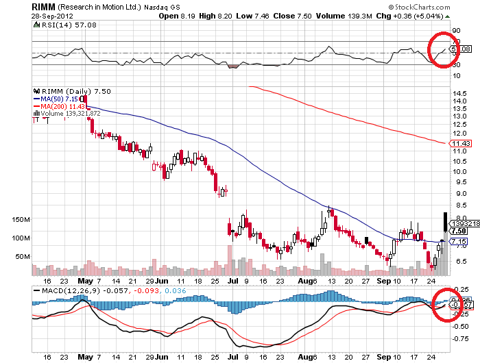 Although I would have preferred Research In Motion to close at or above $8 on Friday, nevertheless the major technical signals are all positive and for the most part point to higher prices. MACD has crossed over positive, RSI is above 50 and rising and the stock is above its 50 day moving average. Over all a positive technical picture and a whole lot better than what the technical picture was several weeks ago.
Less speculation from here on end
In my previous post I noted that there was a possibility that Research In Motion might go to zero, within the notion that our speculation time frame had a set limit. Since this is no longer a concern, much of the speculation, as far as the absolute worst case scenario is out of the picture.
Bottom line: I am upgrading Research In Motion from a speculation play to a special situation play. The reasons are that we no longer have a limited speculation time frame, the cash burn is not of any concern at the moment and revenue for the most part on a quarterly basis, seems to have bottomed.
The only other unknown variable at this point is, if the new BB10 platform will be a success or not.
Disclosure: I have no positions in any stocks mentioned, and no plans to initiate any positions within the next 72 hours. I wrote this article myself, and it expresses my own opinions. I am not receiving compensation for it (other than from Seeking Alpha). I have no business relationship with any company whose stock is mentioned in this article.