Natural Gas Is On Fire
With the onset of QE3 and its expected impact resulting in higher commodity prices, many commodity sectors have staged rapid directional changes in recent trends.
One of the most notable of these has been natural gas which has largely been in a bear market for most of 2012, down more than 17% YTD. However, starting in early September, natural gas has changed direction in a dramatic way.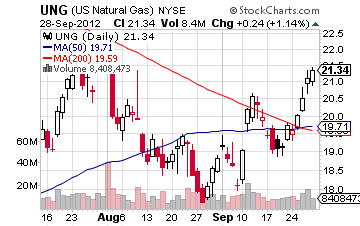 chart courtesy of StockCharts.com
In this chart of United States Natural Gas Fund (NYSEARCA:UNG) we can see how the ETF has made a dramatic turn in recent days since the onset of QE3. The ETF has broken significant resistance, is now in a strong uptrend and has broken above both its 50 and 200 day moving averages which indicate short and medium term strength in this market.
On a short term scale, UNG is up 8.2% over the last 5 days and 18% over the last 3 months. Winter is just around the corner and the period from late September to early first quarter is typically bullish for natural gas as demand increases for heating products. More than 50% of U.S. homes are heated by natural gas and some forecasts are calling for cooler than normal temperatures through autumn.
Longer term, a move towards natural gas could be expected as coal fired power plants are retired from service and nuclear power continues to remain out of favor, not only in the United States but in heavy users like Japan and Germany.
Supply and demand factors have largely been in favor of supply until recently. However, many analysts suggest that storage levels are set to fall and demand is set to rise, causing price forecasts for natural gas to rise to as high as $4 by the end of the year, up sharply from the current levels in the mid $3.30 range, a gain of approximately 20%.
Still, one must be careful trading UNG as it is extremely volatile and has been a terrible performing ETF since inception. There is strong upside potential here but this is not suitable for buy and hold investing and is a trade that needs to be carefully monitored and deployed with solid risk management.
Disclosure: I have no positions in any stocks mentioned, and no plans to initiate any positions within the next 72 hours. I wrote this article myself, and it expresses my own opinions. I am not receiving compensation for it (other than from Seeking Alpha). I have no business relationship with any company whose stock is mentioned in this article.