It has been more than two months since I wrote my latest Lightning Round article - time goes by fast indeed. I watch Cramer's show very often, and find him hugely successful at what he is doing. In the investment world, few names are as famous and reputable as his. If you are going to put something on the table, you better know what he thinks on the related stock or market. This way, you can minimize losses and get the best result that the current economy can offer. Therefore, there is a great benefit in following Cramer and valuing his opinions on stock markets or certain stocks. Although I searched for other analysts to compare opinions, I could not find anyone as good and renowned as him.
Jim Cramer mentioned various stocks on his latest Lightning Round segment on Friday, most of which didn't get bullish opinions. I have picked five of his boldest stock picks and analyzed them with my personal views, along with using fundamental indicators. Here is a fundamental analysis of these stocks from Cramer's September 28 Lightning Round:
| | | | | |
| --- | --- | --- | --- | --- |
| Stock Name | Ticker | Cramer's Suggestion | O-Metrix Score | My Take |
| Pitney Bowes | (NYSE:PBI) | Avoid | 8.04 | Avoid |
| Leap Wireless | (LEAP) | Avoid | N/A | Avoid |
| Sprint Nextel | (NYSE:S) | Buy | N/A | Avoid |
| Philip Morris Intl. | (NYSE:PM) | Top Pick | 4.02 | Top Pick |
| Ford Motor | (NYSE:F) | Avoid for Now | 10.84 | Avoid for Now |
Data from Finviz/Morningstar. You can download the O-Metrix calculator here.
Pitney Bowes
There are things to be real, and too good to be real. Pitney Bowes' dividend fits well with the second one. With an unbelievably high dividend yield of 10.82%, Pitney Bowes more than doubles the second highest dividend payer in its industry, Virco Manufacturing (NASDAQ:VIRC), which pays a 4.22% dividend. One does not need to be an expert to understand that Pitney Bowes is not a company to invest and sleep well.
images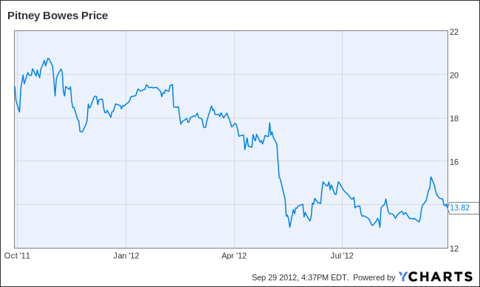 The stock has such a weak balance sheet mostly consisting of red flags. Debt-to equity ratio is 41.0, brutally crushed by the industry average of 2.0. The stock has reported negative EPS reports in the last five years and this quarter. Under these circumstances, such a dividend is surely unsafe. The stock might be fairly valued, but do not expect any sizeable profits. Based on its numbers, Pitney Bowes has an O-Metrix score of 8.04, which is quite irrational as safety of such a dividend with such a weak balance sheet is out of the question.
Leap Wireless vs. Sprint Nextel
Cramer prefers Sprint Nextel instead of Leap Wireless, because he is not interested in it. Here is a brief comparison between these two stocks:
| | | |
| --- | --- | --- |
| Current as of Aug 3 close. | Leap Wireless | Sprint Nextel |
| P/E ratio | - | - |
| Forward P/E ratio | - | - |
| Estimated EPS growth for the next 5 years | 3.3% | 0.9% |
| Dividend yield | - | - |
| Profit margin | -9.3% | -11% |
| Gross margin | 18.7% | 17.1% |
| Upside movement potential | -5.5% | -7.5% |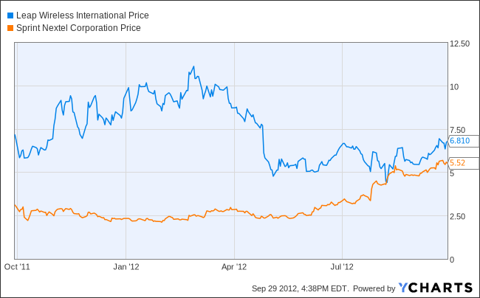 Almost all wireless companies and carriers are highly overvalued at this time, including AT&T (NYSE:T). However, Sprint Nextel does not offer a relatively better balance sheet to be chosen over Leap Wireless even in such a catastrophic environment. All ROA, ROE and ROI are on negative. The stock is rolling down for the last five years- $100 invested in S in June 2007 would be roughly $25 now- so what's the point in choosing Sprint Nextel? I wouldn't suggest a five-bucks stock as an alternative to Leap Wireless here.
Philip Morris Int'l
Philip Morris is a "terrific stock," Cramer says, in which I agree to the end. Besides, I have been into Philip Morris very much recently, analyzing the stock fully here, here and here. The stock is quite a haven for those seeking for safe gains supported by sizeable dividends. Returning more than 40% in the last twelve months, the tobacco stock is still hardly overvalued.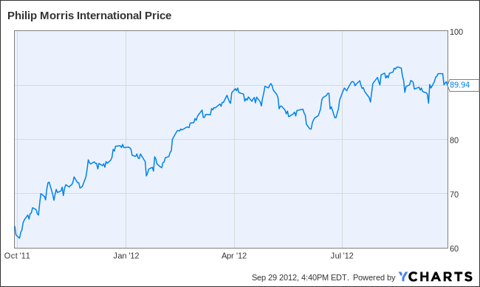 Philip Morris positioned itself to generate satisfactory profits, as it made the right investments in the right places. The company has presence all over the world, while also expanding in the developing economies. Philip Morris has a 3-star rating from Morningstar. Out of four analysts covering the company, one has a "buy" rating as well as one has a "outperform" and two others - "hold" ratings. Dividends are perfectly stable. Overall, Philip Morris is a terrific stock offering safe returns. As Morningstar states, "expect that the company's Asian operations will continue to be an engine for the firm's future growth." The stock has a C Grade O-Metrix score of 4.02.
Ford Motor
Cramer made the following remarks on this name:
They have a problem with Latin America. They have a problem with Europe. America cannot offset these negatives, which is why Ford is one tough stock to own.
Ford is going through some troubled periods of time. The company even plans to reduce its European workforce to breast its losses from that region. Ford is even trying to boost numbers through self-registrating the cars, and selling them as second-hand cars to get rid of various discounts. The automaker lost nearly 7% within the last week.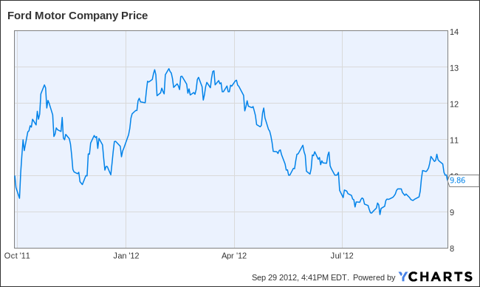 The European problem is not something only Ford deals. This is a major problem within the industry. Even General Motors (NYSE:GM) is dealing with overcapacity issues currently. The company has just unveiled fifteen fresh models for the European market, while most of the automakers are holding back due to low liquidity in the region. I find this move quite pointless as the company launched new SUVs, Mustang and Fiesta. This is very much likely to be a dead investment as Europe is trying to reduce its debt, and find money from somewhere. While there's a short-term struggle for the company, I believe things will be much better in a wider time. Ford is surely a long term buy, but I wouldn't get in right now as things seem out of control at Ford for the time being. The automaker has an O-Metrix score of 10.84.
Disclosure: I have no positions in any stocks mentioned, and no plans to initiate any positions within the next 72 hours. I wrote this article myself, and it expresses my own opinions. I am not receiving compensation for it (other than from Seeking Alpha). I have no business relationship with any company whose stock is mentioned in this article.