Right now, investors are faced with a myriad of difficult choices given the fact that the economy is slowing globally while central banks pump even more liquidity into the currency markets and bank reserves. It seems to many that the game of chicken going on between central banks, government expenditures, debt loads, and poor economic data will continue for a long time to come.
As value investors who try to follow the macro trends to a degree, we are a little skeptical of most stocks at current levels if only because of the seemingly imminent slowdown of the Chinese economy and because of the fact that most stocks have retraced all of their 2008 losses and are sitting near all time highs. Will investors look to take their money off of the craps table in Q4? The stage has been set for some interesting tape reading going into the election season and October, which has been the cruelest month for equities historically.
Here are 8 undervalued commodity plays for investors who think that excessive and/or reckless central bank money printing will ultimately push hard asset investments much higher in price.
Conoco (NYSE:COP) -- It's no longer Conoco Phillips, but these days Conoco stock looks cheaper than ever with a juicy 4.6% dividend yield that is sure to soothe the guilt of investing in the oil patch. Given the fact that wind, solar, and bio-mass are still light years ahead of us, Conoco and the other majors are the only game in town in a world that is increasingly unstable and where oil is becoming harder and harder to find. We think Conoco is the cheapest name in town at 6.7X earnings, but we would play the stock using a covered call approach, selling the November $60 call options or selling the October $57.50 calls for $.75 cents or so per contract. Yes, the upside is limited but so is the downside and risk management is always job #1 in the investment world. Note the divestiture of Phillips 66 (NYSE:PSX) in May on the chart below...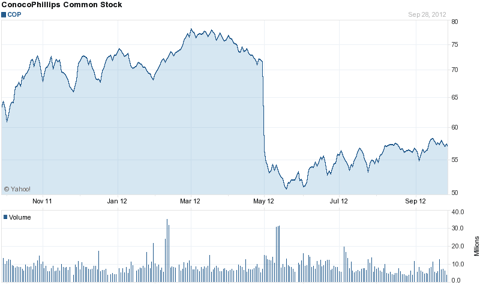 Berkshire Hathaway (NYSE:BRK.A),(NYSE:BRK.B) -- Calling Berkshire a commodity business would be an act of blasphemy for any true blue value investor, but with the purchase of Burlington Northern, Buffett's growing energy portfolio, and the Oracle's basket of "Heartland" based businesses in the grain belt we think Warren Buffett's Berkshire Hathaway is a great investment for investors who are concerned with the value of the U.S. Dollar, money printing, currency debasement, etc... Buffett's investments are earning billions of dollars overseas, he has been investing in a housing recovery (housing is technically a hard asset), and he thinks stocks will be higher 10 years from now then they are today. If history is any guide, our paper money will likely be worth much less two decades from now than it is today and by default stocks should rise on a nominal price basis. While inflation could possibly be better captured through owning agricultural land or something a bit more speculative like Silver (NYSEARCA:SIVR), Berkshire has battled through endless headwinds, pitfalls, and bear traps over the years and will likely persevere into the future. In my view, Berkshire stock is pretty cheap trading anywhere around book value (currently trading at 1.2X book). With an EV/EBITDA of only 9.5X, the stock can be considered undervalued as long as you believe that Berkshire's intrinsic value and stream of cashflows will rise long into the future. Berkshire has risen quite rapidly in recent months and weeks and we would consider waiting for a significant pullback before making a large new investment. Dollar cost averaging is a smart way to invest. Nevertheless, more stimulus means we are likely in a bull market for anything that is priced in Dollars.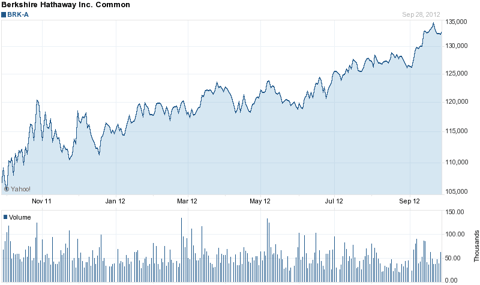 Disclosure: I have no positions in any stocks mentioned, and no plans to initiate any positions within the next 72 hours. I wrote this article myself, and it expresses my own opinions. I am not receiving compensation for it (other than from Seeking Alpha). I have no business relationship with any company whose stock is mentioned in this article.