Sprint Nextel Corp (NYSE:S) continues an impressive comeback that has seen the number three domestic wireless provider reclaim its position as a force in the domestic markets. Unfortunately though, news came out today that fourth place provider T-Mobile (OTCQX:DTEGY) just scored a $2.4B cash deal to leaseback cell towers, just weeks after T-Mobile hired a heavy hitting CEO to reinvigorate subscriber growth with a target on Sprint.
As Stone Fox Capital wrote back at the end of August, Sprint was starting to thrive by being the leading wireless provider with an unlimited data plan and the non-duopoly player that has the iPhone.
Do these announcements change the dynamics in the sector? The last thing Sprint needs is a competitor attacking their base just as the company is getting its act together. Competition remains one of the biggest drawbacks to investing in the wireless service provider sector.
New T-Mobile CEO
Effective September 22nd, John Legere was announced as the CEO of T-Mobile. Previously, he was the CEO of Global Crossing. Prior to that, he worked more than 15 years at AT&T (NYSE:T) amongst other positions. His AT&T positions included stints as President of AT&T Asia and AT&T Solutions Outsourcing.
What this move signals is that T-Mobile plans to develop and expand the business rather than going down the path of auctioning off the business. Even more worrisome, the Bloomberg report suggests that the new CEO has a plan to go after Sprint.
Crown Castle Deal
The deal with Crown Castle (NYSE:CCI) to lease 7,200 cell towers from T-Mobile for $2.4B in cash is a huge boost to the struggling wireless provider. This deal provides it with much needed cash to implement a network strategy to expand 4G service and consequently take Sprint directly on for those unlimited data plans.
Details on the deal:
Crown Castle will lease and operate the T-Mobile towers for an average of 28 years
Crown Castle will have the right to purchase the towers for approximately $2.4B payable between 2025 and 2048.
T-Mobile is committed to use the towers for a minimum of 10 years with annual rent escalation provisions tied to inflation.
Crown Castle expects the towers will produce around $127.5M in adjusted funds from operations before financing costs in 2013.
Crown Castle expects the towers to have sufficient capacity to accommodate at least one more tenant per tower without significant incremental capital.
This deal provides the funds for T-Mobile to support the ongoing $4B network modernization initiative to deliver 4G services nationwide.
Stock
Sprint's stock has been on an upward trajectory since the end of May as investors have become more comfortable with the ability of the company to prosper.
Chart - Sprint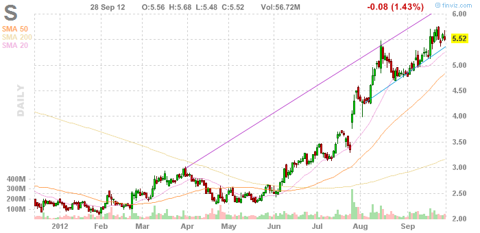 Conclusion
The biggest problem with Sprint remains that the competition won't cease. Analysts expect the company to lose $1.68 per share this year or equivalent to around $5B. Yet, T-Mobile wants to attack the customer base of the money losing operation.
That's a clear sign that the sector remains too sexy. Normal sectors aren't that exciting when profits aren't bountiful.
Based on the T-Mobile announcements, it has become more apparent that a combination of the two companies would benefit Sprint. Reducing the competition and creating a force to attack the major duopoly of AT&T and Verizon (NYSE:VZ) might be the only way Sprint survives.
After being much more positive on the stock in August with it trading below $5, these news items make the stock less appealing at a closing price of $5.52 on Friday. Any investors should look into exiting a position on any sign that T-Mobile is impacting the recovery plan.
Disclosure: I have no positions in any stocks mentioned, and no plans to initiate any positions within the next 72 hours. I wrote this article myself, and it expresses my own opinions. I am not receiving compensation for it (other than from Seeking Alpha). I have no business relationship with any company whose stock is mentioned in this article.
Additional disclosure: Please consult your financial advisor before making any investment decisions.