Last week I wrote an article on Kimco Realty (NYSE:KIM), one of the oldest public REITs and the nation's largest neighborhood and community shopping center owner. Founded more than 50 years ago by Milton Cooper and Marty Kimmel, Kimco has a market capitalization of $ 8.25 billion with 926 properties in 44 states, Canada, Mexico, Brazil, Chile, and Puerto Rico.
This coming November Kimco will celebrate its 21st anniversary as a public company and since its founding in 1958, the retail REIT has evolved into a diversely risk-aligned investment platform. Kimco has a well-balanced tenant portfolio that includes many leading retailers such as Home Depot (NYSE:HD), TJ Maxx (NYSE:TJX), Wal-Mart (NYSE:WMT), Kohl's (NYSE:KSS), PetSmart (NASDAQ:PETM) and Costco (NASDAQ:COST).
Kimco has a dominating advantage in its international diversification and sheer size where the REIT boasts a 20 percent market share amongst the shopping center sector REIT peers (based on market capitalization).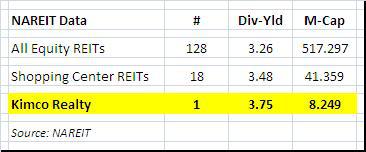 As most intelligent investors know, sometimes "bigger is not always better" and there are times when you should look under the hood of the smaller companies that are trading at a discount to their Net Current Asset Value. In other words, you should consider buying stocks that are undervalued and hold them until they became fully valued. As Ben Graham explained in his 1949 classic, The Intelligent Investor:
The determining trait of the enterprising investor is his willingness to devote time and care to the selection of securities that are both sound and more attractive than the average. Over many decades, an enterprising investor of this sort could expect a worthwhile reward for his extra skill and effort in the form of a better average return than that realized by the passive investor.
Cedar Realty Trust: Strategically Focused Northeast Footprint
Cedar Realty Trust, Inc. is a fully-integrated REIT that owns 68 high-quality primarily supermarket anchored shopping centers straddling the Washington, DC to Boston corridor. The Cedar portfolio consists of around 10 million square feet in the higher density northeastern U.S. states. These established markets enjoy mature infrastructure and roadways, and educated populations that support the defensive and stable nature of the company's portfolio.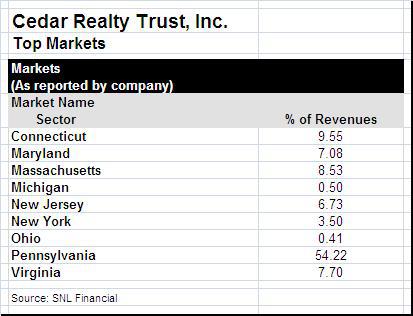 With a predominantly higher education base, many of the northeastern markets enjoy lower unemployment rates and higher post-recession job recovery rates. Cedar has announced that the company is exiting the Michigan and Ohio markets, where the company will continue to focus on its strategic high-density footprint.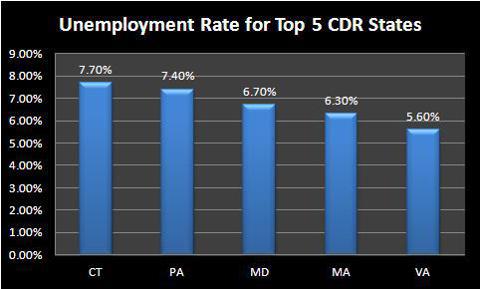 In addition, Cedar's geographically-focused model is aimed to attract consumers with a higher degree of disposable income. Accordingly, many of Cedar's properties are located in states with below average foreclosure rates (national average is 0.14 percent).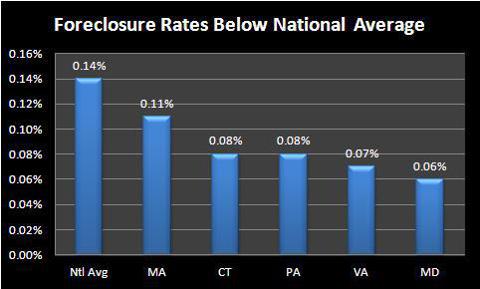 Cedar Realty Trust: Strategically Focused Grocery Anchored Platform
In November 2011 (almost a year ago), Cedar Realty unveiled its near-term strategic plan that included streamline its portfolio, reducing leverage, and improving standing with Wall Street. Since that plan was announced (and as of Q2-12), Cedar has disposed of 43 non-core assets and reduced its overall portfolio by around 2.777 million square feet. The total debt reduction associated with these sold (or under contract) assets is around $124 million.

By selling off the non-core assets (enclosed malls, stand-alone net leased drug stores, and land held for development) and focusing on its core of competencies, Cedar has been able to reduce leverage and improve its overall financial flexibility. In addition, the company's recycling initiatives along the company to intensify its geographic footprint and improve its asset quality. Further, Cedar becomes a more focused sector driver with its significant concentration on grocery tenants.
Cedar's portfolio is 79 percent grocery anchored and the company is the largest landlord to Giant of Carlisle (14 stores) and a meaningful landlord to Stop and Shop (4 stores). Both tenants (Giant and Stop and Shop) are owned by Ahold, N.V. (AHONY) and the corporate credit rating is BBB / Baa3 (These two tenants comprise around 16 percent of Cedar Realty's ABR).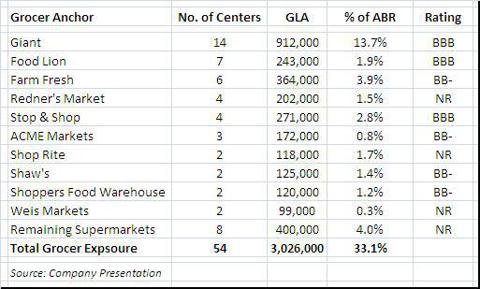 Cedar has negotiated lease termination options for one Shaw's and on Farm Fresh, both SuperValu (NYSE:SVU) concepts, and since Cedar is focused on just a few markets, the company should be able to identify and lease the vacant space in a reasonable amount of time.
One recent example is Cedar's recent replacement of a dark anchor at Oakland Commons in Bristol, CT (see property website link here). In that center, Cedar was leasing a "dark" space (paying rent but not occupying) to Shaw's (a SuperValu company) with a lease termination date of 2016. Cedar was able to negotiate an early termination with Shaw's and replace the 55,000 square foot space with a Wal-Mart Neighborhood market store. Wal-Mart leased the space through 2027 (rent commenced in September 2012) and all capex was paid by Wal-Mart.
Cedar's grocery-anchored model is a strategic initiative that enables the company (and investors) to benefit from its repeatable foot traffic patterns. Generally, grocery tenants draw more traffic, on a consistent basis, than other retail anchors and that allows for the smaller shop tenants to benefit from the more frequent foot traffic. As illustrated below, grocer anchors bring in an average of 7.3 trips per month while the average anchor brings in around 2.2 trips per month.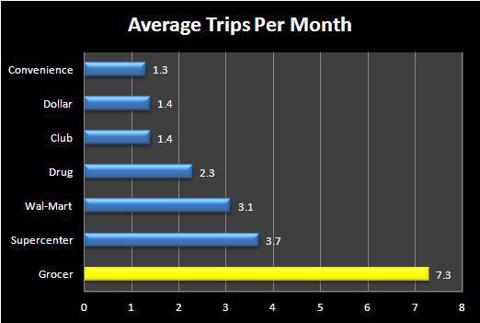 Regency Centers (NYSE:REG) is the largest grocery-anchored REIT (see my Seeking Alpha article here) with 364 retail properties, including those held in co-investment partnerships and a portfolio encompassing 49.5 million square feet. Like Regency, Cedar Realty has a necessity-based tenant base that is less susceptible to economic downturns and the company's grocery-based model provides for consistent sources in good times and bad.
In addition, it is very unlikely that internet sales will threaten grocery stores as consumers are more concerned about the quality and freshness of groceries and convenience is a critical element to the value proposition of the consumer-driven sector.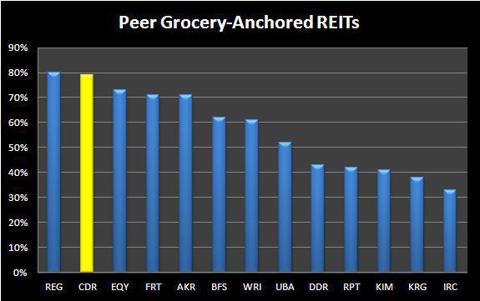 By focusing on sellers of consumer non-discretionary goods, perishables and services, Cedar Realty has avoided most major retailer bankruptcies (such as Borders, Linens N' Things, Circuit City, Comp USA, Sam Goody's, Ritz Camera, etc..). Here is a snapshot of Cedar's top tenants: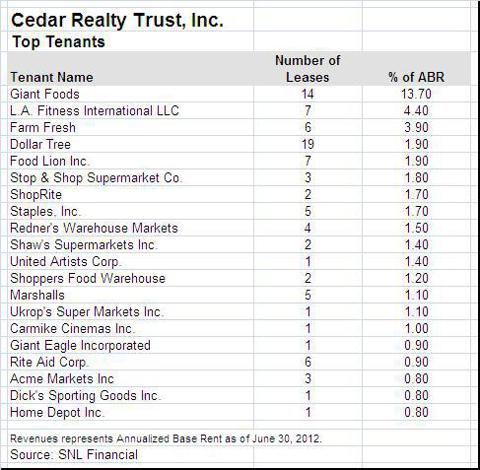 Cedar Realty Trust: Recent Financial Results
Cedar Realty's latest reported (Q2-12) results included core portfolio occupancy of 91.9 percent (leased) and 90.2 percent (occupied). The portfolio marked a 10 basis point improvement over the last quarter. In addition, the company achieved the positive spread on 31 lease renewals during the quarter (Q2) of 8.6 percent on a cash basis, the highest renewal rate spread in 12 quarters and a continued streak of positive renewals, at 26 quarters in a row.
The second quarter (Q2-12) results also included FFO of $0.16 per diluted share vs. $0.12 in the prior year (includes $3 million of lease termination income from Shaw's at Oakland Commons). Also, same store cash NOI growth was up 1.1 percent (excluding redevelopments) and the company's year-to-date cash NOI growth was 2.5 percent. Accordingly, Cedar's NOI growth is par for its peer group: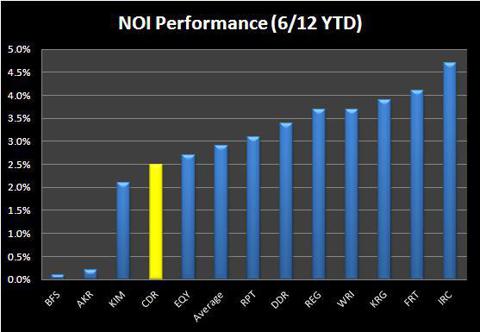 Cedar Realty increased its guidance for operating FFO to a range of $0.46 to $0.50 per diluted share. This reflects the company's solid results for the first half of the year and a $3.4 million termination-related income recognized during the second quarter.
Cedar Realty Trust: Lowering Cost of Capital with Newest Preferred
Moving to the balance sheet, Cedar Realty remains focused on lowering its cost of capital and during the latest quarter the company began the process of reducing the cost of its preferred stock. In such, Cedar issued 400,000 shares of a new 7.25 percent Series B for $9.2 million of gross proceeds. These Series B shares were issued at a discount to yield approximately 7.9 percent and the proceeds are used to partially redeem the Series A Preferred that yields (8.875 percent) about 100 basis points higher (the Series A Preferred is freely callable therefore stubbornly trading at par).
Additionally, Cedar established an ATM program for its new Series B, under which the company raised another $4.6 million, also at a yield of 7.9 percent. The Series A Preferred is callable in whole or in part at any time and as the yield on the Preferred Stock continues to decrease, Cedar will likely issue Series B or additional Series B and redeem more Series A.
Cedar Realty Trust: Moving the Value Needle
Sometimes, the smaller REITs flying under the radar are harder to notice. Instead, the larger names like Kimco, Simon (NYSE:SPG), and Realty Income (NYSE:O) get all of the attention. However, noted author and REIT expert Ralph Block recently said,
Size can frequently be a competitive advantage…but size isn't all that important in many sectors of commercial real estate, there are many owners offering commodity-like properties for lease in very specific locations, and few real-estate-related brand names have been established…The name of the game is value creation, but it's simply a lot harder for a large REIT to move the value-creation needle.
Cedar Realty is currently trading at $5.28 and the dividend yield is 3.79 percent. Since November 1, 2011 (when the company announced its near-term strategic plan the company's stock price has increased by 50.43 percent. In addition, during the same period the REIT's total return performance has been 58.67 percent.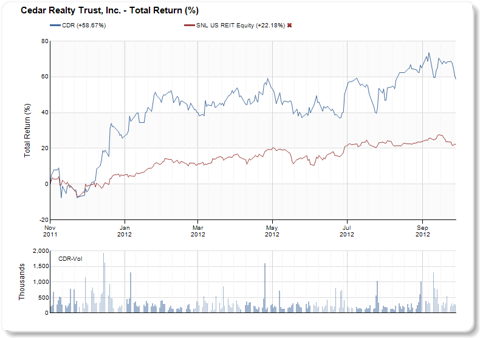 Consensus value of Cedar Realty of net asset value per share is trading at two percent below the close price of $5.28 per share. Several analysts have recommended estimates ranging from $5.35 to $5.81 per share. On September 7th (2012) Cedar registered a 52-week high of $5.80 per share.
As noted above, the common share dividend yield is 3.79 percent and for most dividend investors that is not a compelling value; however, I do see value in the Preferred Series B shares (7.9 percent) and I would also be tempted to consider the common shares if the price drops below $5.00 (yielding 4.04 percent).
Finally, it is important to note that Bruce Schanzer, CEO and president, and Phillip Mays, CFO, have been instrumental in directing the almost year-long initiatives of Cedar Realty and both should be commended for a effectively orchestrating the strategic performance-based plan. In my opinion, the company has come a long way in almost a year (11 months) and shareholders should be extremely satisfied with the leadership demonstrated. That determination and willingness to provide a differentiated REIT brand deserves a special "shout out" from The Intelligent REIT Investor: Well done!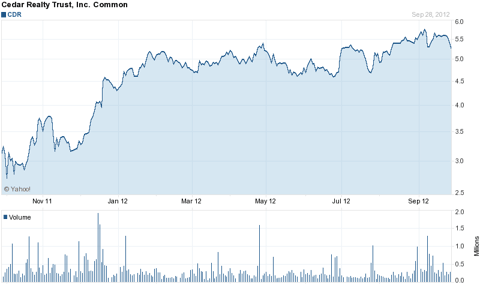 Other REITs referenced: (NYSE:CDR), (NYSE:EQY), (NYSE:FRT), (NYSE:AKR), (NYSE:BFS), (NYSE:WRI), (NYSE:UBA), (NYSE:DDR), (NYSE:RPT), (NYSE:KRG), (NYSE:IRC)
Source: CDR Corporate Presentation (September 2012), NAREIT, SNL Financial
Disclosure: I have no positions in any stocks mentioned, and no plans to initiate any positions within the next 72 hours. I wrote this article myself, and it expresses my own opinions. I am not receiving compensation for it (other than from Seeking Alpha). I have no business relationship with any company whose stock is mentioned in this article.