Oh, Wall Street, shame on you! It seems that if a semiconductor company isn't attempting to compete in the cutthroat, low-margin, high volume smartphone application processor business, then it very swiftly gets put in the lack-of-mobile penalty box. That's what happened to Texas Instruments (NYSE:TXN) the other day when the company announced that it would begin to shift away from application processors for smartphones and tablets and focus on its other business segments.
Contrary to all of the doom and gloom promulgated by the analysts who decided to downgrade the company's shares, I believe that this is a positive move for the company. In fact, any further weakness represents a buying opportunity, but only if you know exactly what you're buying.
Wait A Minute! Weren't You Bearish?
So, before we continue further, I would like to point out that I wrote a fairly detailed report on TI published on August 10th of this year. At the time, the company's shares were trading at $29.75 and paid a $0.68/share dividend, representing a 2.4% yield at the time. I came to the following conclusion:
"Texas Instruments is still one of the largest semiconductor companies by revenue and by market capitalization. While I think the company itself is solid, I do not believe that the current price represents a particularly good value relative to peers in the semiconductor business. The one sector that is likely to be considered "hot" and used as the justification for a growth-stock-like price-to-earnings, Wireless, is threatened by strong competition in the space, and as such, I would have a difficult time recommending the company at its current prices and would wait for a better entry point before opening a long position."
As it turns out, I made the correct call on the exceedingly strong competition in the mobile space. Now that TI has decided to stop playing this game in which it didn't really stand a chance of winning, the company can focus its resources on its core competencies as well as returning more cash to shareholders.
The Mobile Space: TI Was Falling Behind Anyway
As I noted in my previous article, TI's competitive position in the mobile space was, for lack of a better term, lacking. The company's OMAP was nothing special: it used off-the-shelf ARM (NASDAQ:ARMH) designed cores with off-the-shelf Imagination Technologies PowerVR graphics. While TI's products were certainly competent, the major parts of the SoC were not unique to TI and therefore the competitive advantage was fairly limited. The company also divested itself of its "baseband" unit, which effectively killed its smartphone solution push.
Further, having less of the core technology in-house than competitors such as Qualcomm (NASDAQ:QCOM), Nvidia (NASDAQ:NVDA), and Intel (NASDAQ:INTC) is less favorable from a gross-margin perspective, since licensing fees can quickly pile up. The bottom line here is that the "Wireless" division (OMAP for smartphones and tablets) started to turn very ugly very quickly on the top and bottom lines.
In Q2 2011, revenues were $558M and operating profit came out to $82M. In Q2 2012, revenues were a mere $342M with an operating loss of $51M. Clearly, things weren't working out. As Qualcomm continues to score wins, and as Intel and Nvidia fight fiercely to make significant inroads in the space, TI would ultimately become marginalized, especially with no "competitive edge" in the space.
Return Of Cash To Shareholders
In addition to seeing a fairly substantial hair-cut from its 52-week high of $34.24, the company has also announced a dividend increase to $0.84/share -- 3.05% yield -- on an annualized basis. This makes TI a much more attractive investment than it was previously.
Further, a quick look at TI's dividend history shows a solid commitment to increases over time: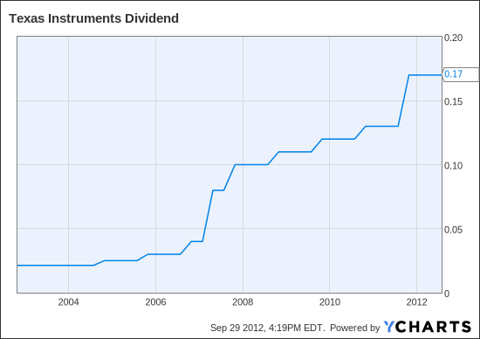 TXN Dividend data by YCharts
And finally, a quick glance at the number of shares outstanding over time shows a strong commitment to shareholder returns via buybacks: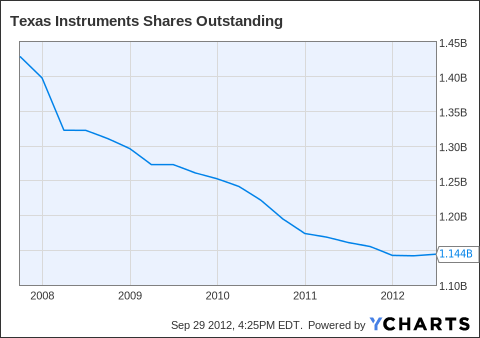 TXN Shares Outstanding data by YCharts
TI's payout ratio is 0.46, so the dividend is fairly safe.
Other Business Segments
TI's non-wireless business segments, including embedded processing, analog, and "other," are not huge growth stories, and investors should not expect rapid revenue growth. In fact, in the most recent quarter, while analog improved (due to acquisition-based revenue), the other segments saw year-over-year decreases. These businesses are stable, and the opportunity for explosive growth is limited.
However, the "embedded processing" segment, which includes digital signal processors, micro-controllers, and application-specific products used in communications and automotive applications, will likely outperform the growth of TI's other segments over time. As devices become "smarter," as phones and computers have, the need for more powerful embedded processors will continue to improve. Vending machines, touch-screens, satellites, and sophisticated light fixtures are just some of the applications of embedded processors.
Okay, So Do I Buy Now?
Short answer: not yet. Long answer: really, wait it out if you're dealing with the common stock.
As great as the company is at generating strong FCF, increasing dividends, and buying back shares, the company now has the "non-mobile" collar around its neck. In the eyes of investors, the "growth story" seems to be "over" and there will very likely be continued selling pressure as a result of the company's exit from mobile.

The company seems to have strong technical support at the $26.50 level and very strong support at the $24.80 level. So, the more cautious investor can initiate half of the desired position at the first support and the second half at the second. However, the stock may very well not get there. I would therefore suggest selling the November 17 $26 put in an attempt to initiate half the position. As of the recent close, the put is selling for $0.57, which would get you put the stock at an effective cost of $25.43.
Then sell the November 17 $25 put for $0.38 to try to initiate the other half of a position at an effective cost of $24.62.
With this strategy, either you get put the stock for a significant discount to the most recent close close, or you don't get the stock but pocket non-trivial premiums.
Conclusion
Texas Instruments is a solid company that now offers a much more attractive yield than when I first examined it. While leaving the mobile space makes for great headlines, the truth is that the business was simply not working out. The money saved by not competing in that arena can be put to better use in other divisions or could be paid straight into investors' pockets via buybacks or dividends.
Disclosure: I am long INTC, NVDA, QCOM. I wrote this article myself, and it expresses my own opinions. I am not receiving compensation for it (other than from Seeking Alpha). I have no business relationship with any company whose stock is mentioned in this article.
Additional disclosure: I may sell the options as indicated in the article over the next 72 hours.