The upcoming presidential election is shining a spotlight on REITs as 2012 draws to a close. One of the biggest concerns for high net worth individuals and their advisors is the scheduled lapse of the George W. Bush tax cuts. If these cuts expire in 2013, married couples earning income over $250,000 (single individuals earning over $200,000) will see their income tax rates increase to 39.6 percent. Capital gains rates will increase from 15 percent to 20 percent.
But perhaps one of the most dramatic changes has to do with dividend rates. Qualified dividends, which were previously taxed at 15 percent, will shoot up to an earner's top income tax bracket (39.6 percent for the highest earners).
Assuming these cuts do in fact expire (an advisable assumption this close to end of year), REITs will be poised to become attractive investments in 2013 and beyond. REITs, presumably due to their tax exemptions on corporate taxes, have never had qualified dividend status, as long as they distribute 90 percent of their taxable income to shareholders.
So REITs have historically produced high dividend yields and have subsequently been taxed according to an investor's income tax bracket. Now that the "qualified" dividend status is disappearing and all dividends will be taxed at the same rate, REITs are on even footing with other types of investments in terms of tax rates, and may have an advantage over other investments because of their high dividends.
Recognizing the Value of Intelligent REIT Investing
So theoretically, REITs are poised to take off in popularity in 2013. The real questions, however, are whether advisors will truly champion these entities to their clients, and whether investors will actually make the switch to REITs. Evidence suggests that advisors and financial professionals may not be sensitive to the potential advantages of REITs, and therefore clients may not recognize their potential value. Investors may be more focused on the overall expected return of their investment, rather than focusing on the rates at which said return is taxed.
Additionally, REITs are somewhat more intricate in their taxation than described above. Because REIT dividends come from a number of different sources, those different types of income may themselves be taxed at different rates. So while the overall REIT is not considered a non-qualified dividend, within the REIT there may be assets taxed at capital gains rates, current qualified dividend rates (where the corporate tax is still applicable) and even non-taxable capital return rates.
In a recent SNL Financial article, "Prospective tax changes could give REITs a leg up," Jack Mooney (writer for SNL) explains:
The tax code, usually a slumber-inducing topic for many Americans, is poised for a star turn in the national spotlight in the coming weeks, as Election Day draws nearer and President Obama and former Massachusetts Gov. Mitt Romney weigh the future of the 2003 Bush tax cuts.

One change that could be on the way with the start of 2013 - depending, of course, on the outcome of the election and a lame-duck session of Congress - might wind up making REITs a relatively more attractive investment for some investors.
Picking Reliable and Predictable REITs in 2013 and Beyond
Generally, during an election period, a stock's volatility will bounce around and provide investors with more unpredictability. However, REIT stocks have proven to be less volatile than their non-REIT brethren as they provide enhanced predictability and steadiness, backed by reliable operational and financial performance.
The major factor that dampens the volatility of REIT stocks is the fact that they pay out higher dividend yields. When a stock yields next to nothing, its entire value is comprised of all future earnings, discounted to the present date. If the perceived prospects for this earnings decline just slightly, the stock can plummet quickly. Much of the value of a REIT stock, however, is in the REIT's current dividend yield, so a modest decline in future growth expectations will have a more muted effect on its trading price.
Sometimes, our biggest investment mistakes tend to be the result of fear. When stocks are going up, it's human nature to ignore risk in our pursuit of ever greater profits. But, when stocks are dropping, we often tend to panic and dump otherwise sound investments because we're afraid of ever greater losses.
Most intelligent investors have learned through experience to control emotions as low volatility stocks (i.e. REITs) can provide both sound returns while also controlling and maintaining portfolio risk. Accordingly, REITs provide investors with a more disciplined approach and because of their stability and predictability - driven by leases that provide earnings stability - the asset class is considered to be more "bond-like."
Play It Safe with Repeatable "Bond-like" Sources of Income
The value proposition for equity REITs is the dividend-anchored total return component that makes for a most attractive "bond-like" income stream - and a safe haven model rooted by sustainability and durability. This attraction to dividend repeatability is also the strongest source of REIT differentiation and the essence of the stability that makes the lower volatility fixed-income alternative attractive.
Consider the stability of the dividend yields, as a well-balanced REIT portfolio should include REITs that provide essential income durability along with attractive capital growth. As Ben Graham wrote (in The Intelligent Investor),
It is the consistency in the products that creates consistency in a company's profits. Consistency and durability are attributes for competitive advantage.
As Graham believed, differentiation is the essence of investment strategy and the prime source of competitive advantage. You earn money not just by performing a task, but by being different from competitors in a manner that serves investors better and more profitably. Most importantly, the companies that have learned to sustain differentiation over time (through constant change) are more predictable and more likely to succeed over the long-term.
Today is the beginning of the fourth quarter of 2012, and successful investors must manage to acquire the necessary "trace of wisdom" that Ben Graham described as the "margin-of-safety" concept - used to "advantage and distinguish the differences in an investment operation and a speculative one".
Accordingly, REITs offer a persuasive measure of portfolio balance as their total returns, anchored by sound dividend performance, enable an investor to reduce volatility while also maintaining a disciplined approach to income. Remember, REIT dividends drive portfolio total returns and accordingly managing dividend risk is essential to an intelligent investment portfolio.
As Graham believed, diversification is "the cheapest margin-of-safety" and he taught that a fundamental principle of investing is that, over time, diversification is the key to stability of performance and preservation of capital. You might have outstanding results if you put a huge portion of your assets in one stock, but nobody can foretell the future.
I have selected the following REITs that should be considered for a diversified and reliable income portfolio. Starting with the "crème de la crème" REITs - ones that have paid consistent (never cut) and increased dividends (for more than ten years): Federal Realty (NYSE:FRT), Tanger Factory Outlets (NYSE:SKT), Urstadt Biddle Properties (NYSE:UBA), Essex Property Trust (NYSE:ESS), National Healthcare Investors (NYSE:NHI), Omega Healthcare Investors (NYSE:OHI), and Realty Income (NYSE:O).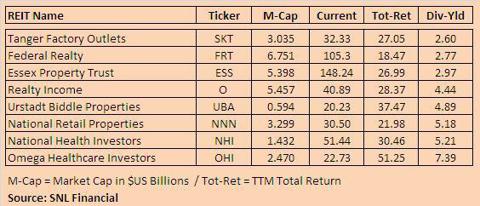 Then, my top picks that have paid and maintained dividends (aka the "frozen angels") for decades. That list of REITs include Taubman Centers (NYSE:TCO) and Monmouth REIT (NYSE:MNR).

The following REITs are worth considering as they have sound income fundamentals and exceptional risk-control attributes: Kimco Realty (NYSE:KIM), Regency Centers (NYSE:REG), CapLease (NYSE:LSE), Weingarten Realty Investors (NYSE:WRI), American Campus Communities (NYSE:ACC), and Extra Space (NYSE:EXR).

The last group of REITs include the newer issues. These companies don't have the dividend histories of the others (listed above); however, they have proven operational acumen and the potential for repeatable income and growth. These newbies include Retail Opportunity Investment Corp. (NASDAQ:ROIC), Excel Trust (NYSE:EXL), Healthcare Trust of America (NYSE:HTA), American Realty Capital Properties (ARCP), STAG Industrial (NYSE:STAG), and AmREIT Inc. (NYSE:AMRE).

Disclaimer: The best advice I can give: consult with your advisors. If a REIT is something that appeals to you, this last quarter of 2012 is a great time to take action. For more information on 2013 Tax Strategies, check out this article that I published on Forbes.com: The Annihilation of Wealth: Do you actively manage your investment real estate?
Source: SNL Financial
Disclosure: I have no positions in any stocks mentioned, and no plans to initiate any positions within the next 72 hours. I wrote this article myself, and it expresses my own opinions. I am not receiving compensation for it (other than from Seeking Alpha). I have no business relationship with any company whose stock is mentioned in this article.